A GoPride Interview
Javier Muñoz and Megan Masako Haley
Meet Devil Wears Prada Musical's Javier Muñoz (Nigel) and Megan Masako Haley (Emily)
He has one song that makes me feel like I'm the little kid in my room dancing with nobody watching, and that kind of freedom.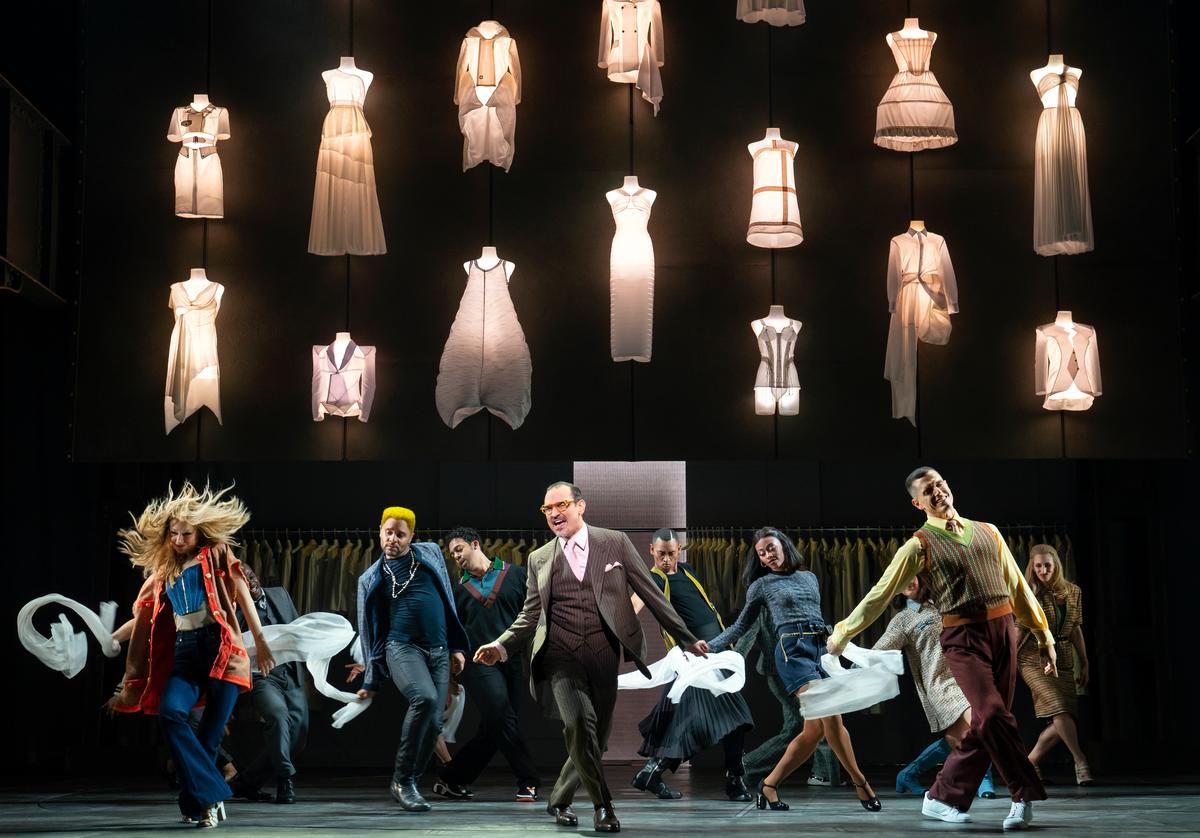 javier muñoz and the cast of the devil wears prada
photo credit // joan marcus
Devil Wears Prada the Musical radiated fashion and fabulousity in a delightful and devilish new musical that opened in Chicago this past weekend. The World Premiere Event will run for only two more weeks at the James M. Nederlander Theatre through August 21.
We sat down with the fun and amazing cast duo of Javier Muñoz (Nigel Owens) and Megan Masako Haley (Emily Charlton) before their huge opening night in Chicago.
MI: (Matt Inawat) Javier and Megan, tell us a little bit about your journey to being part of Prada. What drew you to the show and these roles?
MMH: (Megan Masako Haley) I had auditioned a year ago and nothing really came of it. And then in April they called me up and were just like, "We're looking for an Emily again. Would you like to come in and audition?" And I said, "Absolutely." 
When we started rehearsals for this production, a lot of people had been involved for the last three or four years. So it's just been a dream to be able to walk into a show that was basically done and it was already beautiful. We've been tweaking and fine tuning and honing that the last several months.
And here I am. It's my first time I've ever gotten to read a whole from the beginning. And it's so fun to put little Easter eggs on myself. I think that now will always live as Emily.
JM: (Javier Muñoz) Along with Megan, I just joined the process at the start of rehearsals for this production, but I auditioned for it before the pandemic. So a little bit of a break before I got the call to come on board. I've been really fortunate in my career to be part of some really incredible shows. And this just has a immediate special place in my heart and I just can't wait till he gets to share this with some folks in the house.
MI: So for each of your specific characters, was there anything that drew you into these specific roles?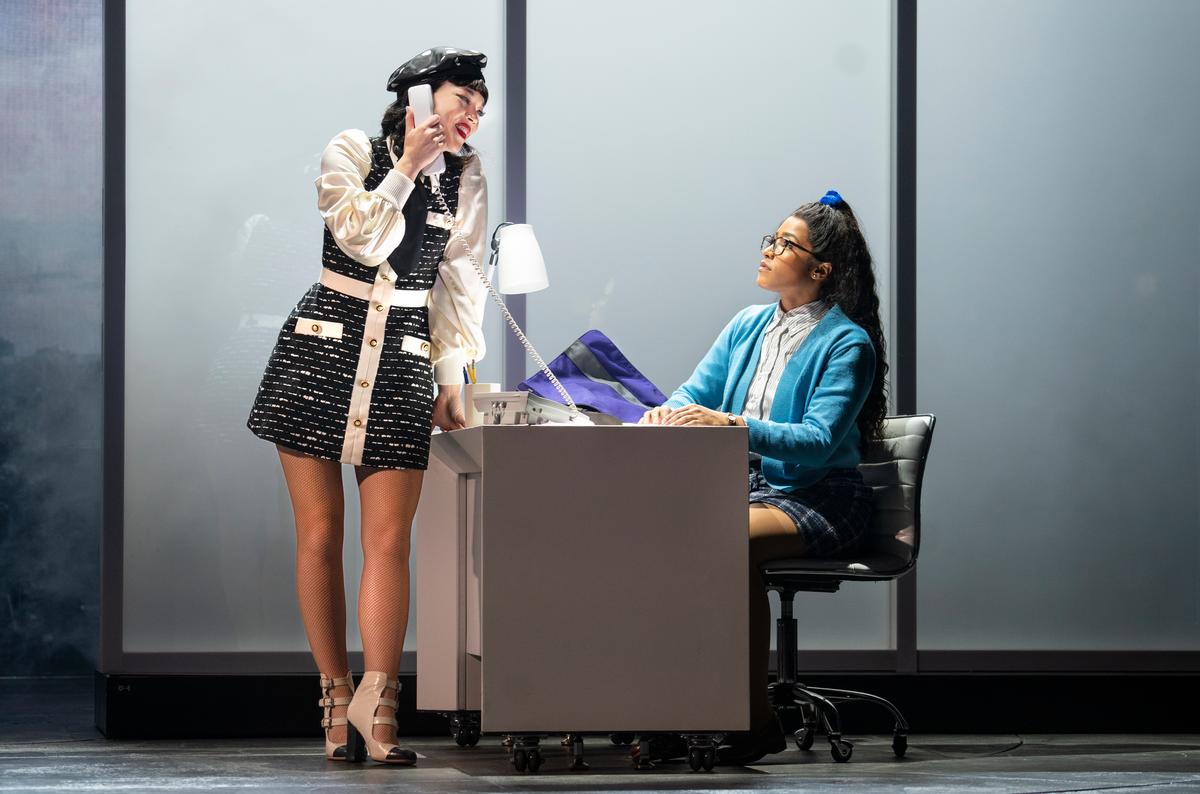 Megan Masako Haley and Taylor Iman Jones; credit: Joan Marcus
JM: God, his heart. His heart. What fans will know from the movie is there absolutely, that's the foundation of what's been written for him. But you really get to see Nigel and meet him in his fullness and I love him very much.
MMH: And I think for Emily, one of the things I love about her is that she is not pretending to be effortless. She's not pretending that she's not ambitious. She loves fashion. The costumes in the show are honestly to die for. I could not be happier. I could not dream of a better show that I would want to be a part of. And I think I really like that about Emily because I also love fashion and I've never been someone who seems effortlessly chic. It's very effortful chic. And I don't think that's a bad thing.
JM & MI: No!
MMH: Is Emily a little bit of a bully? Yes. But I try to think that that's not the Megan part of the thing. But I understand the impulse. I totally get it.
MI: You brought up the costumes. Is there anything that you get to wear in the show where you're like, "I wish I could just take this home?"
JM & MMH: Every single thing...
MMH: The way I was squealing at my fittings. Arianne is a genius. Arianne Phillips, our costume designer. It's truly incredible.
JM: Yeah, absolutely. It's a character all on its own, the fashion.
MI: So in terms of Emily, you just said, I mean, she's driven. She's totally aggressive. Other than the fashion, is there anything else that, from your own personal experiences, that you brought to this specific Emily in the show?
MMH: Well, when I look at Emily, she's very easy to write off as a villain or a mean girl, but I was just telling Javi, if someone came to a Broadway show that you were in and is a lead in your Broadway show, they don't like Broadway. They never heard of Broadway. They don't sing. Wouldn't you be mad?
MI: Yeah, obviously.
MMH: And so I take that seriousness. I'm almost there with fashion, but I'm absolutely there as a musical theater... Of like, I understand this woman because that would be completely insane. And the way that you would treat that person, she'd be like...
JM: "What are you doing here? What is this?"
MMH: If you don't want to be here, don't be here. And so I think it's easy for me to click into that, because I put it in that context being like, absolutely, I know how I would deal with this person.
MI: Javier, is there a specific scene or song in the show that just totally connects with you?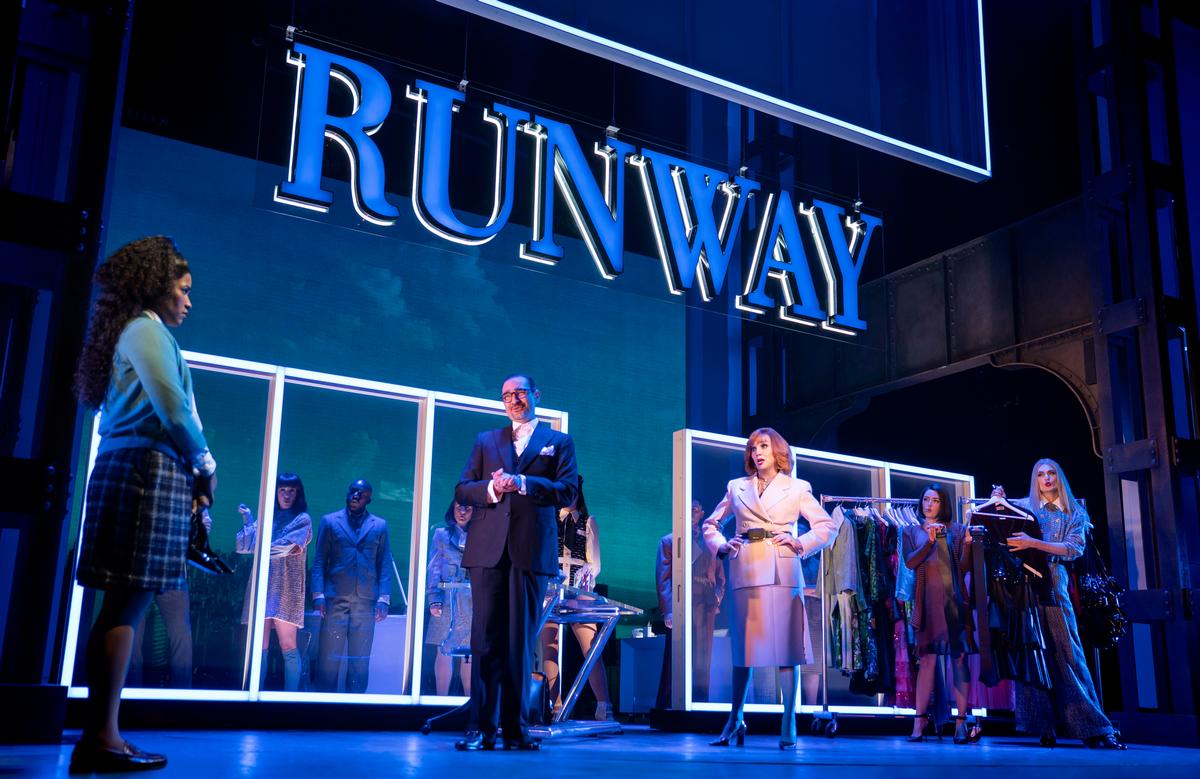 The Cast of The Devil Wears Prada The Musical; credit: Joan Marcus
JM: Oh my gosh. I wish I could give more detail because I really can't give away...
MI: Yeah, you can't give away everything...
JM: He's got songs that are... He has one song that makes me feel like I'm the little kid in my room dancing with nobody watching, and that kind of freedom. And then he's got another song that just connects to me personally and my journey as an LGBTQ person in this world and in this industry. And I'm in love with it. That's all I can really give away.
MMH: And truly being able to just be in the audience of the rehearsal and watching Javi work has just been so touching and truly magical to watch you do it. It's truly beautiful.
MI: So you're are here for about four or five weeks in Chicago. Is there anything in Chicago that you just have to do during those four or five weeks?
MMH: I want to go to the art museum. I want to go see the Sunday in the Park with George painting that's there. So I'm definitely going to do that on one of our days off.
JM: I'm all about the food. I can't wait till we're out of our tech rehearsal, which is really intense, and have a little time to just parade everywhere and gain 20 pounds.
MI: Thank you both for sitting with me and we can't wait to see the show knowing you both will be fabulous in it!
The World Premiere Event will run for only two more weeks at the James M. Nederlander Theatre. Tickets are on sale now at www.BroadwayInChicago.com.
The production stars Tony Award winner Beth Leavel as Miranda Priestly, Taylor Iman Jones as Andy Sachs, Javier Muñoz as Nigel Owens, Christiana Cole as Lauren Hunter, Megan Masako Haley as Emily Charlton, Tiffany Mann as Kayla Ward, Michael Tacconi as Nate Angstrom, and Christian Thompson as Christian Thompson.
Based on Lauren Weisberger's best-selling 2003 novel and the 2006 blockbuster film, the musical is a glamorous and hilarious story about finding your place and discovering what matters most. 
The new musical features an all-star creative team led by Tony, Grammy and Academy Award winner Elton John, Tony Award winning director Anna D. Shapiro, with lyrics by singer-songwriter Shaina Taub, and a book by Kate Wetherhead, music supervision by Nadia DiGiallonardo, and choreography by James Alsop.
Ticket prices for THE DEVIL WEARS PRADA, THE MUSICAL range from $35-$120, with a select number of premium tickets available. Tickets are available now for groups of 10 or more by calling Broadway In Chicago Group Sales at (312) 977-1710 or emailing GroupSales@BroadwayInChicago.com. For more information and to check the playing schedule, visit www.BroadwayInChicago.com.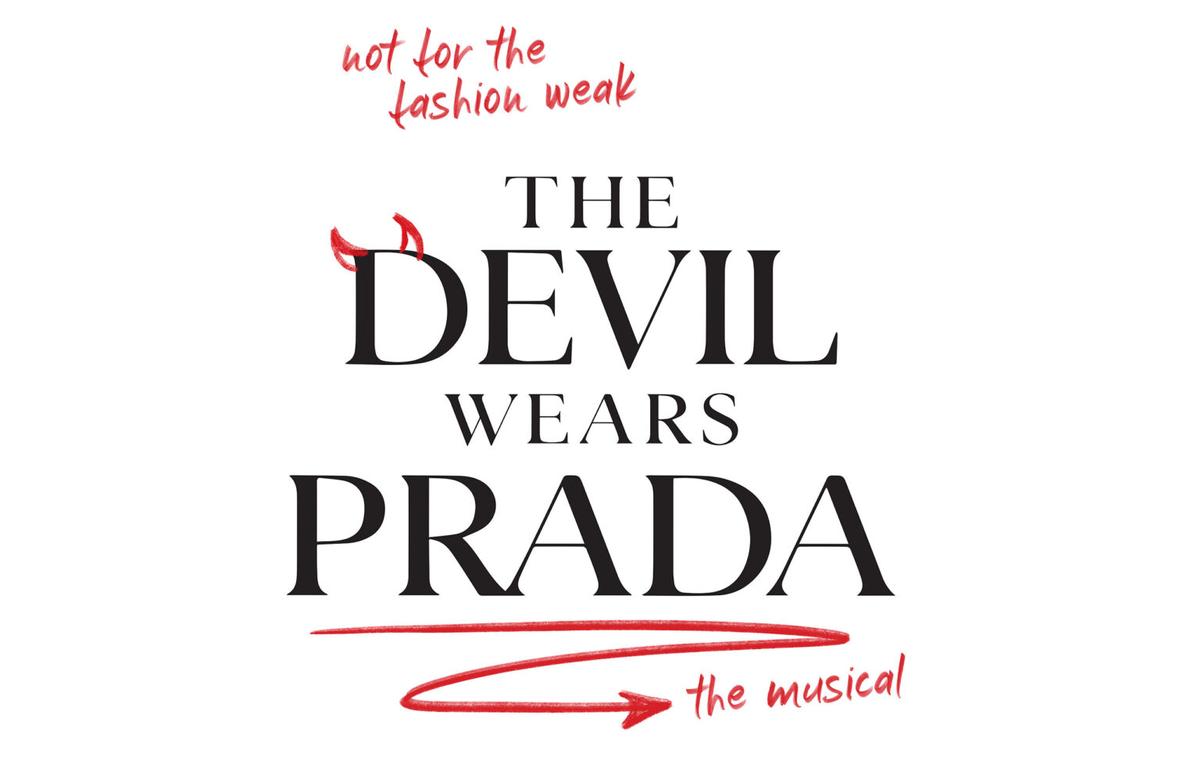 Devil Wears Prada The Musical; credit: devilwearspradamusical.com
Interviewed by Matt Inawat. Ron Matthew Inawat is president of the GoPride Network and contributes to ChicagoPride.com, PrideLA.com and other sites within the GoPride Network. Follow @cpmatthew