A GoPride Interview
Paul Jason Klein
Pop group LANY will feel this Summer Forever
I remember walking into those rooms and we were just scooping up new fans everywhere.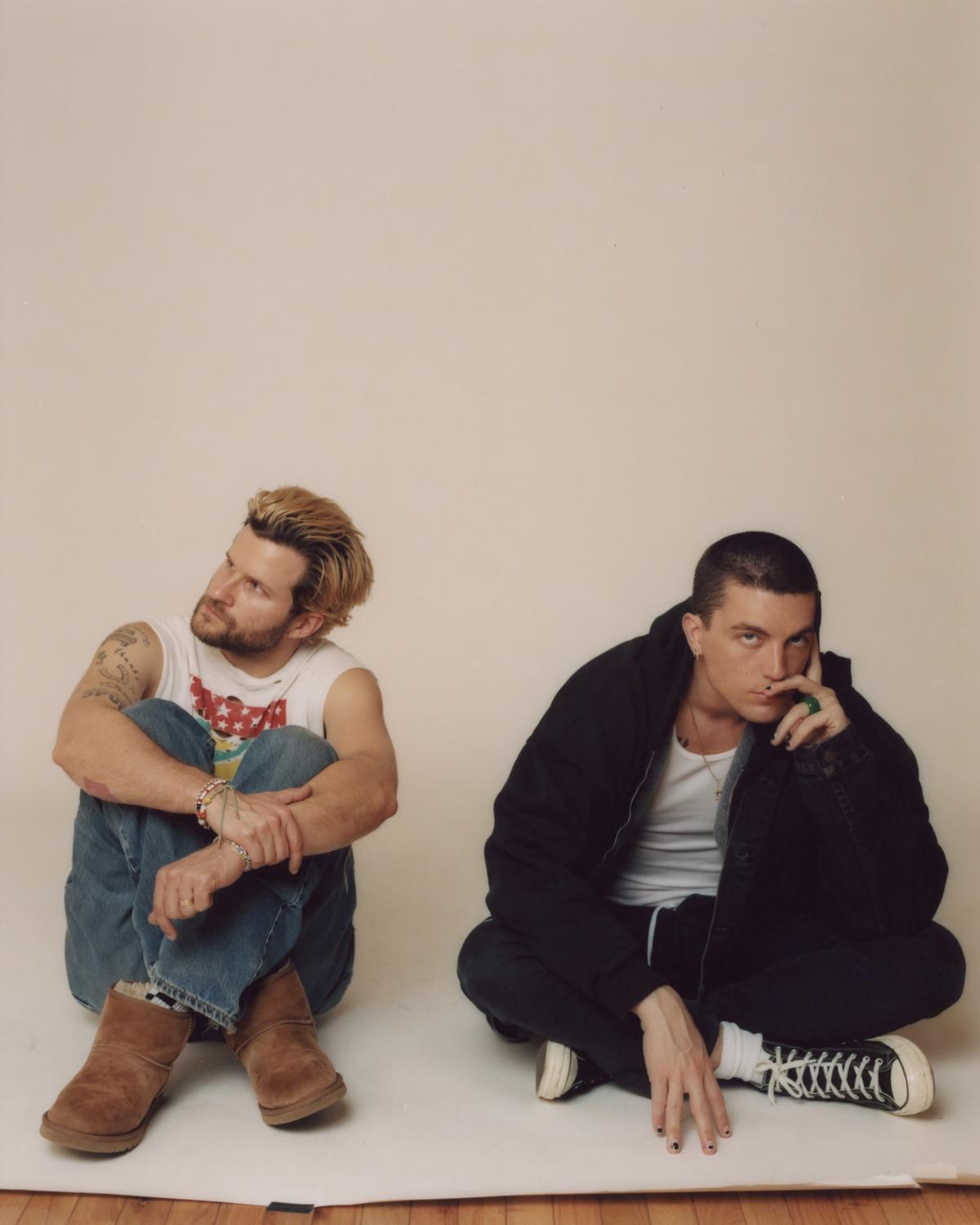 LANY stops in Chicago for a concert on August 7, 2022
Pop rock band LANY hits the road seasonally on a Summer Forever Tour leading them to Chicago.
Paul Jason Klein and Jake Clifford formed the group in 2014 while living in Nashville, Tennessee. Albums such as the self-titled one in 2017, Malibu Nights in 2018 and Mama's Boy in 2020 were all charted on the Top 40.
Klein chatted on the phone about the growth from LANY's humble beginnings to the powerful live sets they are known for today.   
JN: (Jerry Nunn) Hi, Paul. I grew up in Nashville where your band was formed.
PJK: (Paul Jason Klein) Wicked, that is awesome!
JN: Are you originally from there?
PJK: I am from Tulsa, Oklahoma. I went to Belmont University and lived in Nashville. I wiped tables at a restaurant there for two years when I was failing miserably at music. Now I just bought a home there! [laughs] I still live in Los Angeles…
JN: My relatives live in Tulsa, so this is a really small world. How has Nashville influenced the band's work?
PJK: We all met in Nashville, so that was influential. To be honest, a lot of LANY's sound is in rebellion towards what people were doing at the time. People were going in and hiring the same studio musicians and players. They all made the same sounding singer/songwriter soft rock music.
LANY was making songs on a Dell computer in a bedroom in a house. We had two synthesizers and that was it. We had a drum pad. A lot of our drums were from our early music played from an iPhone during the recording session.
In a roundabout way that is how Nashville made us who we are today.
JN: Sounds like you were ahead of the curve because look at Billie Eilish who started by making music in her bedroom.
PJK: Totally. Bedroom pop wasn't a genre when we were doing it. Now it is a playlist on Spotify.
JN: Where does the name LANY come from?
PJK: It is an acronym for Los Angeles and New York. I knew I wanted a four-letter word just for esthetic reasons. We knew we would be putting it on everything, t-shirts, album art, posters, all that.
Every four-letter word in the English dictionary was already taken. I checked, so then moved to acronyms and we settle on LANY.
JN: So it should be all capitalized.
PJK: Yes, it can be. As long as people say it right is what really matters. It is pronounced lay-nee.
JN: The band has toured with some amazing artists like Troye Sivan.
PJK: Those were 10 very important shows early on in our career.
JN: That must have built a gay fanbase with his following.
PSK: Yes it did. We also noticed that when we played with Halsey. I think we played a total of 15 shows between those two artists alone. We were supporting them as an opener. I remember walking into those rooms and we were just scooping up new fans everywhere. It was really important to us. We still owe them for having us out.
JN: Now you have the group Surfaces as an opener for you at the Chicago date.
PJK: Yes they will be out on the road supporting us there.
JN: I saw them running around Lollapalooza and later became a fan of their work.
PJK: They are such sweet guys and super talented. We are lucky to have them.
JN: I love their song "Learn to Fly" with Elton John. He is currently in town for The Devil Wears Prada.
PJK: What a career that man has had.
JN: What would you like to be known for as far as your career?
PJK: One thing I like about Coldplay is how global they are. It seems like they could walk into any city on earth and play a stadium. While that may not happen for us, we do play shows all our the world.
Just on this tour in North America, we are playing cities that most bands skip over and don't play. Places like Bend, Oregon, Asbury Park, New Jersey, Harrisburg, Pennsylvania and Tuscaloosa, Alabama. These are not usually considered major markets, but we are going to them and we are excited to be there.
We love playing shows and I would love to go down as a band that was formative for people and a soundtrack to their lives. I hope our music is memorable for fans' good times and bad times. We want to be there for them musically. A band that they can count on.
JN: That must go back to your roots in smaller towns such as Tulsa.
PJK: Yes. I didn't grow up getting to attend many shows because musicians didn't make a stop there. That is interesting because when I am designing our shows I am only going off total gut instinct and what I want them to be versus what I have seen in other live acts.
That does show up in our concerts. It is a very unique experience. People sing every single word to every song. Fans will travel around with us.
I know a little bit about the Grateful Dead's culture and we have a very similar thing happening where people have been to 50 LANY shows. They will have my handwriting tattooed on them.
I hope we have one or two more commercial hits than the Grateful Dead though! [both laugh]
JN: Your catalog has some very personal lyrics. You mentioned fans singing along to the words, but is it hard to convey slower songs in a live concert setting?
PJK: Everyone I listened to growing up laid it on the line for people. I always appreciated that style of songwriting. I would identify with what they were talking about in the lyrics. While I think ambiguity and mystery are cool as well, I am not very good at these concepts.
I stick to what I know and am good at. My strengths are putting complex and convoluted human emotions into plain speech.
I see that a lot with our fans. I was able to put some of their feelings into words for them and it is therapy for some people.
JN: Speaking of therapy, that Julia Michaels collaboration "Okay" you did together is music therapy for me. I listen to it all the time.
PJK: Thank you. I really appreciate that.
JN: I also like your song with Lauv on "Mean It." They seem to both work with your style of personal lyrics well.
PJK: Totally. I think they are both some of the best songwriters alive. They are so unique. I don't know anyone who writes in the same way as Julia Michaels. It is a gift for sure.
JN: "I Quit Drinking" over five years ago, so that track resonated with me.
PJK: Congratulations, Jerry. That was an amazing opportunity to work with Kelsea Ballerini and we love her so much.
JN: Is there a favorite song of yours that you enjoy playing live?
PJK: When I get off the phone with you then we go into rehearsals. We are going to build a brand new setlist. We are writing different arrangements for some of our songs.
We have a song called "You!" that is normally our first song at the encore. Now it will be the first song of the entire set. We have arranged it in a cool way that I am very excited about.
We have a song called "Thick and Thin" that is always a crowd favorite. People go absolutely ballistic with it.
Those two songs I don't have to even sing because the fans sing them for me. Those songs are going great in rehearsal.
JN: Is there one item on the tour bus that you require?
PJK: Lots of water. I know that sounds so crazy, but there is nothing worse than being on a bus at night with no water.
I try to keep the tour bus very clean because it is our home for the next seven weeks. It feels nice to spread out in a clean space. That makes me feel better when I am out there.
JN: Do you have plans for after the tour?
PJK: Well, we haven't dropped an album this year, but we will have a full world tour. We started in Mexico in March, then went to Australia and New Zealand just five weeks ago, then we went to South America.
Right now we are back in the studio with a guy named Mike Crossey with whom we made our album Malibu Nights. We are making a new album with him between tour dates.
We have 33 shows in North America then we go to Asia and play big shows over there.
JN: So it must feel like a Summer Forever for you just like the title of your tour!
PJK: It really does. I know we start in Maryland and end in Seattle, but I know very little about in-between that. I am getting on the bus and wherever I wake up is where I will play a show!
Look for LANY at Huntington Bank Pavilion at Northerly Island on Sunday, August 7, 2022. Tickets may be purchased at ThisIsLANY.com.
Interviewed by Jerry Nunn. Jerry Nunn is a contributing writer to the GoPride Network. His work is also featured in Windy City Times, Nightspots Magazine and syndicated nationally. Follow @jerrynunn