A GoPride Interview
Chelsea Austin
Chelsea Austin is Inexplicably herself
The second you block out the noise and ask yourself who you want to be things change.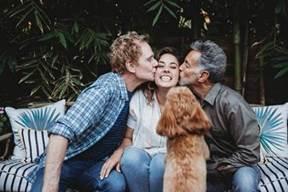 Author Chelsea Austin releases new book about her gay dads
Having two gay fathers created Chelsea Austin from scratch and made an ally to the community in the process. These days, Austin is currently an author, speaker and certified life coach. She shared the stage with President Obama when she was 18 years old and in 2010 was voted one of the Top Fifteen LGBT Activists in the Los Angeles area.
Her latest project is called Inexplicably Me, a book that covers her story and gives powerful advice on how we can all be better people.
Austin met up at her hotel while out on a book tour to speak directly to the LGBTQ+ community through GoPride.
JN: (Jerry Nunn) You have the longest name ever!
CA: (Chelsea Austin) Yes, I have five names Chelsea Austin Montgomery-Duban Wachter. I have both my dad's last names, my husband's last name and my own first name and my middle name. I love it because even growing up I had four names. I feel like I should have gotten a longer time than others on tests because it took me so long to write it every time!
To me, names feel very representative of who you are and I would get very upset if a teacher would leave off one name because it was like choosing a dad.
It was a very proud moment when I added my husband's last name at the end because I never thought I would take my husband's name. He took both of my last names so we are the same.
JN: Where are you located?
CA: Los Angeles, California.
JN: One of your dads is from here?
CA: Yes. My daddy was raised in Skokie and moved out to California when he was 18. He spent his childhood and his formative years here.
JN: How did your two dads meet?
CA: On a blind date 40 years ago. My daddy taught college right after graduating and met my other dad who was an accountant through a student at the school. The two of them went to dinner and then moved in together 10 days later. The rest was history!
JN: You are very open about being made from a test tube baby in your book.
CA: I am very proud of my test tube status! [laughs]
JN: That sounds like a standup comedy segment. Your advice about "Don't look out, look in" resonated with me. Some people seem to think it is everyone else and not themselves these days…
CA: Yes, they think everyone else is the real problem or people will tell someone who to be. People tell people there is one way to do things or to go be a certain way as a person.
The second you block out the noise and ask yourself who you want to be things change.
I used to be "the girl with two gay dads" and, though I loved that title, I had to find who else I was besides that. For a long time I didn't know because I was trying to be what others wanted me to be.
It has been an identity formation process later in life for me. Looking in is a big part of that.
JN: What are the advantages of having two dads?
CA: It was the best thing ever! I knew from the time I was brought home that I was so loved. It wasn't easy for my parents to have me. It wasn't an accident. It didn't happen overnight.
This was something premeditated and they sought out the doctors and players to make it happen. Any child who is adopted or created in this way must feel so loved and valuable.
This was a big advantage of having two dads. It gave me a different perspective on seeing the world.
I grew up during the time that Proposition 8 was passed in California banning gay marriage. I didn't know how it was possible and I thought about my neighbors and people around me voting for this terrible law.
All I knew was that I was raised by two amazing humans that love me no matter what. They fed me, clothed me and gave me a beautiful life. I felt privileged and grateful, so how could someone not see this as okay?
It gave me the perspective that we need to be more loving no matter what our background is and who we are. You never know what is going on in someone's life.
JN: I am concerned that equal marriage rights will be taken away with how things are going in the United States recently.
CA: I feel like we are going back in time. It is terrifying. I have always hung onto a lot of hope. We have done this before and we can do it again. My parents are 71 and 66. They have fought for their rights over and over.
If I stay in a dark place then I am just one more joyless person in the world. Instead, I can share the joy and show the world I am just like them. I am funky and goofy. I am a theater kid that hates kale.
We have to go out, be ourselves and learn to accept others. Sometimes my parents think that they can't do it all again and I believe we have to. It is easier for me as a heterosexual cisgender woman to pick up the torch because I am not facing adversity every day.
JN: What would you like readers to take away from your book?
CA: If we can accept ourselves then that is when we can start accepting other people. If we show up as who we are then it doesn't matter what anyone else is doing. We can then love everyone regardless of who they love, what they look like or where they come from, anything. I really hope people can tap into their own self-acceptance as a method of getting to that place to accept others.
The young girl inside of me really struggled with proving my worth and finding out why I was valuable. Women should be able to tap into their own self-worth at a very young age these days. No one has to do anything to show they are worthy.
JN: Many of us struggle with that.
CA: It is tough to be a human!
JN: I saw that Modern Family's Jesse Tyler Ferguson endorsed your book Inexplicably Me.
CA: Yes. Jesse and Justin Mikita are friends of ours. They are raising their own child now, which is amazing to watch.
JN: How did you decide on the quotes used in the book?
CA: I am obsessed with quotes. All of the ones I used I have gotten from a book or poem. I have Pinterest boards full of quotes.
I went through my collection and picked out the ones that meant a lot to me for the book.
JN: Were there parts of the book that wound up on the cutting room floor?
CA: I actually added a lot more material in. My first draft was pretty political. Trump had just gotten elected and I was pretty angry. I put a lot of beliefs and anger in the book at the beginning.
I wanted it to reach a wider audience and affect change. I pulled out the angry politics at the advice of my husband. I am thankful to him because he helped to get my book published.
JN: What advice would you give a gay parent?
CA: Just love your child, that is for any parent, though. To keep going and be yourselves. There is no need to be shy or embarrassed and to live by example. That is what my parents always taught me.
We didn't always wave a rainbow flag or be outspoken about many things, but my parents taught me to be myself and change the world that way.
JN: Do you want to write another book?
CA: Yes, there are always things ruminating. While on the book tour people are telling me to work on a second book and the first one will become a best seller.
I have a program called Flip the Script and I would like to create a book that focuses on the tools I use there.
This book ended when I was 25 and I am only 29 years old so to write another memoir I will need to live a few more years.
JN: What are you doing the rest of the year?
CA: I have the book tour and then speaking engagements. I have a podcast, blog and course at ChelseaAustin.com. You can find all of my projects there. For my podcast this season my dad became my cohost, so we have a lot of fun together!
Interviewed by Jerry Nunn. Jerry Nunn is a contributing writer to the GoPride Network. His work is also featured in Windy City Times, Nightspots Magazine and syndicated nationally. Follow @jerrynunn