A GoPride Interview
Sandra Bernhard
Sandra Bernhard interview with ChicagoPride.com
Wed. February 10, 2010 by Alissa Norby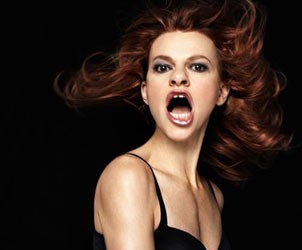 Having garnered immense critical acclaim throughout the years for her comedy shows including
I'm Still Here…Damn It!, Everything Bad and Beautiful
, and
Plan B From Outer Space
, Sandra Bernhard stands as one of the most prominent- and acidic- comediennes of our time. Fresh off the release of her latest musical album "Whatever It Takes" as well as a brush with controversy during the 2008 Presidential race, Bernhard comes back to the Chicago comedy scene with a gleeful vengeance.
AN:
(ShowBiz Chicago) Your new CD, "Whatever It Takes" is informed by a confluence of world music. What prompted you to endeavor in those forms?
SB:
The guy [Ted Mason] who wrote and produced the album approached me. I'm not particularly plugged into the world music scene. I have enjoyed the music over the years but he had the idea for this project for quite some time and he was looking for somebody who had my kind of political worldview.
He asked if I'd be interested in doing it and I said yeah of course. I mean anytime you get to have a musical experience when you're a performer is cool. So that's how that came together. He's totally plugged into all the African musicians and world-class musicians.
AN:
"Why So Blue" is a particularly striking song on your album that illustrates violence against women in Eastern countries. How do you think art, music and comedy specifically, play into people's comfort and interest in social issues?
SB:
I think the great thing about doing comedy and music is that people expect me to be outspoken and expect me to break the barriers of complacency. Even if someone is not used to what I do or my work, when you come to see a live performance or hear an album you want to hear something that challenges you and makes you think about the world in a different way. I think that's what an artist does.
AN:
Music and comedy are two of the most integral mediums of storytelling in our national culture. Do you approach the two forms differently or does there exist a synthesis between the two?
SB:
I always like to bookend my stories with music. I feel like it's a punctuation [for the] day to day anyway. With the internet it's so easy to access stories and news items. You can even have you music on iTunes in the background while you are reading. It's just an interesting development in the evolution of art and music and literature. I think it all kind of merges on the Internet.
AN:
Have sociopolitical circumstances always impacted your creative approach?
SB:
Yeah, I think I'm interested in humanity and in how people survive and what inspires them to get through really heart-wrenching situations, be it financially, personally, or globally. I think that has always informed my view of the world and therefore it trickles down into my work.
AN:
There has been an increasing intersectionality between queer culture and the music industry with such artists as Lady Gaga, one that no longer seems to delegate certain artists as 'LGBT' specific. The divorce between 'LGBT' music and 'straight' music is quickly dissolving. Why do you think this has come to be?
SB:
I think the most cutting-edge music has always come out of gay-friendly artists or gay artists. I think that people want to be enlightened and to be a part of what they perceive as the hipness factor. I think that everyone wants to feel smart and hip. It's a sensibility. Lady Gaga has a sensibility that is very appealing and gay people are open and fluid. I think that makes for inspiring, interesting work that reaches across the lines.
AN:
We have experienced an interesting year in that sense with Lady Gaga, Adam Lambert, and now Kesha. Why do you think that when artists now disclose a minority sexuality the announcement does not segregate them in terms of their audience?
SB:
I think talent and that kind of originality transcends sexuality. I think that we're at a really pivotal time in our culture. I think that being gay soon will not be as shocking or disparate from being straight. I really think it's becoming part of the mainstream lexicon.
AN:
I recently spoke with Lily Tomlin and we both noted that there had been an increasing trend in the brashness, or really harsh obscenity, of female comedians, perhaps as a way to assert their power alongside male performers. Why do you think this trend has come to be?
SB:
I think that really captures it. I think that most women in comedy sort of give in and give up and just think there is no real unique way [to perform], like people like Lily, me or Roseanne who started out in the previous generation. It was more artist-driven. You wanted to say something and have some compassion and layers. These women just want to be part of the male-dominated landscape. The only way you can really do that is by emulating the male sensibility.
AN:
You've appeared in both the earliest portrayals of lesbian characters and the more recent, commercialized depictions between
Roseanne
and
The L Word
. How do you think narratives, in terms of their portrayal of LGBT individuals, have shifted throughout the years?
SB:
I think like all people that are on the fringe it's less caricature and more character driven. I think that as people are more accepting and understanding of different cultures you can portray a more honest version of what those people are.
AN:
How did you develop a hybrid between music and stand-up for your upcoming performances?
SB:
I always try to choose a song that I can bring my own particular brand of irony to, that I can do something unique and different with. The music is usually a punctuation to a monologue or piece from the show. It's kind of a non sequitor stream of consciousness, since my show goes in and out of music and comedy and one-liners. It's a mash-up of all comedy music styles. I'm excited to come, I love Chicago!
Sandra Bernhard performs at the Lakeshore Theater from February 11, 2010- February 14, 2010. For more information or to purchase tickets, please visit www.lakeshoretheater.com.
Interviewed by Alissa Norby
Serving the Chicago gay, lesbian, bisexual and transgender communities. ©Copyright 2019 GoPride Networks. All rights reserved.