A GoPride Interview
Lesley Nicol
Downton Abbey star Lesley Nicol kicks off one-woman show in Chicago
I am not pretending to be Bernadette Peters, but I can sing.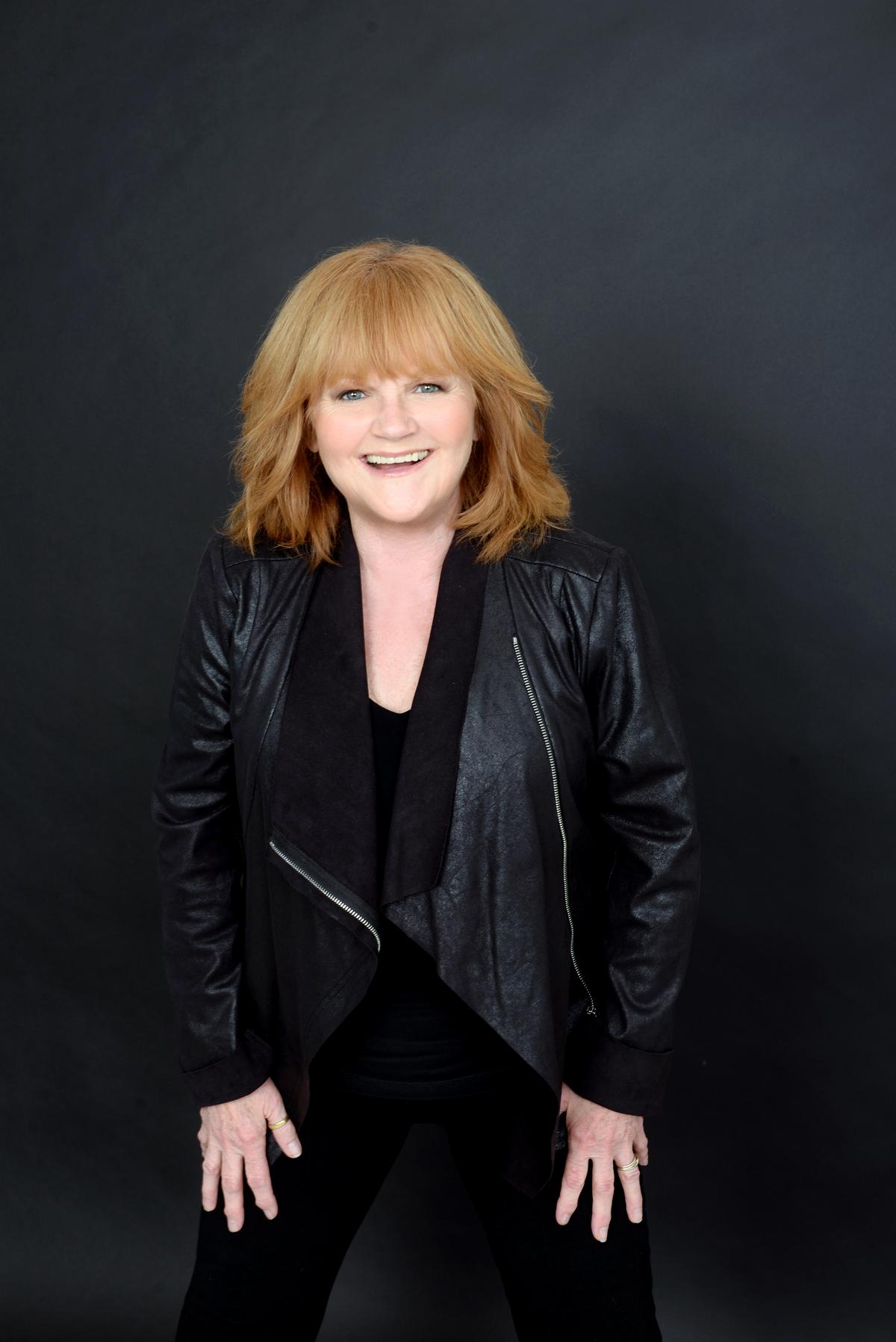 From West London to Chicago, How the Hell Did I Get Here?
British actress Lesley Nicol is flying into the Windy City with a new one-woman musical show that conveys the ups and downs of her successful career.
Nicols is known for playing Beryl Patmore in the PBS series Downton Abbey. She won three SAG Awards for the show and also starred in two feature films of the popular drama.
Other television credits include Amazon Prime Video's The Boys, The CW's Supernatural and TVLand's Hot in Cleveland.
On the musical stage, she co-starred as Rosie in the original West End production of Mamma Mia! and originated the role of Kath in the Madness Musical Our House.
This new endeavor called How the Hell Did I Get Here? has her singing once again on the stage, this time at the Greenhouse Theater Center. She is collaborating with Mark Mueller, an award-winning songwriter and Luke Kernaghan, as stage director, to make her story truly special. Audiences will surely be captivated by Nicol's heartfelt stories and powerful journey as a working actress rises to the top.
JN: (Jerry Nunn) Where in the world are phoning in from, Mrs. Nicol?
LN: (Lesley Nicol) I am in West London. I am packing before I take a plane to Chicago!
JN Have you been to Chicago in the past?
LN: Only once and it was in 2013. I did a very quick job and it was just two nights. I was at the Chicago Cultural Center's Preston Bradley Hall for a theater piece called Admission: One Shilling. I was the actor and teamed with a classical pianist named Inna Faliks. It was the story of Dame Myra Hess, who used to do concerts during World War II in London for people who didn't have much money. They were charged one shilling to come and see a world class musician to take their monies off the bombings.
I did that for two nights and it was January, so your state was giving me your very coldest weather. How is it now? Do I need to bring my furry bits with me this time?
JN: Yes, the weather has been up and down with temperatures recently. I have seen your face on all the buses in Chicago advertising for this upcoming show.
LN: I am also in a laundry mat. A friend of mine in Chicago sent me a picture. I was shoved next to a flyer about a ballet performance!
JN: You are not a stranger to musicals I read.
LN: The weird thing is I am an actor who does musicals, but I dip in and out. I don't do them all the time. It is always really lovely when I get to sing because it is usually years since I have actually done it.
In my career, I have been lucky. I have been able to do musicals, then some TV and then a piece of theater. It has been quite a variety.
JN: Talk about creating How the Hell Did I Get Here?
LN: My husband and I lived in Los Angeles for five years. We just left in 2020 when the pandemic hit. During that time I became friends with one of your finest songwriters Mark Mueller. I knew him socially and knew he was a musician because he had all those discs on his wall. The man has obviously had a lot of hits. I got to know him as a person and we had a good time together. We always laughed together and I liked him a lot. I still like him and he is coming with me to Chicago.
One night we were at dinner and it was as random as this that I stated something was bugging me. I explained that I wanted to do something in the theater. I didn't want to do a cabaret act because there would be people that do it better than me. He joked, "You are not making any sense. Can we talk about this when we are completely sober?" That was a good idea and he came over to my house the next day and became completely infused by this idea. Of course, because he's a writer of many years he had the skill, the discipline and the know-how to put this project together.
Between the two of us, we created this piece. I wanted some music in it, because like I said, I am an actor who sings. I am not pretending to be Bernadette Peters, but I can sing.
I thought Mark would put in a couple of songs, but he got so excited that he couldn't stop, so now there are 10 songs that he wrote specifically for me.
I can say that they are killer songs since I didn't write them, although I helped a bit. If you like music then you are in for a treat because they are fantastic songs!
So that is how it happened. We had a little tryout in front of his friends in his living room in LA. This will be the first time that we will have a proper theatrical production, directed by a director with lights and the whole thing.
JN: Why did you pick Chicago to debut the show?
LN: I can't take the credit for that because my producer knows more about the scene in Chicago. I obviously know that Chicago has a huge reputation for theater, so it feels perfect, if not a little terrifying, but I will have to get over that, won't I? I am very excited and it seems like the perfect place to unleash it!
JN: Will this be an emotional thing for you to go through your life stories every night?
LN: I don't know yet, but I am really looking forward to having an audience. I have only been rehearsing it to one man who is valiantly laughing at the same joke repeatedly. I am feeling very sorry for him right now. That poor director!
I am desperate to get this in front of people because the point of this show is for people to think about their own personal stories. It is about me, but it is designed for people to remember what obstacles they have overcome.
The two times we have done this show on a small scale people come up to me afterward and don't want to talk about me, I am very happy to say. They want to talk about themselves.
I want it to be entertaining obviously and it is, but I want people to remember things from their own memories. That is what I want it to be.
JN: So your hopes are that audiences will identify with your story and apply it to their own lives.
LN: Totally. People may be under the impression because I have been on a TV show that I have a blessed, golden life, but really we are all the same. We have good bits and bad bits. I just take us through a few of the things that have happened to me along the way.
JN: Is there something in the show for gay audiences?
LN: I like to think that the gay community is quite fond of Mrs. Patmore and will come in the hundreds to the show. That is what I would like!
This show is for everybody and quite campy. I will tell you that. I do a bit of slinging my legs around, so that should cause some amusement! [laughs]
I have some very exciting boots with gold heels, so that will go down well. I think you will like those.
JN: I will so bring on the boots! Is the goal for this show to tour and take it to other places?
LN: They have just announced the dates in New York. I will be there for five weeks then we are going to San Francisco and Pittsburgh. That is the initial North American tour, for now, then we will see if anyone is interested in it before we go somewhere else.
JN: Well, I am interested in it.
LN: I know and I am thrilled. Are you going to come then?
JN: Of course.
LN: Will you give me one go at it so I can make some mistakes first then come back?
JN: Sure. It is not going to magically happen. You will have to workshop it a bit first.
LN: Exactly. Did I see you dressed as a nun?
JN: You did and my last name is Nunn.
LN: Oh, I see! I know your second name is Nunn, but I just didn't make the connection. The rep sent me a link to your page and I thought, "That is a nice gentleman dressed as a nun!" And here you are…
JN: I came dressed as a nun to actress Debbie Reynolds' show once.
LN: Did she also have a one-woman show?
JN: She did and told her stories similar to your show. You have a big year this year with the movie Downton Abbey: A New Era coming out May 20, 2022.
LN: Yes, they have pushed it back a couple of times. People are a bit confused. It was going to be January, then March and now the end of May. That will be fun because I will be there when that happens and so will some of the cast. They will come to see the show I think! [claps] They will know half of it because they know me very well.
I talk about Downton in my show, but it is not all about show business and acting. There will be things people have not heard before such as new stuff about Downton.
JN: Downton Abbey just keeps on going, doesn't it?
LN: It does. Who knew? Because we didn't. It is very gratifying to be a part of something that a lot of people love. Now that it is on Netflix people have been watching it a lot.
Life has been so horrible and hard for people that if Downton causes a distraction for a minute that is a great thing. That is what I want this one-woman show to do as well, to be honest with you. Things are bleak so just disappear with us for 80 minutes and have a little rest!
JN: This sounds wonderful. I will be there.
LN: I look forward to meeting you in person, your Nunnship!
How the Hell Did I Get Here? happens from March 12 to April 3 at Greenhouse Theater Center, 2257 N. Lincoln Avenue. Look for tickets at HowTheHellMusical.com including details of the national tour.
Interviewed by Jerry Nunn. Jerry Nunn is a contributing writer to the GoPride Network. His work is also featured in Windy City Times, Nightspots Magazine and syndicated nationally. Follow @jerrynunn