A GoPride Interview
Sammy Rae
Sammy Rae & The Friends
We need to see more queer artists taking center stage and telling their stories.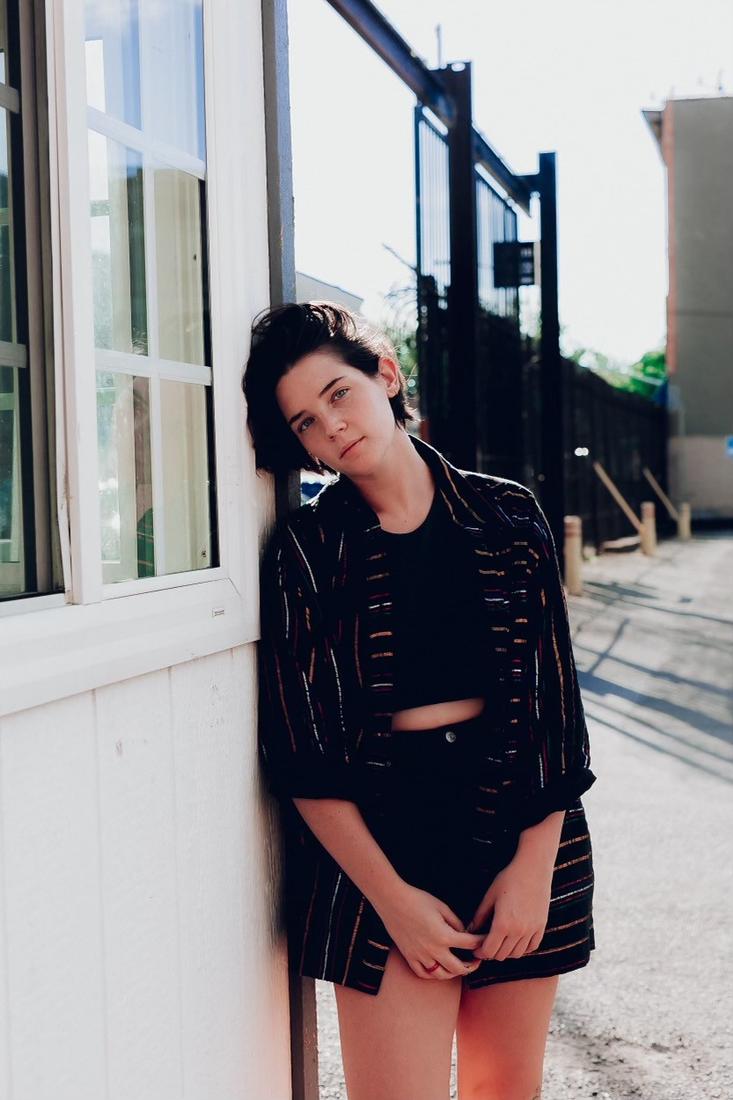 photo credit // stunt company
Sammy Rae brings The Friends to Lincoln Hall
Independent performer Sammy Rae uses she/they pronouns interchangeably and identifies as a queer female bandleader in Brooklyn, originally from Connecticut. The music group Sammy Rae & The Friends have an upcoming sold-out show planned at Lincoln Hall on November 18 after 15 million streams. Their EP Let's Throw a Party has been a success thanks to an eclectic style that many are anxious to finally see play live in Chicago.
Sammy Rae gave our readers some behind-the-scenes stories during a recent interview.
JN: (Jerry Nunn) My name is Jerry Don, is there possibly some southern roots with your name also?
SR: (Sammy Rae) No. I am Samantha Rae Bowers. Rae is my dad's first name and that became my middle name.
JN: Who are The Friends?
SR: We are seven folks in total. We are all interdisciplinary musicians and found each other on the New York City music scene over the last few years.
I knew from the beginning that I didn't want to be solo or be back by rotating cast. I wanted to be the front person of an all-the-time band.
We maintain a sense of community so we call the folks that follow us "The Friends" as well.
JN: Are there other band members that are LGBTQ+?
SR: Yes, we another queer femme in the project.
JN: This show is sold out at Lincoln Hall. Do you feel some pressure?
SR: Not in the slightest. It is very exciting. Before COVID in 2019, we had this ridiculous streak in New York where we sell out venues with over 100 people, then 200 and 350 we sold out. Within a couple of months, we would keep selling out the various venues.
We wanted to get out on the road and did a little bit of playing, but the lockdown happened. We had an online community and when things opened up every venue we booked sold-out because folks were excited to see us play live. We have around 30 cities booked and almost all of them are sold out.
We have a lot of gratitude for not only surviving COVID but having so many amazing sold out shows booked.
JN: Have you been to Chicago before?
SR: I have never played a show in Chicago. We have been there for a layover and driven through but that is it.
JN: You have previously spoken about being an independent artist and what that means. Can you elaborate on that some?
SR: So, I have millions of streams on a song, but the check I get is less than 50 bucks a month. The way to make money is to go on the road and the bulk of our money comes from the merchandise. We sell merch online and at the venue.
When I started the project, I wanted talented players. I knew I was going out of my pocket to pay for the studio and reputable players. They were either in or out for not very much money.
For the last three years, it has been this group. It is a testament to each of our talents and drives to stick with it. The only reason I don't have a coffee shop job is because of these audience members. In turn, I am writing this music that serves this audience. My audience is young, heavily queer and creative. What we do with the live space is to tell people that it is a safe space, come dressed however you want and it is a party coming to your town. It is also a mixer to meet like-minded people in your area.
That is how we keep the ball rolling to get paid. It is extremely difficult in the beginning. Musicians need to find a way to make money.
JN: I appreciate you pulling back the curtain on this a bit. Do you have vinyl for purchase at the merchandise booth?
SR: Vinyl is in the works. We probably won't have vinyl by the time we get to Chicago. Everything in the world is backed up. Demand is tough at the moment with so many bands going back on the road. We will have t-shirts though!
JN: Are you meeting fans after the shows with current conditions?
SR: We would love to meet everyone after the show, but that is hugging a hundred people after every show. We ask that they put their mask on and will see if we can at each venue.
This is a personal concert and I feel like everyone in the room is my friend. As a young, queer kid that wanted to make art in a small town, I didn't have a lot of friends. Now that I have made a career of making friends it is really tough.
We try to make people have a personal connection at a meet and greet, but it is hard. I want to hug everyone and be safe at the same time.
JN: Is "Whatever We Feel" a fun song to play live?
SR: "Whatever We Feel" is a very special one because when we played it for the first time everyone was very ravenous to be there. It calls to mind earlier days when we did whatever we felt and were being ourselves. It is hand percussion-heavy and I play the ukulele at the beginning, which I don't usually play. Our bassist is playing a Brazilian tambourine. There are musical elements that we only capture live with that song. It is a song about having fun.
JN: What artists have inspired you as a queer musician?
SR: I think my artistry inspires my being queer and my being queer inspires my artistry. I remember watching Aladdin at 12 years old and being attracted to both of them. I didn't where to put that. I had no queer role models in my life at that time.
As I got older, I saw so many queer artists pushing boundaries that were in place in my head. I remember being impressed with Mika running around in women's clothes and the music video from Queen "I Want to Break Free." I would see Elton John onstage and David Bowie in big heels. Seeing these male queer artists present fearlessly broke down barriers as to what I was capable of as an artist.
There are not as many people telling queer stories as heteronormative stories. My song "Jackie Onassis" is a queer anthem that took me 10 years to write. I wasn't sure it would be accepted well and not lose half of the audience.
We need to see more queer artists taking center stage and telling their stories.
JN: What can people expect at your concert?
SR: The show is bright, fun, theatrical and influenced by my life. There is a light show and set pieces. I have a costume change and there are props. Everyone onstage is giving all of their energy and rolling on the floor like rock stars.
On top of that, you are going to hear some talented musicians playing some complex music. It will be a wonderful, musical experience!
Sammy Rae & The Friends play Lincoln Hall, 2424 N. Lincoln Avenue, on November 18. 
Interviewed by Jerry Nunn. Jerry Nunn is a contributing writer to the GoPride Network. His work is also featured in Windy City Times, Nightspots Magazine and syndicated nationally. Follow @jerrynunn