A GoPride Interview
Greg Alsop
Tokyo Police returns to Lincoln Hall
We are starting to dip our toes into new music again!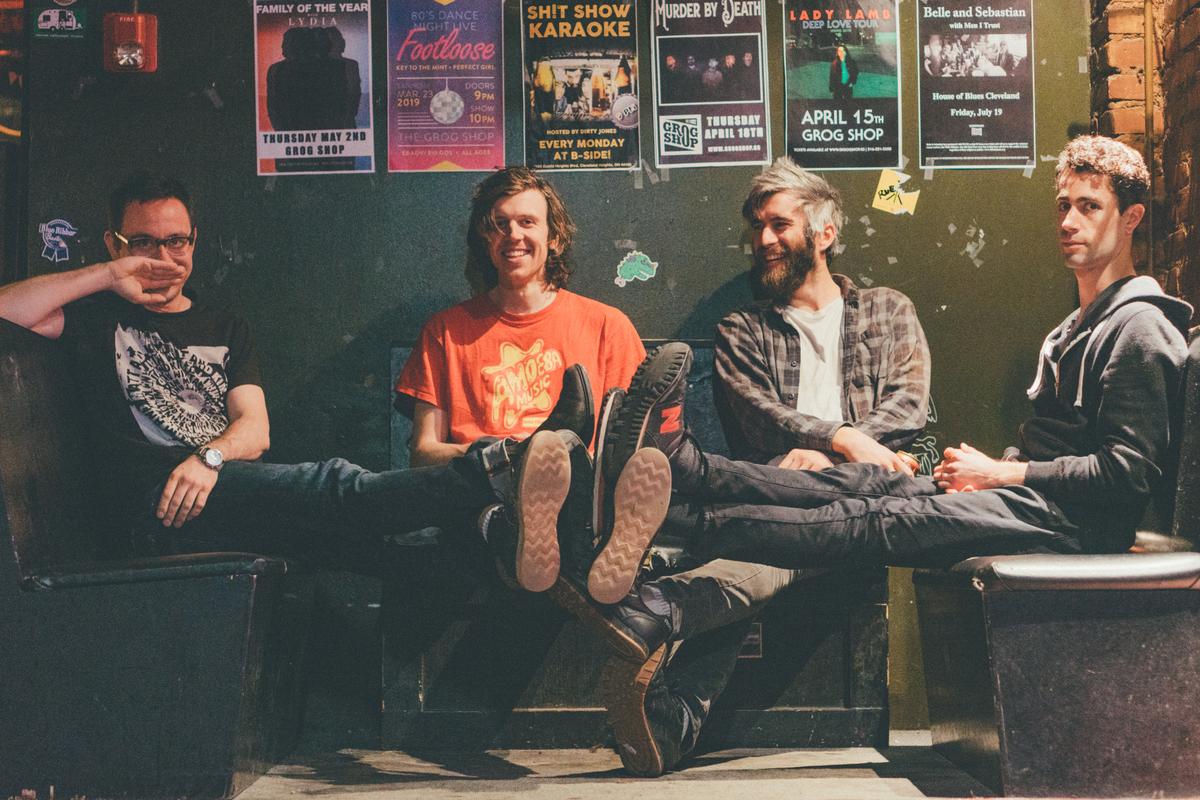 photo credit // taylor ohryn
Catching up with drummer Greg Alsop
Indie rock band Tokyo Police Club was founded in 2005 with members from Canada that include Dave Monks on vocals, guitarist Josh Hook, Graham Wright on keyboards and drummer Greg Alsop.
In celebration of the 10th anniversary of their album Champ, the group hit the road to play the classic record in its entirety each night.
Alsop sat down at Lincoln Hall to talk about it before the show.
Jerry Nunn: (Jerry Nunn) Wow, the last time I interviewed you was in 2013. The band plays here often.
Greg Alsop: (GA) We love Chicago. It is so close to Toronto, but with venues, there are no places like this in Toronto. How was your time with Pride in Toronto?
JN: It was the best! With the anniversary of Champ, There are now new tracks on it?
GA: There's one song that we had recorded back then that didn't make it on the record. It was cut for some reason and only lived as an MP3 rough mix. We had it remixed and ended up on the deluxe called "Hundred Dollar Day."
"Top 5" is a new track that we just put out a week ago. That is a song from that era that only lived on a Daytrotter session.
About a month ago, we were able to gather together again for live shows in Toronto. We booked some studio time and banged that one out. We are starting to dip our toes into new music again!
We all live in different places so it has been difficult to collaborate.
JN: Some bands are meeting over Zoom these days…
GA: We have sent people tracks over email before and have a band Dropbox. The experience of the TPC record when we were able to go away and write together for extended pieces of time was a luxury. The music also felt so much more connected. If we can replicate that again, we would love to.
JN: You still live in Canada?
GA: Yes, I just moved back to Canada and was in the States before that for five years. I live in Prince Edward Island now. It is on the far East Coast of Canada and a tiny little island known for Anne of Green Gables.
JN: Why do you think Champ has resonated with fans for 10 years?
GA: For people of that era it was the right record that indie rock bubble that was happening from the early 2000s to 2014. It just hit the mark to be our statement record.
For so many fans and us, it has a nostalgic pull into it. We worked very hard on it.
JN: Didn't it take three months to make the album?
GA: It took three months to record the final version. We started that record in 2009 in New York. We did six weeks there with producer Chris Zane. When we signed with Mom + Pop Records, they asked if we wanted to redo it and work with different producers. I loved working with Chris and we took the opportunity to work with Rob Schnapf and Doug Boehm as well. It was a phenomenal experience. It ended up paying off.
JN: What is your favorite thing and least favorite thing about touring?
GA: It has been two years not touring. Right now I have two kids. This is my first time touring and having a two-and-a-half-year-old and a seven-month-old in my life. The two-year-old is conscious enough to know I am not there and vocal enough to say she doesn't want to zoom tonight. She is more into Peppa Pig at the moment [laughs]!
Coming back to cities like this one is my favorite part. It feels so good to be back in America and at our favorite spots. We have missed it.
JN: Your new studio is named after your situation at home?
GA: Yes, Don't Wake Baby Studio is in the basement. We have to choose moments to be loud. I have recorded drums there and very loud guitars. It is a cool spot to call home and produce out of right now.
JN: I want to record there!
GA: Well, book time.
JN: I am sure it is more than a "Hundred Dollar Day."
GA: Yes, but I can give you the Anne of Green Gables tour and have COWS ice cream. I will give you the whole island experience, man.
JN: Sounds great. Playing off the Champ tracks, what's your "Favourite Colour?"
GA: Purple.
JN: What's your "Favourite Food?"
GA: Ramen, it changes seasonally, but right now I am into soups with broth.
JN: How did you connect with Matt & Kim for the remix of "Gone?"
GA: We have been friends since we did a show together for South by Southwest. Every time we do a show in New York they come out to see us. We hang out backstage but have not been able to collaborate.
They brought us on tour in 2018. They are such great people and know how to put on a show. They draw an earnest crowd. They distill music down to the bare minimum to make it emotional. It is cool to have their interpretation of "Gone." They took the best parts and amplified them.
JN: I think everyone should see them play live.
GA: Yes, it is healing and cathartic. It is a party!
JN: Is "Once I Was The Keeper" fun to play live?
GA: We have never played it live. That was another one we started during the Chris Zane sessions. It fell by the wayside as we started working on the rest of the album. I love that one.
JN: Tonight you play the whole album?
GA: Yes, We play the full album, Dave does a couple of acoustic songs, then we finish with full band songs and a bit of an encore. It is around 90 minutes long, depending on some of the acoustic stuff.
JN: Does it feel repetitive to play the whole album night after night?
GA: It feels cool right now because we haven't revisited the whole album, especially the back half of the album, in years. We get to explore it now as better musicians. We have grown up and can reinterpret it. We are just better at it now! [laughs]
It was a stressful album to play live back when we were 24 years old and had just recorded it. It is a precise bunch of songs and there is not a lot of room to stray.
JN: Passion Pit has a remix on the album and the lead singer Michael Angelakos makes the music in the studio and the rest of the band has to figure out how to play it live.
GA: Yes, and I think that is how a lot of production is done these days. There are so many bedroom producers who can do magical things on their laptops then have to craft a show around it. They then bring in musicians who can create it live.
JN: What are your plans for the future?
GA: We are starting to work on new material. We have had a few rehearsal dates. We are feeling out some demos that Dave sent around. Hopefully, we can get studio time and release a few singles before the end of the year. I'm not sure where a full album fits into the mix, but we are forcing on touring right now. We are reconnecting as a band after being apart for so long.
JN: What is one misconception about a drummer that you would like to see change?
GA: I am the most on-time of everyone. The jokes aren't all true!
Interviewed by Jerry Nunn. Jerry Nunn is a contributing writer to the GoPride Network. His work is also featured in Windy City Times, Nightspots Magazine and syndicated nationally. Follow @jerrynunn