A GoPride Interview
Elizabeth Keener
Elizabeth Keener interview with ChicagoPride.com
Wed. October 7, 2009 by Windy City Times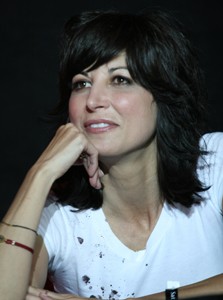 Stage 33 Chicago, 3655 N. Kedzie, is presenting a 60-minute improvised game show hosted by Elizabeth Keener for its first production. Windy City Times' Jerry Nunn talked with Keener—sister of actress Catherine Keener—about The L Word, family and the show (called Keenerville).
WCT:
(Windy City Times) Hi, Elizabeth. Do you miss playing Dawn Denbo on The L Word?
EK:
(Elizabeth Keener) Absolutely, best gig ever. You get to be nasty as you want to be. [Laughs] It was fun to play the villain. To come into a show with everyone is liked and you have to ride that fine line because it's you against all of them. I never had a bad experience with the fans. I would hear, "You were such a bitch on the show but I loved you!"
WCT:
I interviewed Jane Lynch. She said the wrap party was fun.
EK:
Love her! Yes it was a great bunch of women, very strong, great at what they do.
WCT:
How's your sister, Catherine?
EK:
She's great, busy as ever. She's plays the mom in the movie "Where the Wild Things Are." So many of my friends love that book and Spike Jones is phenomenal.
WCT:
I heard Karen O from the Yeah Yeah Yeahs are doing the music.
EK:
I think they are. She has the coolest tattoo. I have to say, it looks like a fly on her arm. It's awesome. I love the Yeah Yeah Yeahs. They are fantastic.
WCT:
You have appeared in movies such as Forgetting Sarah Marshall and Friends with Money. What projects do you have coming up?
EK:
Movies are slow because of the writers' strike. As far as television there is a one-hour FBI agent show on Here! Network that I am starring in and producing. I also have a couple of Web series that I am excited about. One, called The Greenbergs, it has a Curb Your Enthusiasm feel with Danny Duchovny, who is David's brother. The other one is called Venice, where characters continue on from [the recently canceled soap opera] Guiding Light. We have been talked about in the New York Times [and] CNN, and it's huge. You can go on venicetheseries.com. The Web page, on the first day, got 300,000 hits. I am on Twitter (Keener18) now because of that show.
WCT:
How did you get involved with Stage 33 Chicago?
EK:
Well, I know Christin Baker from Telefilms. Last year they were here for Pride weekend and they wanted to interview me. Someone had said that they are really fun. I didn't know them before, but since then I now consider them all friends. I had seen them at Dinah Shore and they are just great. Christin was here a couple of months ago and we were hanging out in West Hollywood [Calif.]. I told her that I had always wanted to host a game show. It was a kid dream of mine. We decided to do an improv game show so that's exactly how that came out. It was one of those weird L.A. things that came about from talking.
WCT:
So it's called "Keenerville?"
EK:
I didn't make that name up, Jerry. I am not a narcissist or anything. [Both laugh.] Christin texted me and said "Guess what the name of it is? Keenerville." So I said, "I have to do it now."
WCT:
What prizes can audience members win?
EK:
I don't think I am allowed to know all that stuff yet. It is a surprise for me when I pick someone out. Whatever they get, they randomly get.
WCT:
What are the dates for the shows?
EK:
[It's running] Oct. 14-18. The Wednesday through Saturday shows are at 8 p.m. The Sunday show on the 18th is at 7 p.m. There are only 25 seats, so it is a small theater. Get your tickets when you can!
WCT:
I will have to check it out.
EK:
It's going to be fun. They will have amazing improv actors. I was able to improv a lot on the L Word so I come from that world.
Tickets for the performance and post-show party are $30, with post-show party tickets being $20. Visit www.Stage33Chicago.org.Interview by Jerry Nunn
Interviewed by Windy City Times