A GoPride Interview
A. J. Jackson
Saint Motel checks in to Chicago
Music is a mystery inside our bodies that no one really understands.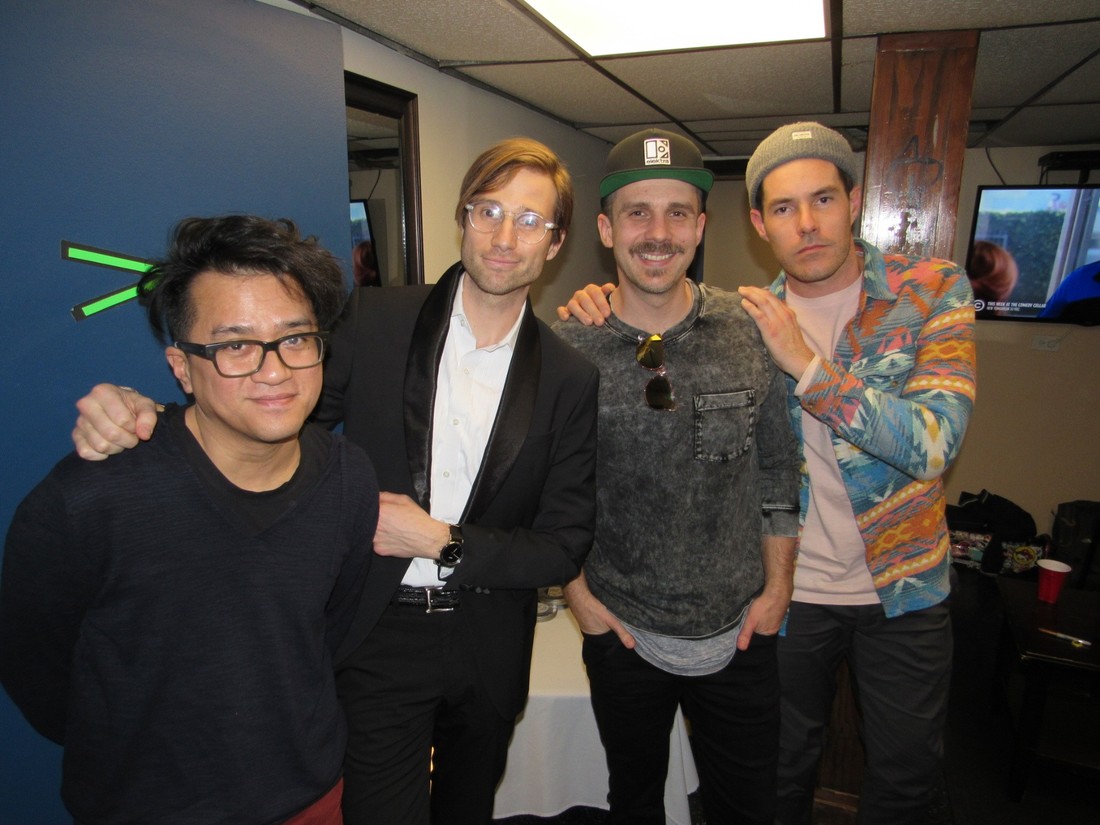 photo credit // jerry nunn
Saint Motel is a pop band from Los Angeles that consists of A.J. Jackson, Aaron Sharp, Dak Lerdamornpong and Greg Erwin. 
Thanks to the single "My Type," the group was signed to Elektra Records and went platinum in Europe. Their latest endeavor The Original Motion Picture Soundtrack: Part 1 is an EP where every track grows better on repeat listens. 
Backstage at a recent Chicago concert, the quartet talked about new music and plans for the future. 
JN: (Jerry Nunn) Is everyone from LA?
AJ: (A.J.Jackson) No. We met in film school. I'm from Minneapolis. Aaron is from LA. Greg is from northern California and Dak is from Thailand. 
JN: Where did your sound come from?
AJ: There was no conscious decision about what to sound like. 
GE: (Greg Erwin) We got lucky when we met each other. A.J. and Aaron had already formed a band together and Dak and I came in last. We just all agreed on things we loved. We learned a lot from each other's musical taste. It seeped into the ethos of what we became. 
JN: Where did the name Saint Motel come from?
AJ: Saint Motel is the dichotomy of the light and the dark. It's the dirty and the sweet. It has a nice balance. 
JN: How did the song "My Type" change things for the band?
AJ: That did change things. We got signed and toured Europe. We disappeared for a while and came back. 
GE: All of a sudden people here started liking us. 
JN: How was playing Lollapalooza?
AS: (Aaron Sharp) Awesome!
GE: We did Lolla then did an after show at Lincoln Hall and we also play Schubas twice in the past. 
JN: You have paid your dues as an indie band. How is it working with Elektra?
AJ: That was a while ago. We were on Parlophone and then moved to Elektra. They're great. 
JN: Do you come up with the treatments on the music videos?
AJ: Depends on the video. I've done some of the videos. Some of the videos are with friends from film school. 
GE: A.J. is just being shy. He's a really incredible director. 
DL: (Dak Lerdamornpong) We even made one video in Europe when we were on tour. It was just made in one day between two shows. 
GE: We thought we would get a day off. No, we shot a video all day!
JN: The videos seem very stylized.
AJ: Retro-futurism is thrown around a lot, but depends on the video. 
JN: I can start naming videos. How about "My Type?"
AJ: "My Type' definitely has a retro feel. The place we shot was an old Korean church that a woman had made into her house. It was filled with amazing stuff. It already looked beautiful before we shot in there. We added a couple of pineapples and that was it!
JN: Talk about your song "Butch."
AJ: It's one of our older songs that was on the first EP. We may be playing it tonight. It has been one of our favorite ones to play live. We always like playing deep cuts, but that one actually finds its way back. 
JN: Is it about someone you knew?
AJ: Yes. The songs are open for interpretation. It is based on experiences growing up with my neighbors. 
GE: It is one of our first songs. Some of the kids coming to our shows now were probably being born when that song came out. It's weird for us to see their connections to the songs that we did so long ago. To us, the songs don't feel old, but they are. They have been around for a long time. 
JN: I thought "Butch" was about a masculine girl you dated. Is that on the right track?
AJ: There's no right answer. I'm not trying avoid talking about a specific person. Some of the songs are about more specific stories, some are not related to me at all. Some are written from other perspectives. The songs are like a compilation of different experiences. They can't be defined in two sentences. It's like trying to explain an ice cream flavor. 
People have come up to me and said they related to a song because their dad passed away. I didn't interpret that song in that way, but it doesn't make their interpretation any less valid. 
Music is a mystery inside our bodies that no one really understands. A happy song can make you cry. Everyone has a different reaction. I can't say what every song is about. I wish I could. 
JN: So your song "For Elise" might not be about someone named Elise?
AJ: That's a whole can of worms too! [Everyone laughs]
GE: The names are changed to protect the innocent. 
JN: If someone hasn't heard Saint Motel yet, what would you tell them?
AJ: I would tell them to listen to the music. If they like it, go deeper. Once you get deep enough, turn around and enjoy where you are. 
EJ: If you don't like the music, listen to something else that is still ours. You might like it better!
JN: I am still discovering some of your catalogue. I was listening to it on the way here. The new EP sounds like you are not going for radio airplay. 
AJ: We are trying to make music that we enjoy. These songs were created before the concept of the album was put together. They were pieced together in a three act structure for The Original Motion Picture Soundtrack. When they were placed in order it fit what a story structure would be. Part one is setting the scene and introducing the characters in the world we are living in. It ends with a challenge where the hero has to rise to save me. That is addressed in part two, which flips it all upside down. Everything is thrown for a loop. It culminates in a big epic showdown. 
It happened to work really well within the theme without it being a concept album at first. We tried to make the best music possible on a song by song basis. 
JN: Do you know when the other parts are coming out?
AJ: Great question. We have been hearing a lot of different things. When and how is all over the place right now. It was real easy the first time. We released five and we were done. Now we are seeing how to tweak it. 
JN: The music business is in a weird place right now. 
AS: There are so many types of platforms out there like SoundCloud. It has been really exciting how we released part one. We can really control the narrative on how we release the rest. We can release singles or all five at once. There's no formula. We will see how it feels. When it's time we will know. 
EJ: This is our tricky way of keeping the album format alive by releasing it in parts. We want to keep people interested. We have put out five songs and come out to play this tour. Since day one, everyone knows every word to all the new songs. That's really cool for us. 
JN: Is there a soundtrack that influenced you?
AS: There is a playlist playing before every show with songs from movies. I like Blade Runner by Vangelis and You Only Live Twice by John Barry. 
JN: What's the worst motel you've ever stayed in?
EJ: In the UK ibis Budget Hotels are all over the place. They don't even have a person that checks you in. They have a kiosk. 
AS: The shower is by the bed. The toilet is the bed! 
DL: You have to sleep standing up. 
AJ: You have to use your sheets to towel yourself off! 
EJ: We were at first happy to have a bed and not sleep on someone's couch. 
JN: Are you on a tour bus now?
EJ: Yes, but back then we had to find somewhere to stay. 
AJ: After show we would sell t-shirts and ask if they had a couch.
DL: Do they have heat?
AS: Does the shower have black mold? If not, sign us up!
AJ: I think we are a little past that mark now. Our bus has a private jet on top of it. 
JN: Is there an item that you have to have on the bus?
AJ: Hand sanitizer. 
AS: Medicine. 
EJ: Antibiotics. 
DL: Scented candles. 
AS: Poker chips.
EJ: Pita chips.
AJ: All kinds of chips, Ruffles and Lay's…
JN: Who is the best gambler?
EJ: Dak means business. He hears cards and comes out with hundred dollar bills!
Interviewed by Jerry Nunn. Jerry Nunn is a contributing writer to the GoPride Network. His work is also featured in Windy City Times, Nightspots Magazine and syndicated nationally. Follow @jerrynunn