A GoPride Interview
Don Most
Don brings the most to Middletown
I was an introvert in high school.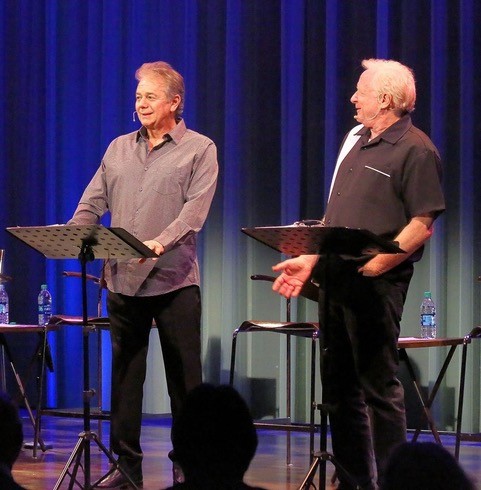 Don Most travels to the Chicago stage
Don Most may always be remembered for playing Ralph Malph on the television show Happy Days, but he is much more than that. He continued on a long career of TV shows afterwards such as Teen Wolf, Sabrina, the Teenage Witch and Star Trek: Voyager. He voiced cartoons on Family Guy and Dungeons & Dragon along the way. 
His latest project, Middletown®, brings him to Chicago and The Apollo Theatre. The ensemble piece, written by Dan Clancy, is a drama about two sets of couples. There is a gay storyline for the LGBT community that will possibly move audiences to tears. 
Most talked about the show on the phone just before he arrived in the Windy City.  
JN: (Jerry Nunn) What do people call you? Donny? Donald?
DM: (Don Most) I have friends that call me Donny still. I use Don more for billing purposes. People call me Don or Donny. It doesn't matter.
JN: Where are you from?
DM: Brooklyn, New York. I grew up in the Flatbush section of Brooklyn. 
JN: How did you join the cast of Middletown?
DM: I did the original productions of it last spring. We did Middletown for a weekend at a performing arts center in Las Vegas. It was me, Adrian Zmed, Didi Conn and Cindy Williams played my wife. Then we went to Pennsylvania and performed at the Bucks County Playhouse. We lined up more theaters for the tour after that. GFour Productions have so many things going on with shows on Broadway and London. 
With some of the new cities, Cindy wasn't available, so we brought Sandy Duncan into the cast for this part of the tour. 
We are right outside of Atlanta for that engagement and will be at The Apollo Theatre for a month. 
JN: How great that you can enjoy Chicago for a while.
DM: I'm very much looking forward to that. 
JN: What a good cast to spend time with who have had long careers over many years. 
DM: I've known Adrian for a long time and we used to play ball together. We were both on a tour of a Tommy Tune version of Grease back in the late '90s for six months. 
Didi played my girlfriend in Happy Days and it was her first job in LA. We hadn't seen each other again until we worked on Middletown together. 
I met Sandy five days ago. A Chicago actress named Kate Buddeke plays my wife there and she has done lots of theater from what I understand. She was in Death of a Salesman on Broadway and in Steppenwolf's Superior Donuts. We have been talking on Skype and she seems terrific.
JN: Wife swap! I was talking to Adrian yesterday and we said Middletown should be a musical. There are so many singers in it. You sing jazz, right?
DM: Yes. I sing the jazz standards and some other things too. Jazz is really my wheelhouse. 
We could adapt it into a musical, I suppose. That's an option for production company to consider.
JN: You could always come sing at my friend's cabaret night at Petterino's Monday Night Live if you are free on a Monday night. 
DM: That sounds good. I know the production company is looking into different jazz clubs to get me in. We will see! 
JN: Were you ever tired of playing Ralph Malph?
DM: Yeah, I left the show four years before it ended. After the seventh season, my contract was up and I didn't renew. 
I played the same character for seven years and I was acutely aware of how actors become associated with one character. I wanted to play a wide variety of roles. 
I was very much not like the character of Ralph. I was an introvert in high school. I certainly knew people like Ralph.
I wanted to take on different roles and I knew it would be tough after being associated so much with him. 
Now, it has gotten a lot better because of the time and distance from Happy Days. I am in a different age bracket and have been doing all kinds of parts in theater and film.
Prior to this, I did the play Art. It won the Tony on Broadway about 20 years ago. It was a real tour de force for actors. It has three characters. 
Right before that, I did a film in Michigan called Lost Heart and right before that I did MBF: Man's Best Friend for Amazon Prime. 
I just did a TV pilot playing the owner of a hockey team called Puckheads. 
This is what I really enjoy, playing all different kinds of roles. I have also learned to embrace Ralph as I've gotten older. People have such great affection for the show. I appreciate it more now than years ago. 
JN: I saw the Happy Days gang all got together recently, too. 
DM: Yes. The Gary Marshall Theatre had a fundraiser honoring the original Happy Days cast, so we were all together for that. It was terrific seeing everybody and spending time together. 
JN: I loved the Dungeons & Dragons cartoon voice you did. 
DM: Oh yeah. I did that one a lot. People really have a lot of affection for that show, too. I played Eric the Cavalier. 
JN: What part did you have on Glee?
DM: I had a recurring role on the last two years as Rusty Pillsbury. I played the father of Emma Pillsbury. She was the guidance counselor played by Jayma Mays. She eventually married the Matthew Morrison character. There was a whole thing about us being gingers. They accused me of being a ginger supremacist. It was pretty funny stuff! 
JN: After the tour, what are your plans?
DM: Looks like I am going to Europe to do another film. I would be going there late April or May. 
I have more jazz stuff on the horizon. I put it on the back burner for a while because I got so busy with these acting assignments, so I had to push it off. I will squeeze in some jazz performances in hopefully. I have been teaming up with a singer named Linda Purl and we go way back. We might do some pop symphony gigs as well. 
Take a trip to Middletown for $65 at The Apollo Theatre, 2540 North Lincoln, from Feb. 27-March 22. Tickets can be found at ApolloChicago.com or by calling 773-935-6100.
Interviewed by Jerry Nunn. Jerry Nunn is a contributing writer to the GoPride Network. His work is also featured in Windy City Times, Nightspots Magazine and syndicated nationally. Follow @jerrynunn