A GoPride Interview
Cazwell
Cazwell interview with ChicagoPride.com
Wed. September 2, 2009 by ChicagoPride.com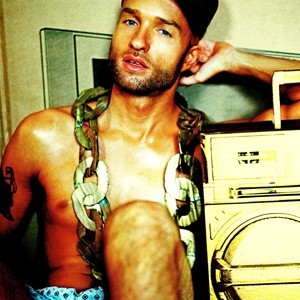 cazwell performs at berlin, thursday, sept. 3
New York City based, out-rapper Cazwell's music—a ridiculously fun mix of electrified dance music and old school hip hop—is the perfect example of the new spirit of pop music. Says Caz, "When people ask me how to describe my style, sometimes I say 'Just imagine if Biggie Smalls ate Donna Summer for breakfast.'"
Having collaborated over the years with Amanda Lepore, Larry Tee, Boy George, Jodie Harsh, Colton Ford, David Lachapelle, The Ones, Chris Joss, Peppermint, GoodandEvil, Karl Giant and Lost Daze, Cazwell's new album
Watch My Mouth
is the natural next step for a performer schooled in clubland, pulling together some of his most effortlessly catchy singles and pushing things forward with new tracks perfectly-suited to bring the party. Club bangers like "All Over Your Face" and the recent viral video sensation "I Seen Beyoncé At Burger King" sit nicely next to new party jams like "Tonight" (featuring the classic Shannon chorus hook "Give me tonight!"), a plea to partygoers to retain fiscal responsibility with "Get My Money Back," and "Get Into It," a funky fashion-hop duet starring Amanda Lepore.
Cazwell brings his dirty mouth back to Chicago Thursday, Sept. 3 at
Berlin
. Here, he talks to ChicagoPride.com about his trip to the Windy City, transcending the label "gay rapper," and his mission to get people's minds off their troubles and get their asses on the dance floor.
CP:
(ChicagoPride.com) What made you originally want to pursue music?
C:
(Cazwell) I think I just wanted to perform, and I couldn't really do anything else. I wasn't good at acting, and I couldn't really sing. I wasn't good at gymnastics. I really just wanted to perform and create, so I just started rapping. I started off in this rap duo called Morplay--me and this butch dyke named Crasta in Worcester, Mass.
CP:
When you first came onto the music scene as a solo artist, you were being hailed in the gay press as an anomaly: a gay rapper. How did you feel being labeled a gay rapper?
C:
I was kind of frustrated at first. But it's just like when you meet someone with red hair—you call him "the guy with the red hair." As you get to know him, he becomes much more that. The more I made music and videos, I became known for what I was dropping. It morphed into me being recognized for my work rather than the fact that I'm gay.
CP:
Despite not wanting to be known just for your sexuality, has being gay shaped your perspective as a musician at all?
C:
I definitely think being gay has enabled me to offer a more unique perspective than your stereotypical rapper.
Though, to be honest, I never really thought of my music as just rap. But being gay led me to hang around certain kinds of people, personalities that rubbed off on my songs
A lot of the sexual aspects of my songs come from being gay, like the lyrics in "All Over My Face," for example. But I learned a lot from everyone I've hung around with, guys or girls. It's a whole lifestyle that's fed me as an artist.
CP:
You've often said the NYC scene has been an inspiration in your music, but you've been to Chicago several times, how does Chicago's nightlife and crowd differ from NYC?
C:
It's laid out a lot differently for one thing and I never seem to see security guards hovering around the kids like they do in New York, so that's a good thing.
CP:
You're back at Berlin this week. How do you like the space?
C:
I like that it's a mixed crowd of just about everybody and every Chicago freak! The sound is exceptionally good, too. I always have a good time playing Berlin.
CP:
Any favorite places in Chicago?
C:
I honestly just do my show, go to the hotel and pass out before I take my plane home. I never have much time to explore the city. I actually have a little more time on this trip so I hope to see more of the city.
CP:
You must have a lot of groupies who follow every move you make.
C:
Yeah, I've got guys that email me all the time and say they want to sleep with me and send me naked pictures of themselves. I've been with a guy for a year, so I really want to get out of those kinds of situations. I can't really take advantage of it anyway. Besides, I'm not the kind of guy to take advantage of a hot guy just because he's drunk. If I hooked up with someone who was an admirer, it would be because we connected, not because he was an amazing piece of ass.
CP:
Your music is very inclusive, a quality that carries over to your videos. You make music for gay, straight, black, white, nightlife regulars, and people who just go out once just to blow off some steam.
C:
I think inclusive is a pretty good word for it. I don't want to make music that only appeals to gay people. I want to make music for everyone. The way to be inclusive it to create a scene that gives people the ability to be colorful and be themselves, and then let them come to you. I spent a big part of my career trying to be accepted by people in the hip-hop world. I learned a lot from Larry Tee—you create your own sound and your own look, you have your own pack of friends, and then you draw people in who want to be included in what you're doing.
CP:
How does the new music on
Watch My Mouth
differ from past songs?
C:
The whole album covers so many different periods, it hard to pinpoint just one vibe. Like I said, I'm really getting inspired by the clubs and what people are dancing to right now, but I don't want to just make basic house music—I like getting involved in what interesting producers are doing. I'm consistently going down a dance-conscious road and paying less attention to the flow of the rhymes. There's still a lot of humor to my music, but the most important thing I've learned is that when people go out to clubs, they don't want to think—they just want to dance.
Cazwell performs live, Thursday, September 3 at Berlin, 954 W Belmont. (
Event Details
)
Interviewed by ChicagoPride.com
Serving the Chicago gay, lesbian, bisexual and transgender communities. ©Copyright 2019 GoPride Networks. All rights reserved.