A GoPride Interview
Rob Lindley
Rob Lindley manages the Opera House as Monsieur André; "Phantom" returns to Chicago
what I was most struck with in seeing it - and maybe it is the filter we are all seeing art in in this time we are living in - I really find it a show about empathy and compassion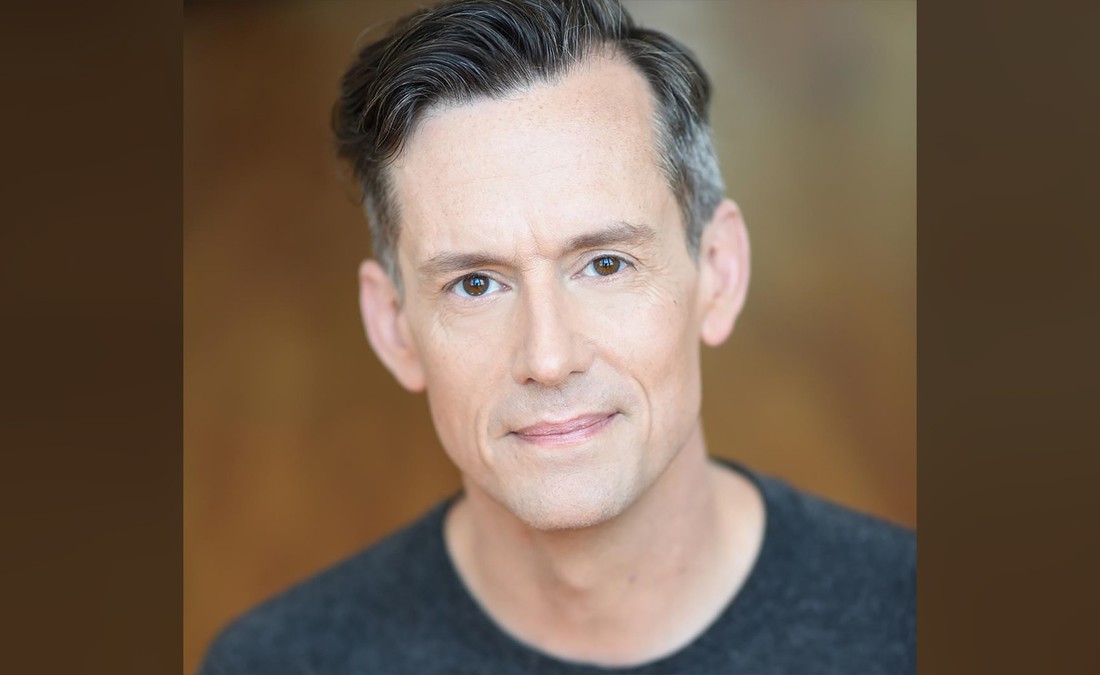 Listen to the interview with Rob Lindley
15 minutes 35 seconds
Rob Lindley manages the Opera House as Monsieur André; "Phantom" returns to Chicago
Cameron Mackintosh's spectacular updated production of Andrew Lloyd Webber's THE PHANTOM OF THE OPERA opens tonight in Chicago. The Phantom of the Opera will play Broadway In Chicago's Cadillac Palace Theatre (151 W. Randolph) for a special three-week Chicago return engagement through January 5, 2020.
We talked to one of our favorite hometown actors/directors, Rob Lindley, who's no stranger to Chicago Theater. This time, he's donned the role of Monsieur Andre, one of the managers of the Opera House in the epic national tour of "Phantom of the Opera".
MI: So how did your journey to "Phantom" start? And tell us a little bit about your character [Monsieur Andre].
RL: Oh sure. I play Monsieur Andre, and he is one of the two managers of the Opera House. So, a lot of the interactions with the phantom that are less favorable and less romantic happen with us!
He kind of gives his demands as to how he wants the opera house to run to us. So I like to say that maybe we are not the best at managing the opera house. In this huge, lush romantic show, I think when the managers come on it offers a moment of some comic relief and a little levity and just because we are the ones getting all of this communication from him and all of these notes. Those are the moments where we really see the plot jump forward a couple of steps is when we come out on stage.
As far as how I got here, it is kind of a long circuitous road, but it is one of those things that I am kind of like "what?" The timing had to be just right, you know. I was contacted by my agent more than a couple of years ago and asked me if I was interested; and at the time I had a partner and everything was great in Chicago, and I thought "I don't know if I want to go on tour and leave home." And I have a really, I'm lucky enough to have a really thriving career here in Chicago on stage; and I love Chicago theatre.
Then, things changed after a little while. I went through a break up and saw myself looking for new opportunities here in Chicago and my agent called me again and said, "hey Phantom is still interested in you, let's just make you a tape and see what happens." So, I made a tape and then they asked me to come to New York and then I got down to the final three people and then I didn't get it. And I was like "oh my God!" But again, things are supposed to happen in a certain way; and because I didn't get it I got to be in Chicago and do Fun Home at Victory Gardens which was one of the most unique, meaningful things I have ever done and after that was done I got a call and after that was done, I got a call and they were like "hey, Phantom is still interested, and they want to know if you be in Toronto in three weeks" and I was like "sure, great!"
MI: Bags are packed!
RL: Yeah, exactly! So, I got those two things, I got a dream show here, and then I got head off on this journey. I think I counted I am on my 16th month on the road. So, it has been awesome, but I kept my little studio in Edgewater (Chicago) and I come back in between about every two or three cities I like to pop off at home and sleep in my own bed for a night and change climate and clothes. Last winter we were in Texas a lot, and this winter we are, you know, Minneapolis and Appleton, Wisconsin and Chicago and Toronto, we are all stocking up on long johns and sweaters and stuff. 
MI: So, Phantom has been around from a couple of years, right? (jokingly)
RL: It is the longest-running Broadway show ever.
MI: Exactly!
RL: And this particular tour is a reimagined set design. So, the set design is different than the one on Broadway, This is the 25th anniversary, but you can do the math right there, they have been on Broadway for 31 years. So, the tour has been going on for 6 years and there are awesome company members who I am onstage every night who have been with the tour from the very beginning. So I feel, even though I have been doing it for 16 months, I feel like one of the new kids on the block.
MI: But even after all of these years, what do audiences still love the most, each night, when they see this production?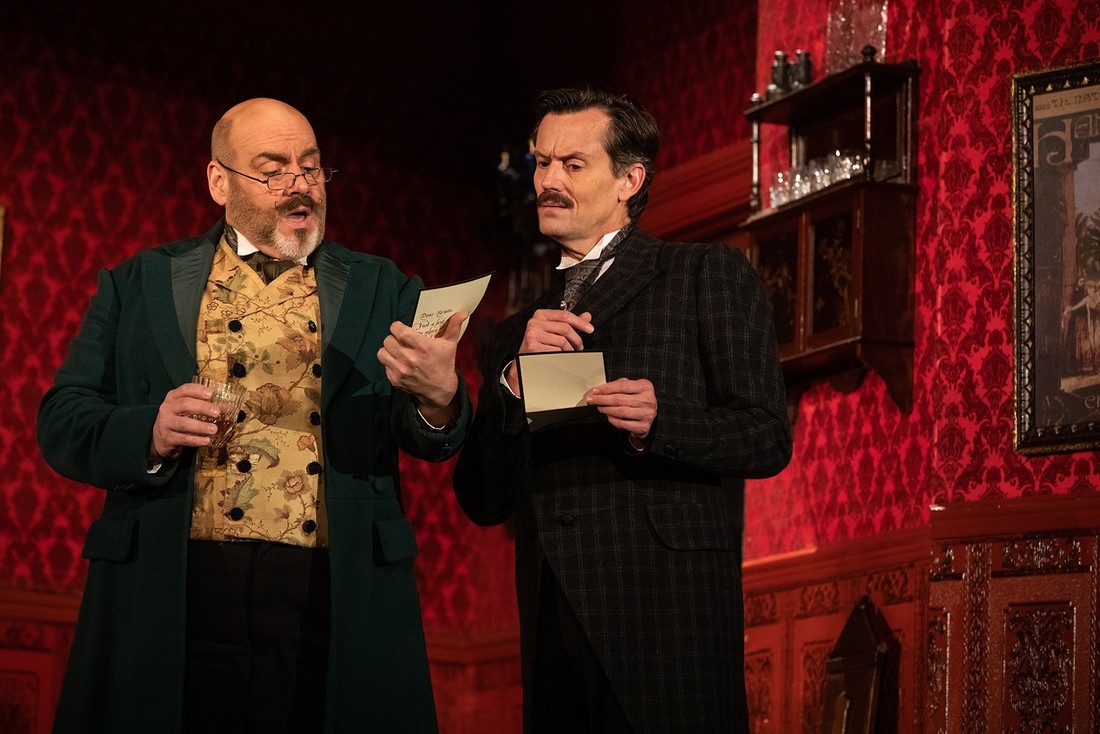 David Benoit and Rob Lindley, photo by Matthew Murphy
RL: I think on like your first pass, it's just epic and lush and so romantic, and the time period is so beautiful. We are talking about turn -of-the-century, late 1800's Paris, France. It is kind of a perfect show for this time of the year because it all kind of takes place around New Year's Eve and there are scenes on the Opera House roof where it is snowing.
So I think on first glance you get all of that and it is kind of like one of those beautiful period pieces and I have to say what I was most struck with in seeing it; and maybe it is the filter we are all seeing art in in this time we are living in, I really find it a show about empathy and compassion and trying to understand why people do the things they do and that, to me, is what keeps people coming back.
I think it was just a fluffy romantic thing I don't know if people would come and see it two or three times and we certainly have those fans out there. Or people who will say, "Oh my God I love that show, it was my first Broadway show; I definitely want to take my family to it while you are here for the holidays."
MI: What was doing the research like in preparing for the show? Did they whisk you off to Paris to see the Palace Garnier?
RL: You know what, they didn't do that! I did that on my own! 
Honestly, I had two weeks to kind of get my stuff together and get everything packed up. I definitely did some select reading of the original novel that it is all based on. I took a peek at the movie that came out like 10 years ago, I took kind of a peek at that to kind of get my mind wrapped around the tone of it a little bit. But I don't like to watch people, other people do roles that I am doing because I am afraid, even if I am not trying to copy, I will somehow absorb them and maybe not. I don't want to be accused of plagiarizing someone else's work, although I replaced a brilliant actor and he was very helpful when I was learning the show and I was shadowing him and you've got a great team of people who are making sure you are preserving the great legacy of this wonderful show.
So, there are people who are from the London creative team who will pop in on you every once in a while and make sure you are doing things up to Cameron Mackintosh and Andrew Lloyd Webber's standards. It is a valuable, time-honored, gorgeous show and everyone wants to take care of it as best as we can.
MI: Let's talk a little about you. In addition to performing, you have some directing credits to your name. Take us back a little bit. How did you get involved in entertainment and a little bit about what other things you have been doing over the years?
RL: You got it. Well I was raised in small-town Iowa and my dad is a preacher and I grew up in a small, rural farming community and I have always sung. My earliest memories are of me singing in church. I was always raised that I was born with a purpose and a gift. My parents thought I would end up being a preacher, not an out, musical theatre actor; but you know, you don't have control over everything. So, I got the bug then and then I went to a small liberal arts school in Iowa which really gave me lots of different opportunities and that is where I started directing; and I did some design work and it was a smaller theatre program, so they really encouraged you to try every aspect of theatre, which I am really grateful for, because I think it makes me a very well-rounded performer and person in life because I don't know how to do just one thing.
I always kind of had my eye on Chicago because I am from the Midwest and I love the Midwest so I think I always knew I was going to end up here, but what really drew me specifically to Chicago was I always had an interest in improv and I thought 'Oh, I'll go to Chicago and I'll study at Second City and maybe I will be like Martin Short who was trained in musical theatre but ended up in sketch comedy and stuff like that. So, I came here, it took me a while to get to around to actually study at Second City, but I did that. I did the conservatory. 
I still every once in a while perform with Baby Wants Candy, which is a musical improv group here in Chicago. So, I do that every once in a while. For many years I was an artistic associate at Porchlight Music Theatre here in Chicago. They had a couple of different opportunities for directing that came up and I directed I think four main stage shows for them and the last three were multi-Jeff nominated; and so it is one of those things, I like directing a lot and I love opportunities to do it and I think it keeps me balanced.
Sometimes being a performer can kind of suck out some of your soul after a while and so it is good to stay in the business but also do a different aspect of it for a while and I enjoy that I do both and I like to think that my director brain makes me a better actor and that my actor brain helps me communicate with actors when I am directing. So actually, when I get back from "Phantom" when the tour closes in February, I will be directing an awesome show called "Songs for Nobodies" at the Northlight Theatre up in Skokie. Yeah, it is an amazing show. One woman takes on the vocal stylings of Patsy Cline, Judy Garland, Edith Piaf, Billie Holiday and Maria Paulus.
So, it is kind of like a gay boy's dream come true. You get to have all of these divas in front of you!
MI: It sounds so amazing!
RL: It is a powerhouse performance. Bethany Thomas is starring in it and she is a dear friend of mine; and I actually caught her doing it up at Milwaukee Rep, because she is such a close friend, and so when Northlight approached me and they were describing the project and I'm like, "wait a minute, I've seen this show!" And they were like "oh you have, great, how do you know this" and I was like "well Bethany is my friend, so of course I saw it." So that is going to be my reentry to Chicago, I've already got something lined up.
MI: So, are you superstitious? Are there any things you do religiously that you just have to do before a performance for luck?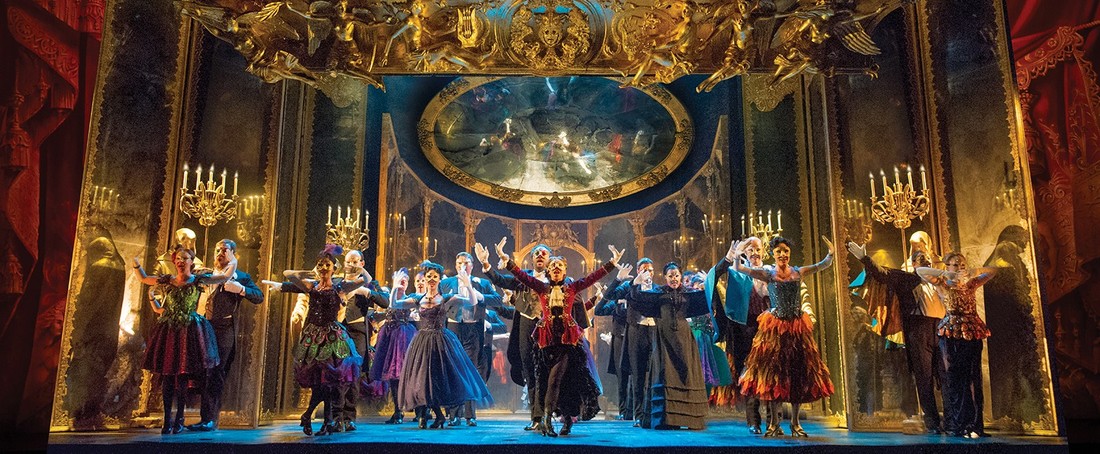 Phantom of the Opera Company performs Masquerade, photo by Alastair Muir
RL: I don't get, I don't know that I get too much into doing things for luck. I do find that my preparation backstage is just as choreographed and clockwork as my stuff onstage. So, like when I'm listening to the monitor and I hear a certain line I am like "ok, now it is time to put your shoes on."
So, you find yourself just in these patterns. I'm not nuch of a superstitious type person. I like to believe I have a little more control in my life. I do, before my really long scene that I'm onstage the longest for, I do have to have a Listerine breath strip before I go onstag;, and I do kind of panic if those are out. I'm like "oh my gosh, it's not going to be the same!" But is mostly that I want to have nice breath when I am talking closely with my acting friends.
MI: It always a kind thing to do.
RL: I try to be considerate, I am not always good at it.
MI: Since you live in Chicago, what are your top three list of things to do, especially during the holiday season?
RL: Well I have been encouraging all of the cast to check out the Christkindlemarket. It is going to be right by the theatre.
MI: There is no excuse to not go.
RL: Exactly. That's a real easy one. I am really excited for folks to go the Art Institute while they are here and the classic Warhol exhibit will still be here. And I am really trying to get everyone, but I may have to organize it myself, I want to do a like my neighborhood pub crawl or something. Because I always have people, friends, who are in the various Broadway touring shows and even folks who have been in long-running ones like Hamilton; and you can talk to these actors and they get stuck down in the Loop and I love our Loop, of course, but you've got to make it out to a neighborhood for the afternoon. Come out to Andersonville and have some glog.
MI: You definitely need to get out into the neighborhoods.
RL: So I am going to try and be the best tour guide for all of my Phantom cast.
MI: So are you going to take them out to Musical Mondays? (Sidetrack Chicago)
RL: That's a given! I have just told people I pretty much hold office hours there on Mondays. We have to go. We have to go.
MI: So have you been out the last couple of Mondays?
RL: It's probably been a month or so since I have been there. I actually haven't been home for a while, but since we are playing Appleton this week and next I actually had them fly my into Chicago and got myself a rental car and I'm gonna drive up to Appleton. I am ready for a day or two in my own bed; and I almost went last night but I just ended up having a nice dinner with a friend who I haven't seen in a minute.
MI: So, the next couple of questions are kind of speed questions, give me the answers off the top of your head.
So what is something in your apartment that might make a stranger think you were straight?
RL: Absolutely nothing. My whole place is egregiously homosexual!
MI: What is something in your home that might make a stranger think you were gay?
RL: Yes, well as soon as you walk in there is a huge portrait of David Bowie. I think that would let people know.
MI: Favorite guilty pleasure?
RL: Eating ice cream in bed.
MI: Who would play you in your life story on the big screen?
RL: Probably one of those puppets from the Dark Crystal. But a pretty one! A pretty version of that!
MI: What was your worst fashion mistake?
RL: In high school I was really into wearing printed harem pants. Like M.C. Hammer pants. My senior pictures are in those two and people are like "what? You look like you are wearing pajamas and I think you are culturally appropriating something there."
MI: So final question. Is there a dream role in any play or musical that you would love to play?
RL: I would love to play Alban in La Cage (La Cage aux Folles). It is one that I haven't aged out of yet and it is one I would love to do.
MI: Well that would be awesome! Rob, thank you for taking the time out to chat today!
With newly reinvented staging and stunning scenic design, this new version of PHANTOM is performed by a cast and orchestra of 52, making this one of the largest productions on tour in North America.
Based on the classic novel Le Fantôme de L'Opéra by Gaston Leroux, THE PHANTOM OF THE OPERA tells the story of a masked figure who lurks beneath the catacombs of the Paris Opera House, exercising a reign of terror over all who inhabit it. He falls madly in love with an innocent young soprano, Christine, and devotes himself to creating a new star by nurturing her extraordinary talents and by employing all of the devious methods at his command.
Individual tickets for THE PHANTOM OF THE OPERA range in price from $46 - $136 with a select number of premium tickets available. Individual tickets are available by calling the Broadway In Chicago Ticketline at (800) 775-2000 or by visiting www.BroadwayInChicago.com. Tickets are available for groups 10 or more by calling Broadway In Chicago Group Sales at (312) 977-1710.
Interviewed by Matt Inawat. Ron Matthew Inawat is president of the GoPride Network and contributes to ChicagoPride.com, PrideLA.com and other sites within the GoPride Network. Follow @cpmatthew