A GoPride Interview
James Percy
Potted Potter opens in Chicago; hang out with actor/comedian and not-so-muggle James Percy
How they thought putting a musician and a dancer was going to come out with a lawyer... I have no idea!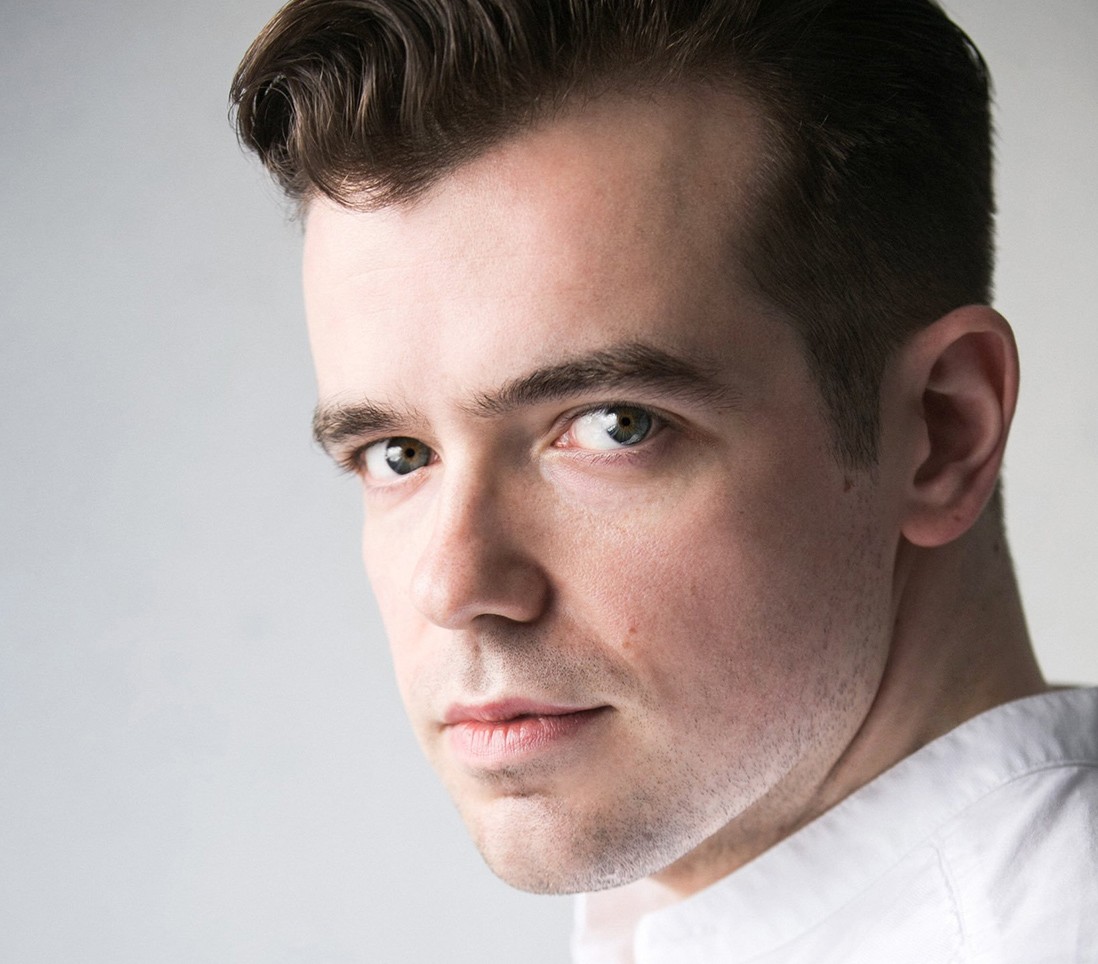 Listen to the interview with James Percy
17 minutes 6 seconds
Gryffindor, Hufflepuff, Ravenclaw, or Slytherin? Since there are only two (extremely talented) actors playing the entire character roster from J.K. Rowlings' beloved novels, the famous Hogwarts Sorting Hat from the world of Harry Potter would have the most difficult time divining the wearer if you were to put it on the stars of the hit off-Broadway show, Potted Potter: The Unauthorized Harry Potter Experience.
Over the last few months, the 2012 Olivier Award nominated show has also received acclamations on it's Las Vegas engagement. Potted Potter returns to Chicago this holiday season for a one-month engagement at Broadway In Chicago's Broadway Playhouse at Water Tower Place (175 E. Chestnut) Dec. 11, 2019 through Jan. 5, 2020.
We talked with the charismatic comedian/actor James Percy, who reprises the role of Harry Potter. Percy's acting partner Joseph Maudsley plays every other character in the series.
Percy was born and raised in Doncaster, England. Following a law degree at the University of Liverpool, he attended Birmingham School of Acting. Since then, he has starred in various productions in the UK and USA, as well as working internationally as a stand-up comedian. In 2010, he became the youngest actor to ever play the role of 'Wilbur Turnblad' in Hairspray.
Playing to sold out houses all over the world, POTTED POTTER takes on the ultimate challenge of condensing all seven Harry Potter books (and a real life game of Quidditch) into seventy hilarious minutes. Thw show features all of the Harry Potter world's favorite characters, a special appearance from a fire-breathing dragon, endless costumes, brilliant songs, ridiculous props and a generous helping of Hogwarts magic!
MI: Thank you so much for taking the time out to chat today and congratulations on the Potted Potter, I heard it's been an amazing success in Vegas this summer!
JP: Thank you very much, yes it has been really good. We have been in Vegas over the summer, as you say, myself and Joe – my partner in crime who does the show with me. Yeah, we had an amazing summer in Vegas and now really looking forward to being back in Chicago for the holidays.
MI: So was that your first time in Vegas?
JP: It was my first time performing there. I had visited there before but never performed there. It was quite the experience, a real bucket list pick to be able to perform on the Las Vegas Strip, it was very exciting.
MI: Tell us a little about your journey to Potted Palmer. How'd you get started and what drew you to the production? 
JP: I've been doing the show on and off for about 6 years now. It was back when I joined the show. Bback when it was the two writers of the show who were the originators, Dan and Jeff; they created the show and they had been performing the show for a few years by then and they were looking for two other guys to take the reins and join them on this journey as Potted Potter really began to tour the world. Me and Joe, I think we are just as strange and nutty as those two and we have been doing it ever since. It's been an absolute joy, we have been all over the world, all over America and Canada and Asia and Australia and yeah, it's been incredible.
MI: Tell us a little about the show.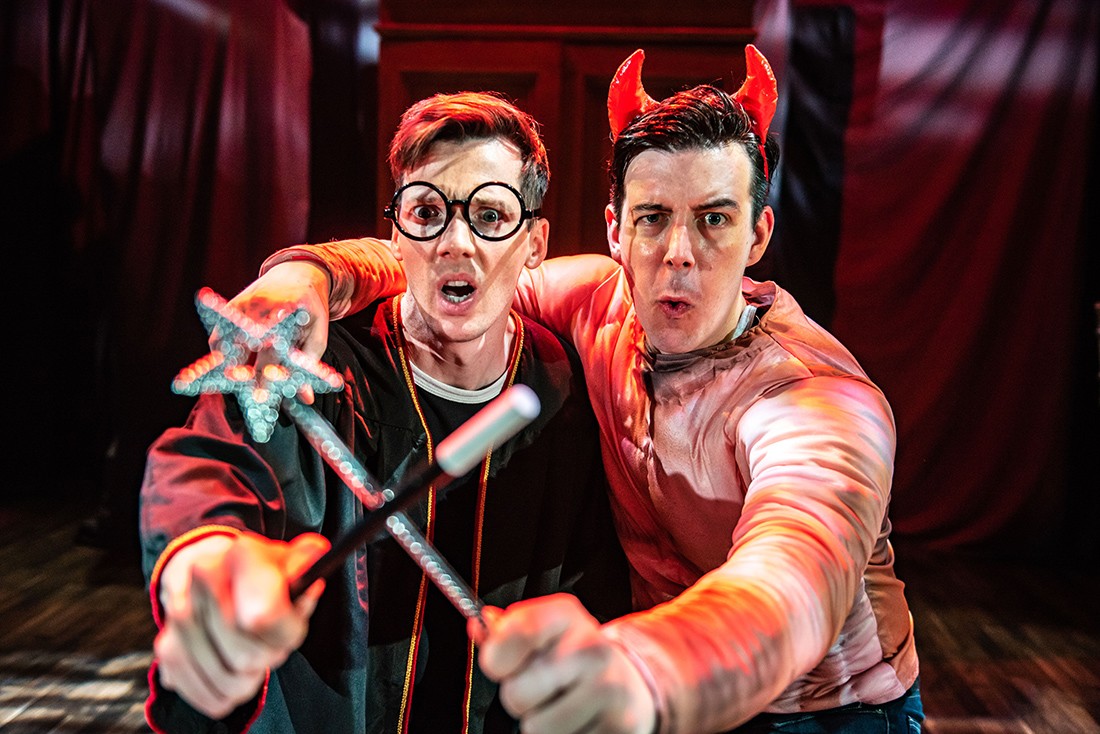 Potted Potter; photo by Dahlia Katz
JP: Well it is a two-man Harry Potter parody show and we do all seven books in 70 minutes. Yeah, it is a lot. It is intense. It is a lot to fit in; because those books are long and those films are long.
MI: Yeah,the first film is much longer than 70 minutes, right?
JP: Yes, definitely. The first film, in particular, is very long and it's a real mission. I guess it is a treat for us. We are Harry Potter fans, we grew up with the books and the films and it's a joy to bring those characters to life a little bit on stage, and to get those stories told in a quick, fast-paced parody on stage is fun. I play Harry and Joe is everybody else. He's got the real tough job. You should see his Hermione - she is something to behold!
MI: So I hear there is a quidditch tournament that takes place?
JP: There is! I believe we are the only theatre show in the world where you can play a live game of quidditch every night with the whole audience. It is one of my favorite parts of the show. Everyone gets very involved. It is interesting. Once we started to touring the US, we noticed how competitive American audiences are…in all sporting events, even fictional ones such as quidditch. You should see some of the dads particularly who get very involved in the show especially when we start throwing a ball around.
MI: Wonderful. So what do audiences love the most each night when they come to the show. Maybe the quidditch?
JP: Yeah, quidditch is one of the highpoints for sure. I think probably a lot of the story comes down to watching these two idiots, me and Joe, try and get through it; and try and tell all 7 books in 70 minutes with only two actors. I guess it is trying to watch these two guys try and do a seemingly impossible task and wonder if we will make it out the other side on the stage. And most of the time we do. We are very tired by the end of it.
MI: So what was doing research like in order to prepare for the show? Was there anything you had to learn about Harry Potter?
JP: It was the best homework ever. I couldn't have asked for a better research project. It was just like could you go home and read the books a little more and go and have a Harry Potter movie marathon and I'm like that's my weekend anyway. I'm more than happy with that. So yeah, it was an absolute joy and I'm still doing it and still researching and still learning more and the great thing about this show is we have met so many die-hard Harry Potter fans and you find out everybody's got a different character that's their favorite, aspects of the story that's their favorite and the fun thing about our show is it is really a meeting of minds, you know, for that 70 minutes in the theatre. You really feel – a lot of people come dressed up in the costumes and the wizard robes and all that and it really feels kind of like a cult experience, kind of like going to see the Rocky Horror Show, you know? It has that kind of meeting of minds where everybody comes together and we celebrate this tribute to the Harry Potter world and low ourselves to kind of get lost in it a little bit at that time.
MI: That sounds so amazing. So let's talk about you for a little bit. Take us back. Where is home and how did you get involved in performing?
JP: Well my parents were both performers. My dad was a drummer and my mom was a dancer. I think they really they preferred me to be a doctor or a lawyer. I actually went to law school before becoming an actor. That was me desperately trying to be sensible at 18, but I learned at law school that there was far more to it than just dressing up in wigs and gowns and performing in a court room. Then I went and became an actor. I mean I don't know what my parents were thinking. How they thought putting a musician and a dancer was going to come out with a lawyer... I have no idea! 
So yeah, it is definitely in the family and I've loved it. I can't imagine doing anything else and this show has been such a treat to do and still is. It really still feels like opening night every night we go and do it because we never quite know what is going to happen because the audience is so heavily involved in the show because they are kind of the third player I guess in the show it is so unexpected as to what is going to happen that night. We have an absolute ball.
MI: So speaking of things happening differently every night, are you superstitious? Is there anything you have to do every night before a performance just for luck?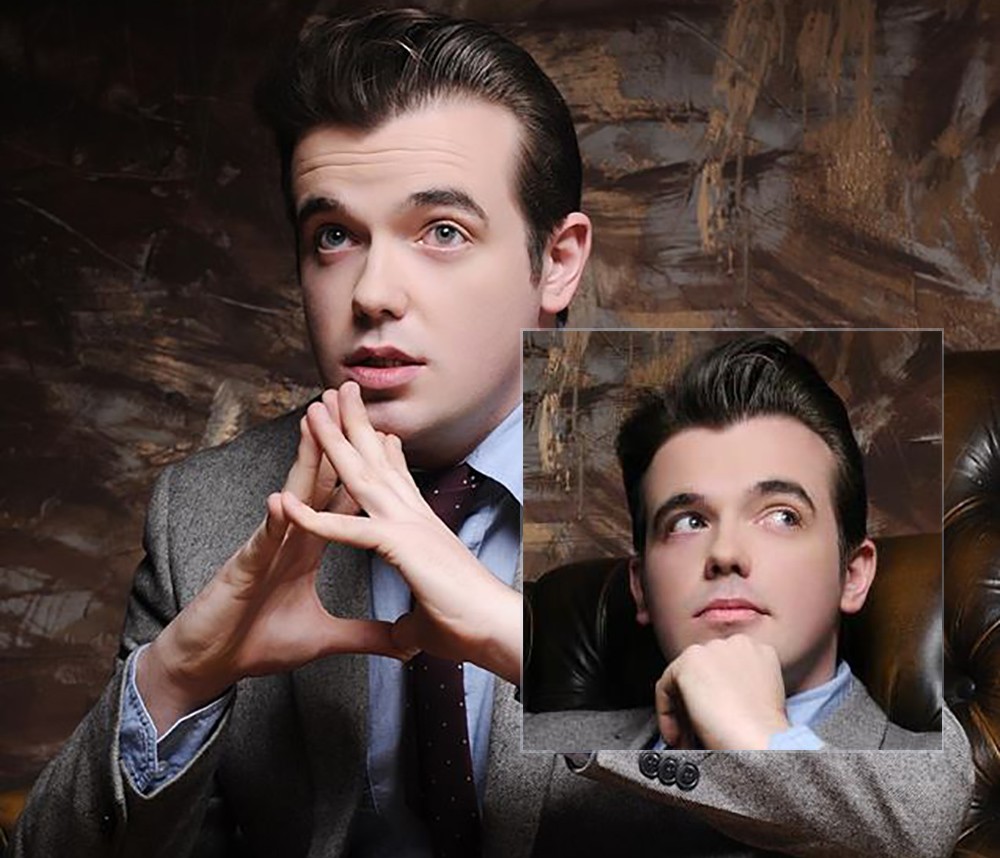 JP: I guess the only real thing is that Joe and I have a hug in the wings. It is the last thing we do right before we go onstage and that happens every single time and I think it is just because it really is just the two of out there and the story is about us and our friendship and our love for each other and it is the classic comedy double-actory and we make sure that we spend a few moments checking in with each other and have a long hard hug before we go onstage and that just means no matter happened during the day, no matter if he annoyed me at some point over lunch or vice-versa, it means right before we go on we get right back to being the very best of friends and doing what we love.
MI: That is so awesome. Everyone should do that before work!
JP: They should! I'm not sure you could get away with it in all professions but you certainly can in ours. 
MI: Chicago is going to be a pretty lengthy sit down show as well, right? You guys are going to be here for about a month?
JP: Yes we are really looking forward to it! I was last there with the show in 2015 and Chicago is, with a doubt, one of my favorite cities not only to be in, but also to perform this show in. I think this show really fits in really well within the Chicago entertainment scene and with Chicago audiences. Chicago audiences just seem to get it, straight off the bat. I think it is because it is a city that is full of comedy and improv and theatre and it perfect and we absolutely have an incredible time doing it there and I'm really excited to be back.
MI: Yeah, we love our laughs and just keeping it real, that is what it is all about. So you are actually here over the holidays and over the New Year. Do you have any friends and family coming during that time to visit?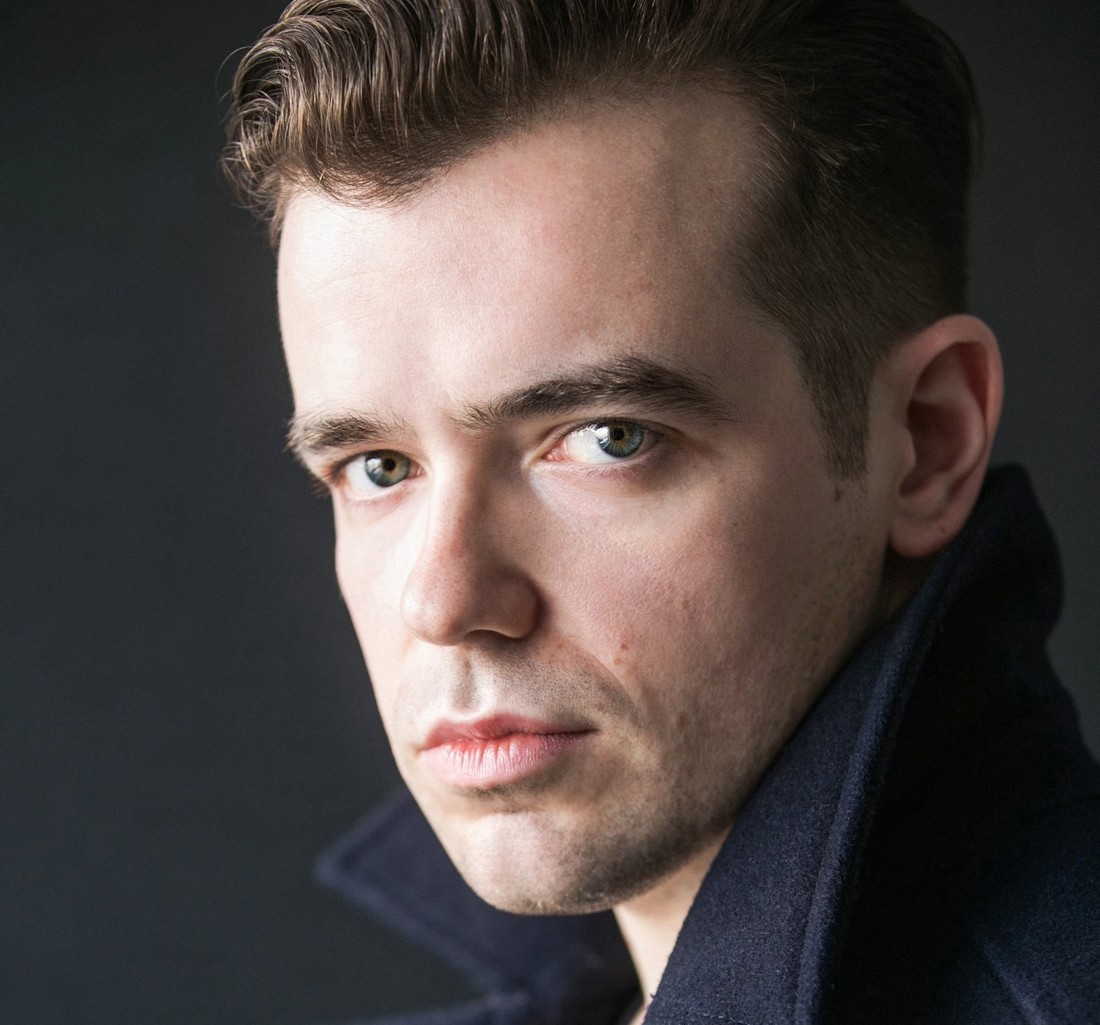 JP: Maybe. We are not quite sure yet. That would be really nice to see some familiar faces come out, but I also have a lot of friends in Chicago, as well. You know, people I have worked with on improv shows before, a lot of my improv connections are based in Chicago and we have worked with the Reduced Shakespeare Company a few years ago now and one of the leads of that company is from Chicago and there is a really good theatre community there – even the people that we don't know, the last time we were there we were made to feel so welcome and so a part of that entertainment community. It is great. I always feel at home there. I could live in Chicago at the drop of a hat.
MI: We do have such a friendly theatre community.It is one of the things that I love best about the city. So, while you are here do have a top three list of things to do while in Chicago during this visit? 
JP: Oh, tough. I mean I think last time I did kind of all of the touristy things I guess. There are certain things that I really loved experiencing. I really loved The Green Mill Tavern, is that what it is called?
MI: Yes!
JP: I loved that place. That was really cool. I loved Kingston Mines.
Chicago has such an amazing live music scene. So we loved going out and experiencing live entertainment, that's my big thing. So I want to go down to the I/O and see some of my friends and Second City. I want to go out and see as many shows and entertainment as possible. It is tricky because everyone seems to be performing at the same time as we are performing, but hopefully there will be a little gap in the schedule where we will be able to get out and see a little of the things. The last time we were there we did the Santa Hustle which is the 5k run where you go around Soldier Field with a Santa Beard on.
MI: Well now you have to do the other run. You see there is the Santa Hustle and then there is Santa Speedo Run, the race in Speedos in December.
JP: Oh, that is insane! I can only about exist in a ski coat and I'm still cold. You guys have cold like I have never experienced before. It is intense so I'm not sure about the Speedo run and I don't know if it will draw people in to see our show, probably not. Yeah it is probably best that we do the Santa one and cover up as much as possible!
MI: So we will close out the interview with a couple of quick answer, fun questions. So name something you can't live without.
JP: Oh something that I can't live without…coffee, it's true, but terrible. It is one.
MI: Favorite guilty pleasure, TV show, dessert, whatever.
JP: Favorite guilty pleasure. The thing I am really excited about is deep dish pizza. I haven't had any good pizza in a long time.
MI: You are coming to right city for that and there are so many good ones.
JP: Yes and there is such a debate as to which is the official one, so you have to try them all!
MI: One of my favorites is actually not in the top 5 of which most would say is their favorite. So when you are in the city check out Chicago Oven Grinders. The pizza is good, but the experience is going to be totally amazing. You are familiar with Al Capone and the mobster, gangster thing right?
JP: Yes
MI: So this place was their lookout. So the entire restaurant is riddled with bullet holes from the police shootout of the St Valentine's Day Massacre. Kind of a fun thing to check out at least once. Very Chicago.
JP: And don't do it straight before the Speedo run!
MI: Exactly! So who would play you if your life story were to be made for the big screen?
JP: Oh, the guy now that I have some sort of resemblance to, you know Taron Edgerton? He did Rocket Man. Yeah, so I don't know if that is a compliment or not, maybe not the Elton John look so much, but Taron is a good looking chap, I'll take that.
MI: Yeah definitely. And finally, what is the worst fashion mistake you can remember?
JP: Probably, worst fashion mistake I made, I went through the hole "guyliner" phase, you know doing the thick black eyeliner. You know it is a strong look, but you really have to go for it if you are going to have any chance of pulling that off and I just kind of didn't. I just kind of dressed quite normally and quite conservatively, but wearing thick eyeliner, so it looked like I had just been punched. I don't think I pulled it off. That was definitely my worst fashion faux pas.
MI: Well James thank you so much for taking the time to chat. It was so fun talking to you. I am definitely looking forward to seeing the show in mid-December and cheering you guys on and playing quidditch.
JP: Yes, definitely get involved!
MI: James, thanks and have a great day! See you in Chicago soon.
Individual tickets for Potted Potter: The Unauthorized Harry Experience – A Parody by Dan and Jeff range in price from $39.95 – $79.95 with a select number of premium tickets available. Individual ticket will be available by calling the Broadway In Chicago Ticketline at (800) 775-2000 or by visiting BroadwayInChicago.com. Tickets also are available now for groups of 10 or more by calling Broadway In Chicago Group Sales at (312) 977-1710.
Broadway In Chicago has grown over the last 19 years to be one of the largest commercial touring homes in the country. A Nederlander Presentation, Broadway In Chicago lights up the Chicago Theater District entertaining more than 1.7 million people annually in five theatres. Broadway In Chicago presents a full range of entertainment, including musicals and plays, on the stages of five of the finest theatres in Chicago's Loop including CIBC Theatre, James M. Nederlander Theatre, Cadillac Palace Theatre, and just off the Magnificent Mile, the Broadway Playhouse at Water Tower Place and presenting Broadway shows at the Auditorium Theatre. Broadway In Chicago proudly celebrates 2019 as the Year of Chicago Theatre.
Interviewed by Matt Inawat. Ron Matthew Inawat is president of the GoPride Network and contributes to ChicagoPride.com, PrideLA.com and other sites within the GoPride Network. Follow @cpmatthew