A GoPride Interview
Holly Williams
Holly Williams interview with ChicagoPride.com
Wed. June 17, 2009 by ChicagoPride.com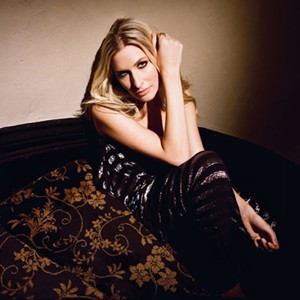 photo credit // hollywilliams.com
"I'm such a blatantly honest person," says Holly Williams, "and I love to listen to an album and think the artist is truly sharing their life with me. I like to feel like I'm really getting in and knowing that person."

With Here With Me, her debut for Mercury Nashville, Holly has succeeded in creating the type of album that would easily find a place among the works of her favorite artists. Penning the majority of the album's 11 tracks, Holly writes with piercing clarity on situations plucked from her life.

Though still in her 20's, Holly has been using music to tell the story of her life starting at age eight, when she began filling a notebook called "Holly's song folder." As she grew older, her interests ranged from modeling and fashion to interior design. Her love affair with songwriting came back to the forefront at age 17 when she picked up a guitar, learned a few chords, and discovered her gift for crafting music and lyrics was still very much intact. Giving herself one year to pursue her dream, Holly began booking shows for herself around Nashville at age 18.

That one year turned into three with Holly playing shows by herself and with a small band, including a stint touring Europe with Canadian artist Ron Sexsmith. "I flew over there with a guitar and a backpack full of five-song EP's I'd made and took trains to each venue," says Holly. Around this time, Holly began to realize the full meaning of her family's history in the music world. Though her father is country legend Hank Williams, Jr., Holly's time spent with her dad mostly took place when he was off the road and away from the spotlight. In turn, Holly never realized the influence of her grandfather Hank Williams, Sr. until she embarked on her own musical explorations.

Over the next few years, Holly's touring kept her on the road for months at a time, finding herself sharing a bill with a wide range of artists including Billy Bob Thornton, Train, John Mellencamp and Duncan Sheik, in addition to playing a string of shows throughout Europe opening for Keith Urban. With five years of independent touring under her belt, Holly released her critically-acclaimed debut album, The Ones We Never Knew, in 2004.

With her career on the upswing, Holly's life was almost cut short when she and her sister Hilary were involved in a devastating wreck near Memphis in March 2006. Both were in critical condition by the time their parents arrived at the hospital. Looking back on the accident, Holly is truly thankful she and her sister survived.

Here the singer talks to ChicagoPride.com about logging 1500 shows on the road, the fantasy of "three days in bed with a stranger," and her lesbian following.

Q: When did you first know you wanted to be a singer?

HW: (Holly Williams) I first started writing songs at age 8 or 9. I didn't play an instrument then--I just wanted to sing. I remember wanting a publishing deal when I was 9 years old [laughs]. Then, during my teenage years, I moved away from music until my senior year in high school. I picked up a guitar one day, played some chords, and wrote a song. I played at the school talent show after that and decided I was going to be a singer and not go to college.

Q: Did the fact that you come from a famous musical family affect your desire to become a performer?

HW: No, I never thought I was going to be a musician because of my family. I know that my grandfather [Hank Williams, Sr.] is considered the founder of country and western music, but I never knew him—he died years before I was born. And my dad [Hank Williams, Jr.] kept his music separate from his family life. I didn't grow up listening to my dad's music, and I wasn't listening to country radio as a kid. I liked people like Joni Mitchell and Bob Dylan, and my dad was listening to Jimmy Reid, Bo Diddley, Jerry Lee Lewis. When I first started working as a musician, it was the time of Lillith Fair, and I felt like that's where I belonged. But by the time I got around to doing this record, the whole genre has changed. A lot of those singer-songwriters that had been played on Top 40 had moved to Triple A or Country radio.

Q: It sounds like you wanted to make your own way.

HW: Yes, I didn't want my dad involved on the business level as far as me trying to get a record deal. When I started playing, I created my own web site and sold my EPs off there. And I got in a van and starting touring, building a fan base one by one. Most artists in Nashville, they get signed, get a bus, hair and makeup, and they go on tour. I've done 1500 shows so far, and I haven't had a bus yet. I've been doing it the way that Hank Sr. did it—meeting people up close, creating an intimate relationship with the audience.

Q: Let's talk about your new album, Here With Me. Some of the songs are very personal. Your new single, "Mama," is about your parents' marriage.

HW: Yes, it's about their split and the way my mother dealt with it. I've realized how difficult it must have been for my mom when my dad was out on tour. I'm sure she had something to complain about, but she never spoke negatively about my dad. She never put us in the middle. And she always encouraged my relationship with him.

Q: "Three Days in Bed" is about an affair with a stranger. The video was shot in Paris. True story?

HW: I haven't literally spent 3 days in bed with a stranger, though I do like international men [laughs]. I did meet a French man when I was in Paris and had a crush, but I knew there was no way that was going to work out. It's my little risqué fantasy song. It's the dream of being whisked away on a horse in some foreign place.

Q: You also do a cover of Neil Young's "Birds."

HW: I've always loved singing that song. I had a friend come over one night, and we just decided to record it. Being part of the Williams family, everyone thinks I just listened to country, but I've been inspired by many other artists. Neil Young is a huge influence.

Q: I know you and your sister were in a bad car accident a few years, and you've written a song about it on "Without Jesus Here With Me."

It's heartbreaking.

HW: Yes, it happened in March 2006. It happened just as I was about to start recording again after promoting my first album. My sister has had 26 surgeries since the accident. Her injuries were more internal, and mine were more external. I couldn't play guitar for a while, so I opened up a clothing store in the meantime. I didn't know when I was going to be able to play music again. It was a hard song for me—at first I didn't know how to write about something that was so gory. But the song is ultimately about the miracles that surrounded the accident—that we're still here today.

Q: Your clothing store in Nashville is called H.Audrey. How did that come about?

HW: Fashion is something that I've always loved. When I go on tour, I love going to places like Barneys and Neiman Marcus to check out the latest designers. We don't have those stores in Nashville. So, I decided to open my own store. It's something I always wanted to do. I love the business side of it, too. I can get really obsessed with my music, so it's nice to have a place where I can get back to reality and just fold jeans. And it's fun to have artists come in with their stylists and choose different outfits for award shows and videos, people like Kelly Clarkson, Carrie Underwood, Sheryl Crow, Faith Hill.

Q: You've played a lot of shows over the last few years. Have you noticed a lot of gay fans in the audience?

HW: I get a lot of women coming up to me after my shows. That was something I always expected, because I've seen other singer-songwriters who have large lesbian followings. The genre just fits. I welcome anyone who connects to my music.

Q: I know that country music has a lot of gay fans as well, but I don't think people think of Nashville as a very gay place.

HW: Well, the gay community in Nashville is fairly small, from what I've seen hanging out with my gay friends. Growing up, my best friend was gay. We'd invite him to all of our slumber parties [laughs]. He was always with the girls, but it took awhile for him to feel comfortable coming out. I think it's easier now.

The manager of my store is gay, and the customers respond so much better to him than the women who work there. He's very good for business.

Every woman needs a good gay in their life, including me.
Interviewed by ChicagoPride.com
Serving the Chicago gay, lesbian, bisexual and transgender communities. ©Copyright 2019 GoPride Networks. All rights reserved.