A GoPride Interview
Tim Booth
James Transcends Time
The songs we get most excited by are the songs that don't sound like James.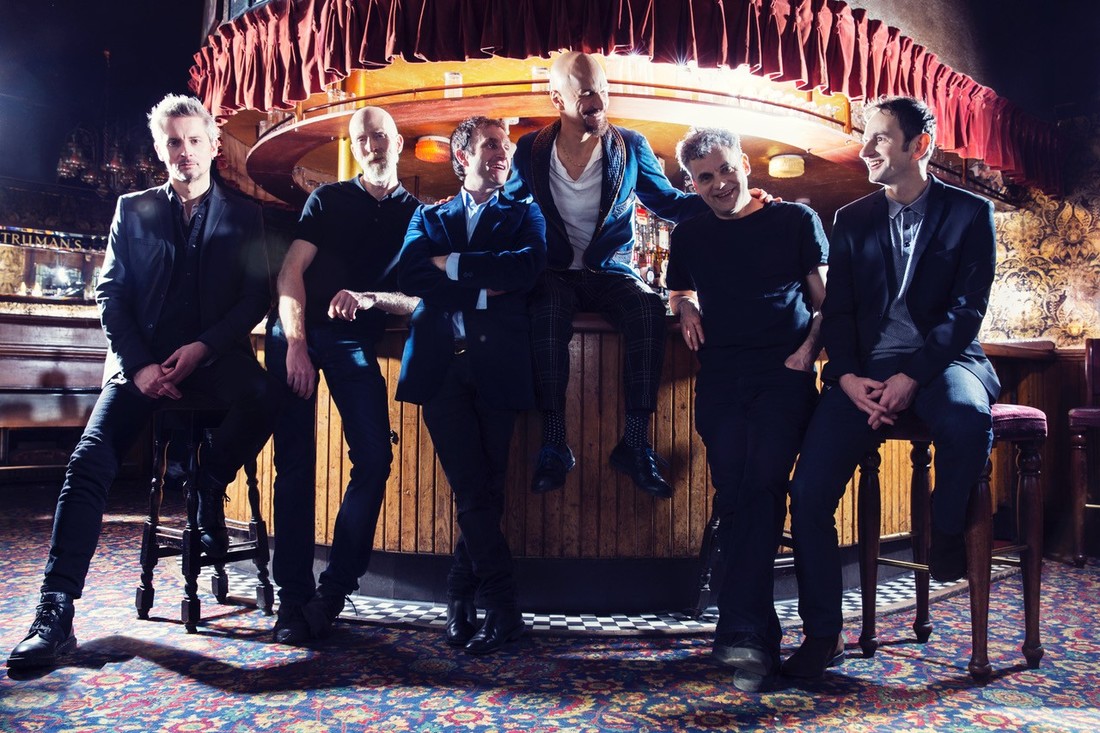 The band James is heading to Chicago on July 23
English rock band James is coming to town in a rare concert co-headlining with The Psychedelic Furs. Frontman Tim Booth joined the group back in 1982 after meeting Paul Gilbertson at a student disco. Their debut release had them touring with The Smiths on the iconic Meat is Murder tour. 
After several more albums, singles like "Sit Down" and "Come Home" brought them some notice and the song "Laid" broke them into the United States. 
James will bring the latest record Living in Extraordinary Times to the Aragon Ballroom in Chicago on July 23. 
JN: (Jerry Nunn) Where in the world are you calling from?
TB: (Tim Booth) I'm in Los Angeles. 
JN: Chicago fans are excited you are coming here. 
TB: That will be fun. Chicago has always had a strong live crowd for James. It will be great to come by. 
JN: When is the last time you have been here?
TB: It has been about four or five years ago. 
JN: With so much material, how do you decide on a set list?
TB: We usually have about 40 to 50 songs in our back pocket, some of which are rustier than others, but we can use for improvisation. On the night of the show, literally a few hours before we go out onstage, I will check what mood everyone is in, depending on the weather and what we think the audience will react to after playing last time, then write the set list. Sometimes it gets debated, but mostly it gets accepted. It's kind of like DJing. There's a lot of improvisation in it. We put alternatives in there that depends on the mood of the audience. 
It changes radically every night. That is why we have lasted this long. Fans come because it's not the same show every night. We don't believe in making the same show every night. We believe a Tuesday audience in Chicago will be more low key than a weekend audience. We want to seduce the audience into a state of euphoria. On a Saturday people are looking for a wild night out so it's a different set. 
JN: The fans can come to more than one show then…
TB: People come to hundreds of shows because they never know what they are going to get. It's radically different every night. 
JN: With a live show is there lights and projections with a James show?
TB: No. We tend to focus on the music and not have too much distracting it. We have seen other musicians play and sometimes struggle with songs that they over rehearse. We play for hours in Europe and our shows are fairly legendary, if I do say so myself. 
JN: How does a co-headlining show work? Who goes first?
TB: We go first. It's very kind of them to call it a co-headlining tour. We are both playing about an hour. It came from mutual respect. We have known each other, but never toured together. 
JN: Do you have a favorite Psychedelic Furs song?
TB: I love "India" from the first album. I remember when James first existed that I loved the first album. 
JN: How do you take care of your voice?
TB: I do quite a lot of warmups and I use techniques for relaxing the throat. I have a three octave range, which is quite wide. Even then, I am using some of the same falsetto notes and struggling to maintain a couple of them, like in "Ring the Bells." It's very high. 
JN: I can't imagine how you sing a song like "Rabbit Hole" with those notes being so high too. 
TB: "Rabbit Hole" is fine actually. I'm glad you know that song. We are a bit unsure about how many people in the States have heard our later albums. I love "Rabbit Hole."
JN: With the song "Laid" and the lyrics "messing around with gender roles," did you hear from people specifically about those lyrics? People didn't talk about that in a song usually back then. 
TB: Certainly in 1993 they didn't. We put on dresses sometimes at gigs. We didn't from that song, but we got a lot of communication and letters when a song is written about death. People will write us about a song being played at a funeral or a song that helped them process their child's death. "Moving On" has received much more communication, especially with the video. People use the video to show their children how to move on after someone dies. It's a talking point. 
A song like "Fred Astaire" will get used at a wedding. With "Laid" it was more of a fun throwaway lyric in some respects. It was about three different relationships crammed into one. That one didn't get as much attention as the other ones. 
It's strange that in different countries some songs are bigger than others. In Europe, "Sometimes" was a big song. In England, it's "Sit Down." It varies from country to country.
JN: How did you approach the new material on Living in Extraordinary Times?
TB: We had to work really hard. There were particularly a lot of percussive elements that was really hard to replicate. We have an extra member who came in, Chloe Alper, who sang backing vocals and played guitar. That's because rhythmically the new album was quite a departure for us. 
The songs we get most excited by are the songs that don't sound like James. The songs that go into areas that we have never been to before. For a song like "Heads" it's one of our favorite songs on the album, but very hard to replicate. We have three people drumming on it. 
JN: Talk about the new song "Leviathan."
TB: That's a big song on the album. We sing it as a duet with Chloe. It's really beautiful to have a female harmony in the song. We are going to play a lot of the new album on this tour because  we are loving it. We find it exciting and contemporary. We worked with Charlie Andrew who did the first Alt-J record. I think that it is this generation's Ok Computer. 
JN: I have been listening to your music since my college days, so I am excited about finally seeing you perform live. 
TB: Cool. I think we make much more sense than we do anywhere else live. James is always about playing live. When we first started we didn't even want to record. We wanted to play live. We had this naive idea that it would be all about how good you are live. We were forced into making records in order to get gigs. We come from that background. 
JN: What are you plans after the tour?
TB: We fly straight back to Europe to play gigs there. We are going to do some writing sessions there. After that, we are going to take a time out I think. We will finish a record, but I will make notes during that time. 
I'm also finishing a novel. 
JN: Is this fiction?
TB: It is fiction, but it's a love story with ghosts haunting in it. 
JN: How do you feel about the Manchester music scene?
TB: I'm proud of Manchester and it's doing very well. It's a very rainy city. The weather forces people to stay indoors and write music. 
I live in California now, so the seduction is to sit outside and be in the sunshine. It's not as conducive to creativity as Manchester or Chicago. James has never identified with the Manchester scene and instead forged its own path. We didn't want to be associated with British pop because we wanted to last. We wanted to be with the bands where the music would transcend time.
Interviewed by Jerry Nunn. Jerry Nunn is a contributing writer to the GoPride Network. His work is also featured in Windy City Times, Nightspots Magazine and syndicated nationally. Follow @jerrynunn