A GoPride Interview
Allie X
Allie X talks music, style and her connection to the LGBT community
I feel I have the taste of a gay man!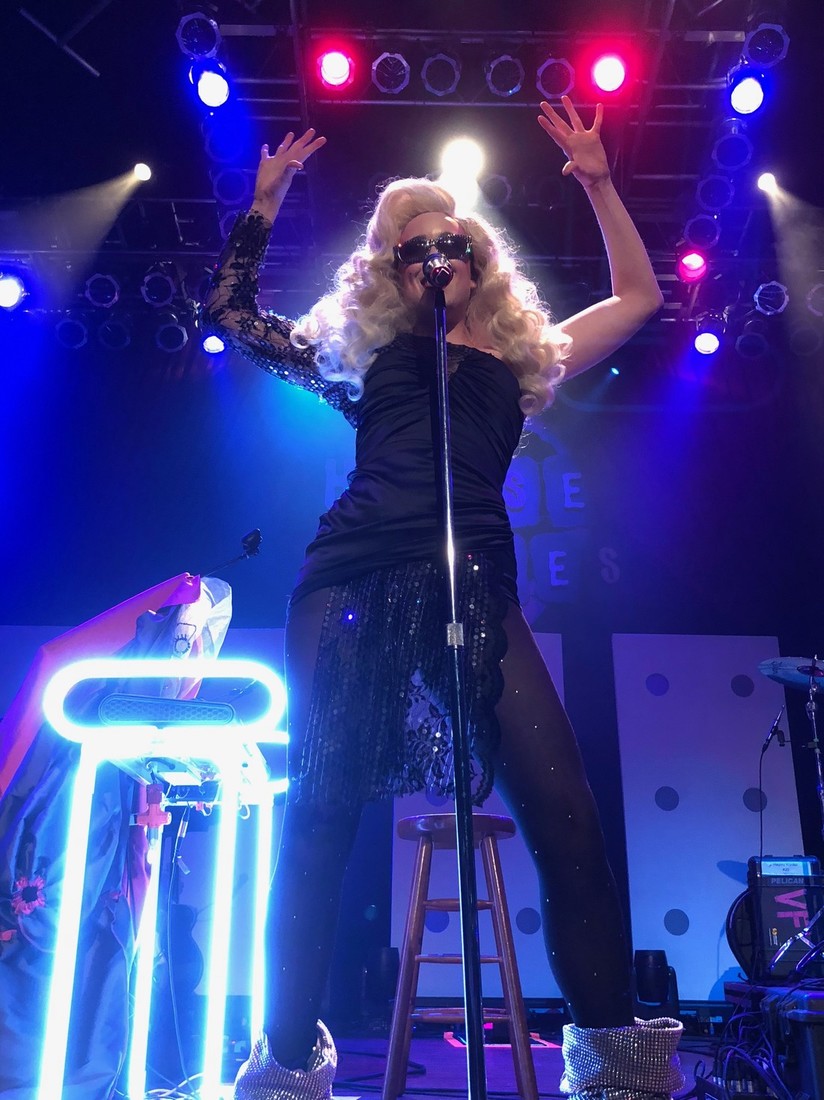 photo credit // jerry nunn
Alexandra Hughes, currently one of the biggest LGBT allies in the music industry, is better known as the Canadian singer Allie X, the electropop mastermind who has released several hand-crafted singles over the years. 
She moved from Toronto to LA to begin a career in the major pop world. Her song "Catch" was described by Katy Perry as her "summer jam" and was recognized by Time magazine. Her debut album CollXtion II was released a year ago in June of 2017. She is slated to perform a Lollaplooza this year on Thursday Aug. 2 at 1:50 at the American Eagle stage.  
Allie X brought her music and unique costumes to the House of Blues recently to open for rising star Hayley Kiyoko. Miss X chatted backstage after her set.
JN: (Jerry Nunn) I met you at your last Chicago show at the Double Door. 
AX: (Allie X) Cool.
JN: You are originally a Canadian?
AX: Yes, I am a proud Canadian. I have been in LA for four and a half years. 
JN: How has the change been?
AX: It has been very positive for my career. I didn't have one when I was in Toronto [laughs]. It comes with challenges. There is a real pressure that comes with living there. 
I don't have a lot of friendships because I am so focused on my business relationships. It is a real hustle there. 
JN: Chicago is not like that. 
AX: Toronto isn't either. I think I was yearning to not be self deprecating when I talked about my dreams. La is that place. You can really go for it. I liked but I also get weighed down by it. 
JN: Have you always wanted to make music?
AX: Yes. It is the only thing I have been good at. I always just wanted to sing. I naively thought I could do it as a kid, then you get older and realize you have to make the hit songs. it is very rare to be handed a hit song. 
I got into writing in college. Now the writing and recording in the studio is just as fulfilling than performances. 
JN: You wrote out and proud singer Troye Sivan's album?
AX: I wrote a lot of Blue Neighborhood and many of the songs of the upcoming album as well. The one that came out today I didn't write, but I love that song. It's called "Bloom." It's really good. 
JN: What is he like?
AX: He's an angel. I really mean that. I was just saying it is hard to find friendships. He's a very genuine, compassionate, caring person. He's probably the most famous that I know, but also the nicest person I know as well. 
JN: How did you gain a gay following?
AX: I can't exactly say, but all of my closest friends have always been gay boys. I have always loved going to gay clubs and listening to female pop divas. I feel I have the taste of a gay man!
I like being bitchy, sassy, and I relate to the culture. I think my music relates to it. 
I have never consciously tried to go after a gay audience. I think it is who I am. 
JN: You could play Pride festivals. 
AX: I am doing LA Pride, which I am really excited about. It is this coming June. I am doing one in Birmingham in the UK as well. Hopefully more, I want to do more than that. 
JN: Where does your sense of style come from?
AX: I have never been a scholar of fashion until I became more of a public figure. Now I am really into it. I love referencing designers. 
My style comes from me being very insecure with body and finding creative ways to hide it. Even in high school people would compliment me on a jacket and I was thinking that I wore it because I had a really flat chest. It led me to an interesting place. I feel I have really good style now, but I was never trying to be stylish. I was just trying to fit in. 
JN: This veil you were wearing out there scared me.
AX: (puts it on) You don't think I'm pretty? [laughs] You were up close out there. I like to mix the grotesque with the beautiful. I like to juxtapose things in imagery.
JN: Talk about releasing your album last year. 
AX: It definitely grew the fanbase. It was a relief for me to put it out because it took me so long to make it. I learned that putting out a whole body of work like that, without giving each song a moment, doesn't really work with the way things are these days. It is a single driven industry. I learned a lesson there. 
I have some new music coming out. "Focus" is a new one. [listen to it here: http://smarturl.it/AllieXFocus] I tried four new ones in the set tonight. I am finding my voice on some of them. I think by the end of the tour it will be feeling good. That is why it is good to be on a support slot because it is less pressure. I can try things out and experiment. By the time I have a headline show then I will have this under my belt. 
JN: Are you influenced by Lady Gaga?
AX: Yes. She is a very strong woman that I admire. 
JN: Do you like Bjork?
AX: The same thing. I totally respect her. She did something amazing by making weird shit and the general public knows about her. That never happens when it's avant-garde. 
JN: This will be your first year at Lollapalooza. Have you ever attended before?
AX: No, I have never been. I have played festivals because, but never Lolla. I am very excited. I am playing some after parties as well so I will be busy. 
JN: Are you planning something to make you stand out as an artist there?
AX: I will definitely come up with something to be noticed about. 
JN: When Gaga performed it was the gayest year the festival has had. 
AX: I would love my set to be as gay as possible. 
JN: How do you connect with an audience when you play live?
AX: I put on an alter ego. It's having a confidence that you wouldn't have at the grocery store. I try to be what I want to see if I were in the audience. The more I do it the easier it gets. 
There were about 50 fans of mine in the audience and the rest were Hayley fans. I tried to treat them like they already knew me. I looked them in the eye and gave them a little sass here and there. 
JN: What do you want people to know about you as an artist that don't know you?
AX: I make the art. There are artists that just dressed up and positioned by a team. I am behind everything that I do. I write all of my songs. I produce my songs. I write my own concepts and treatments for my videos. Whatever people see I had a heavy hand in it.
Interviewed by Jerry Nunn. Jerry Nunn is a contributing writer to the GoPride Network. His work is also featured in Windy City Times, Nightspots Magazine and syndicated nationally. Follow @jerrynunn