A GoPride Interview
Ming Chen
Ming Chen flies into Comic Con Revolution
I could do a whole episode on Chicago's Giordano's Pizza!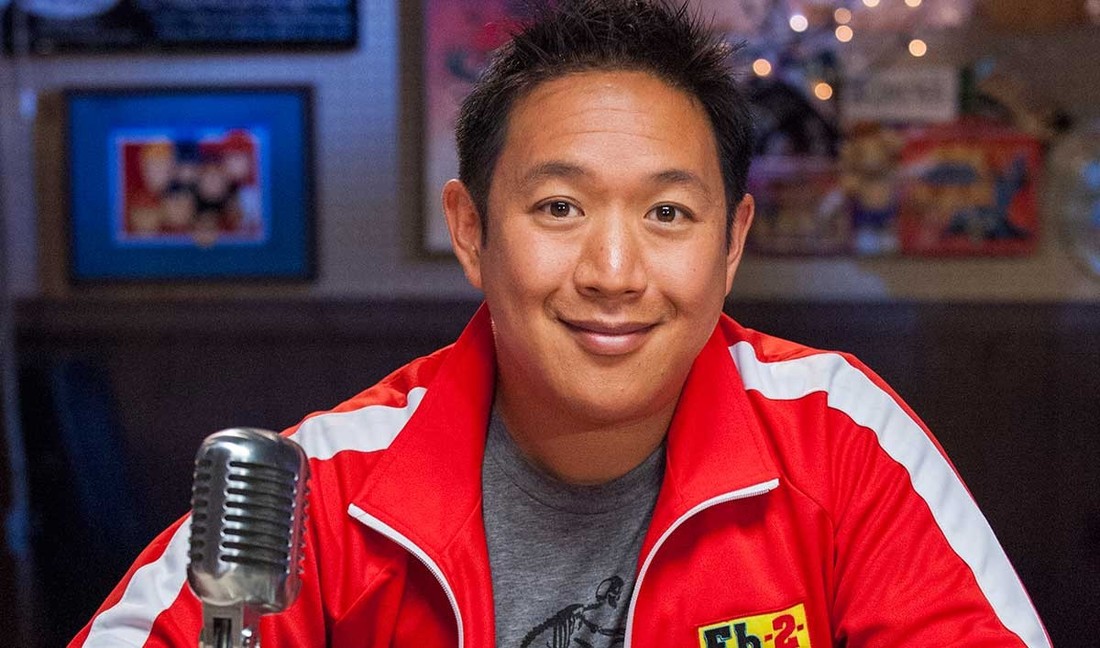 Comic book man Ming Chen talks about podcasting
Television personality Ming Chen starred on the AMC reality series Comic Book Men for seven seasons and 96 episodes. Filmmaker Kevin Smith had created the show around his comic book store Jay and Silent Bob's Secret Stash featuring Chen. 
He co-hosts the podcast I Sell Comics! with fellow store employee Mike Zapcic and contributes to several more podcasts. 
Chen stopped to talk a bit after a recent panel at Comic Con Revolution in Rosemont. 
JN: (Jerry Nunn) You have been on a lot of panels this weekend. Are you tired?
MC: (Ming Chen) It comes with podcasting. Comic conventions have realized that podcasters make very good panel moderators. 
JN: I just started a podcast about a year ago.
MC: It's fun, right?
JN: Yes. What advice do you have for people making podcasts?
MC: Podcast about what you love. It will make it way more fun. I don't like to do it alone, so I pick a co-host who is as dedicated as I am that way you record episodes consistently. If you can carve out an hour each week to record that's essential. Usually the downfall of most podcasts is a flaky co-host. 
Podcast consistently, people want to have an episode each week. If you do that your audience will grow. The walls have been broken down where you can have your own radio show now. You don't have to take it seriously. It's truly a medium where there are no rules now. You own a unique voice that only you have. That will separate you from everyone else. 
JN: Which podcasts do you currently have?
MC: I have one that I have been doing for 10 years with my Mike Zapcic called I Sell Comics, where we read the new books that come out every Wednesday. We tell you if they are good or not and why you should be reading them. We throw some pop culture news in there, too. 
We have another one called The Ming and Mike Show where we talk about whatever we want. We get into a lot of misadventures. I could do a whole episode on Chicago's Giordano's Pizza! 
JN: Where are you from originally?
MC: I have been all over the place, but I spent most of my time in the Midwest actually. I was born in Ohio and spent a lot of time in South Bend, Indiana. I used to come to Chicago every weekend to visit Chinatown with my parents. We would eat at the restaurants and my parents would buy smelly food from the grocery store there!
I went to school in Ann Arbor, Michigan. I consider myself a Midwest kid. Kevin brought me out New Jersey to work with him a number of years ago. 
JN: You still work at the store?
MC: Yes. I actually just started my own business in a podcast studio, not that far from the comic book store. It's called A Shared Universe PodcaSTudio. It's a partnership between me and Mike Zapcic. 
Many people love making a podcast, but they don't know how to start or know how to deal with technology. We have created a space for them. 
JN: How did you cope with being picked on while filming the show Comic Book Men?
MC: I have known these guys for over 20 years. From minute one, they have been making fun of me. I'm a goofy guy. I can take it. Some people think it's over the top, but on the East Coast that's how you talk to your friends or show love. 
Through the years, I've gotten used to it. It hasn't stopped me from living my life. I look at the people making fun of me and think it's not such a bad thing. Bryan Johnson lived in his mother's basement in his forties. He has flaws of his own, sometimes I point them out and sometimes I don't. Some of his barbs at me are pretty funny. I'm like the little brother that people make fun of. I've never thought he bullied me though. 
JN: With me being gay, I'm sensitive to people being bullied. 
MC: Well, thank you, but I'm okay. I was just in West Hollywood. If it's a Thursday night I'm at club called Micky's watching RuPaul's Drag Race with a bunch of my friends. 
I've gone to Game of Thrones viewing parties, but they are no match for the RuPaul viewing parties. Sometimes the cast members even show up. People are missing out on this because they may not be as open as I am. 
JN: Do you have a favorite Drag Race cast member?
MC: I was rooting for Brooke Lynn Hytes this year. 
JN: You mentioned on the panel that other Comic Book Men don't like comic book conventions. Why not?
MC: They do. It was me, Bryan and Mike that would go quite often. Bryan didn't like sitting behind a table. He liked panels. He's a podcaster, so he liked being funny for an hour at a time.  
I love it. People appreciate the show and think it's cool that I'm a geek. These conventions are everywhere and all have the same heart. They celebrate fandom. 
JN: Do you think Comic Book Men will be on a different platform one day?
MC: It was cancelled last year and AMC has a weird edict that they don't announce cancellations. People didn't know we weren't coming back. We had seven seasons, which was more than Star Trek or Firefly, some of my favorite shows. I always felt as long as there were toys and comics to talk about, we could have gone on for a long time. 
We are still in the store making fun of each other, there's just no cameras now. That part hasn't stopped! 
I'm hoping a streaming service or other network will pick it up. I can't imagine it was very expensive to make. People at comic cons tell me they miss it, so at least they weren't sick of it. That is very encouraging. 
JN: Do you have a favorite piece of memorabilia in your house?
MC: Much of it is in our podcast studio now. I have collected prints and autographs. I have a Captain America shield made of metal from  a company called Shield Labs. He's an ex military man who made something close to the real thing with leather straps. I ended up buying one. 
Robert Englund came onto the show for my birthday and he gifted me a Nightmare on Elm Street glove that was a replica he signed for me. It's in a glass case. 
JN: Who is your favorite comic artist?
MC: Jim Lee. I support Asian artists, but it doesn't really matter. His art is just so dynamic. 
I like Neal Adams and Greg Capullo as well. 
JN: Who is your favorite hero?
MC: I love Spider-Man. Peter Parker is a somewhat invisible kid who is powerless. When he gets power he learns to use it responsibly, but is wise cracking too. It is something I would totally do!
Interviewed by Jerry Nunn. Jerry Nunn is a contributing writer to the GoPride Network. His work is also featured in Windy City Times, Nightspots Magazine and syndicated nationally. Follow @jerrynunn