A GoPride Interview
Praga Khan
Praga Khan Plays MindGames
They will say that I wrote the soundtrack to their life and that makes me feel great!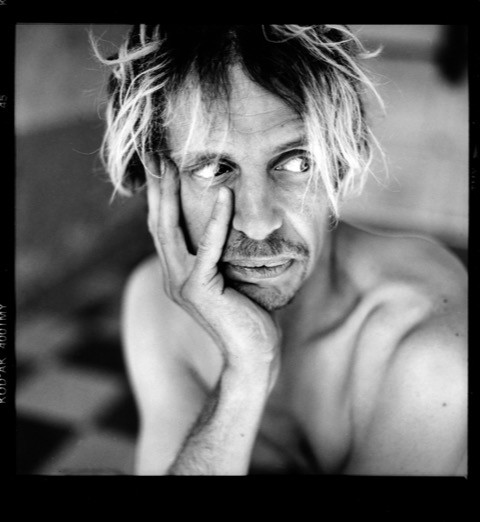 photo credit // tracy ann george
Lords of Acid creator talks on his tour bus
Praga Khan has created a dynasty of memorable music over the years. Khan is the stage name of Belgian born Maurice Engelen. In the late '80s he teamed up with Jade 4U and Olivier Adams to form the group Lords of Acid. Other groups were created such as Channel X and Digital Orgasm as well as his own solo work in the rave scene. 
Many will remember "Rave the Rhythm" for the Basic Instinct soundtrack and that led to other movie such as Sliver, Strange Days and Bad Lieutenant. He composed a music album for the video game Mortal Combat and appeared as a judge on X Factor. 
His latest album MindGames brought him on tour to Chicago where he talked about his past. 
JN: (Jerry Nunn) Did you always create music?
PK: (Praga Khan) Yes. When I was 18 years old I founded a record company called Antler-Subway. It was very influential for music in Europe. I was a record boss for six years. When computers came I was so interested in the new technology and I was able to write on a computer. That got me interested in writing songs myself. The first song I wrote was licensed in 13 countries so then I decided to keep doing it. It was under the name Shakti and a collaboration between me and Indian musicians. Nowadays it's a hot record again and everyone is looking for it. It's played at underground clubs. I've been asked to rerelease it but I don't want to do it. 
JN: Then it wouldn't be a hot item anymore.
PK: Exactly. Did you know I am from the same village as Daniel Bressanutti from Front 242?
JN: I didn't know that. 
PK: I was close friends with his younger brother. I would see Daniel play new music like Blondie as a DJ, so I learned a lot from him. 
JN: When did things change into a techno sound?
PK: First it was electronic body music in the early '80s and then in 1987 we created our own style of music called new beat. It was all made by youngsters on the computer. It was different than other music and very unique. It became popular in London in the underground scene. It got so popular in Belgium that new discotheques started opening. Mainstream radio didn't want to play it because it was too repetitive, so people had to go out to hear it. 
In no time there were 25 discotheques in Belgium and people came from everywhere to listen to that music. "I Sit on Acid" was one of these records. There were heavy beats and erotic lyrics. 
JN: Is Belgium conservative at all?
PK: No, but compared to Holland we are still conservative. 
JN: Was anything ever off limits?
PK: No. To give you an example, only six weeks ago I did a Lords of Acid song called "Nasty Love" at a political show at noon on a Sunday!
JN: That is great. 
PK: At a certain moment something becomes too popular then everyone starts to make it and it dies out. When new wave died out there was only one record that kept selling and that was "I Sit on Acid." The other records made during new beat were forgotten but that song lasted. It went to America an I got a phone call to make an album. 
In those days, there was no Internet or cell phones. We made the album in a short amount of time and forgot about it. In a few weeks we received a fax with all of the DJ charts in the clubs. The number one was the A-side called "Take Control" and number two was "Let's Get High" which was the B-side. 
JN: Where did the name Praga Kahn come from?
PK: It is from that strange record I made as Shakti. It's even spelled wrong on the album. 
JN: My first drag queen friend used to lip synch to Digital Orgasm and Jade 4U. Have you heard that before?
PK: Yes. There are many drag queens that perform the songs on YouTube. We met one just a couple of days ago in Minneapolis. 
JN: So Jade is gone?
PK: Yes, she's been gone since 1997 and I don't know what happened to her. 
JN: How was being on X Factor?
PK: Weird! I was on TV a thousand times in Belgium, but I was a judge with X Factor on primetime TV for four months finally understood the impact. It was unbelievable. Because I was on TV we played all of the festivals. I found out there was actually a small percentage of people who knew me before that, then suddenly everyone knew me and talked about the show. Everyone wanted to talk about it when I would go to the baker or the butcher. I became a public figure. That was not really my thing.
JN: Talk about the new music.
PK: The new album is a very special album. It was an experiment. We really got the fans involved because we have diehard fans. We asked for a lot of input by posting on Facebook. 
We asked them their favorite subject to write a song about or their favorite Lords of Acid album. We got a lot of feedback from the fans. In a way they helped us write this album. 
The good news is that now that the album is here everyone loves it because they collaborated. 
JN: How is it touring with bands like Orgy?
PK: Good. Everyone is getting along. From the Midwest we head into the Upper East then the South, finally going to Vegas. Going on tour gives me a lot of inspiration to work on new music because I meet a lot of people and find out what my music means to them. For example, I will meet someone in Arkansas who was trying to explore their sexuality and no one supported them. They will tell me their music helped them to become the person that they are. They will say that I wrote the soundtrack to their life and that makes me feel great!
Interviewed by Jerry Nunn. Jerry Nunn is a contributing writer to the GoPride Network. His work is also featured in Windy City Times, Nightspots Magazine and syndicated nationally. Follow @jerrynunn