A GoPride Interview
Mallrat
Aussie singer and rapper Mallrat speaks about a budding career
We only legalized same sex marriage last year, so we are definitely behind in a lot of ways, but in some ways it's liberal.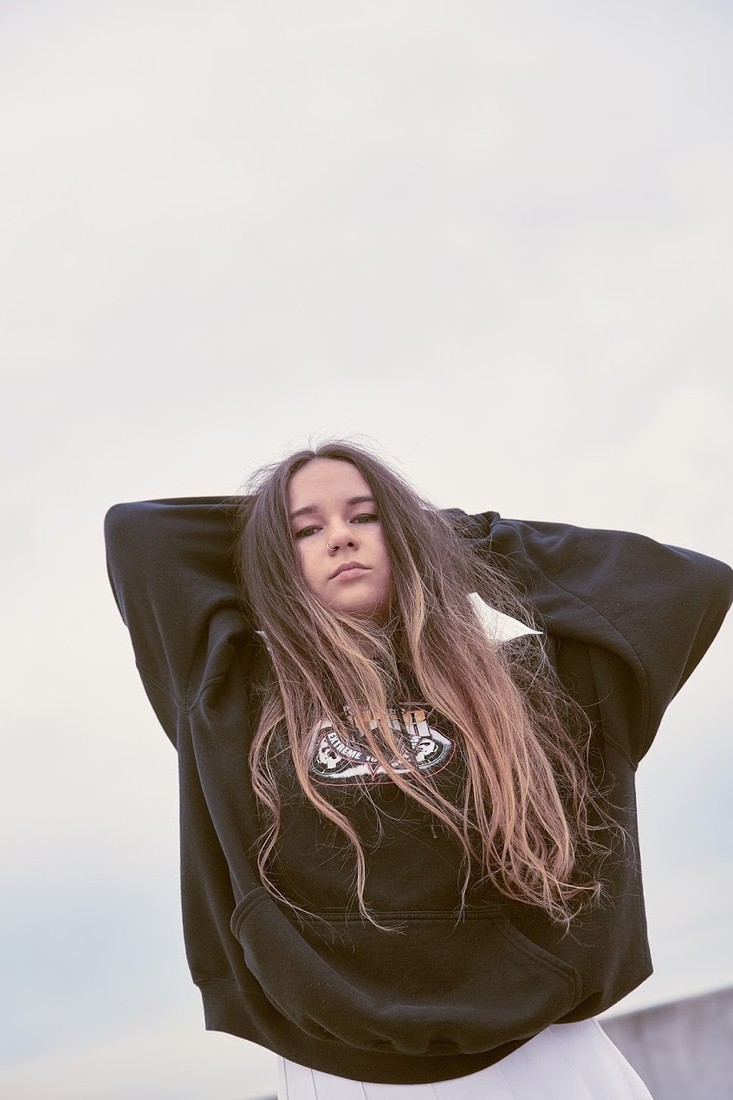 photo credit // michelle pitris
Mallrat Makes a Move
Australian singer Mallrat is breaking out in America with fresh, new music. Grace Shaw was born in Brisbane and began writing music in high school. She finished her debut EP Uninvited during her last year in school. 
Her album In the Sky was released in June of last year. 
She chatted a bit after her set at the Bottom Lounge recently. 
JN: (Jerry Nunn) Where did the name Mallrat come from?
Mallrat: Well, the name Grace was taken, so I had to think of something else. When I was young I used to loiter at the mall. 
JN: You started when you were young?
Mallrat: Yes. My first song I put out was when I was 16 years old. 
JN: Has it been difficult to break into America?
Mallrat: It has definitely been slower. In Australia we have triple j, which is a nation wide radio station that has been really onboard. It has been really good so far, just a little bit slower. I think it's happening!
JN: Do you have a lot of input with making the videos. 
Mallrat: In the beginning I made them all. When I signed with a label I didn't make them all completely on my own, but I was still very involved. I chose to direct them. I did all the styling and everything. This year I want to get back in to direct the videos hopefully on my own. 
JN: Is there a particular video that you are proud of the most?
Mallrat: I really like the ones I used to make for YouTube. I don't love the song "Suicide Blonde" anymore. It was my first song. I still love the video I made for it. 
JN: Your song "Better" seems very personal. Is it?
Mallrat: All of my songs are personal and impersonal at the same time. They are like scrapbooks. They stories about people that are close to me. Partially they are stories that are in my head. 
JN: Are there artists that you look up to?
Mallrat: There are so many that I want to borrow from them all. I love Lana Del Ray, Kanye, Florence and the Machine and Travis Scott.
JN: Is your sound moving into more electronic sounds?
Mallrat: There is definitely more production. Just because I am producing on my computer doesn't mean it's more electronic. I usually sample a lot of vocals. It's hard to say. Every song is so different. 
JN: What do you want people to know about you as an artist?
Mallrat: I get bored really quickly so I want to try different things. I am always changing. 
JN: You opened for Post Malone?
Mallrat: Yes, for a couple of shows. It was really cool. He's sweet. It was the beginning of last year in Australia. It was a great way to start the year. 
JN: Maggie Rogers is another artist that you are associated with that will be big. 
Mallrat: I am touring with her next month in Europe. 
JN: Is your goal to be at Lollapalooza?
Mallrat: It's not the end goal, but something I would love to do. Coachella would be great too. We will see. 
JN: Have you noticed a LGBT audience for your music?
Mallrat: Yes, and it makes me so happy.
JN: Is Australia liberal as far as LGBT rights?
Mallrat: We only legalized same sex marriage last year, so we are definitely behind in a lot of ways, but in some ways it's liberal. 
JN: I read you are vegan?
Mallrat: I am and I love it. 
JN: What is the rest of the year like for you?
Mallrat: Making lots of music, producing more, hopefully writing for other artists as well. 
I'm about to move to LA!
Interviewed by Jerry Nunn. Jerry Nunn is a contributing writer to the GoPride Network. His work is also featured in Windy City Times, Nightspots Magazine and syndicated nationally. Follow @jerrynunn