A GoPride Interview
Chuck Panozzo
Why he Styx with it: an interview with Chuck Panozzo of Styx
I was raised a good little Catholic. What's more theatrical than the ritual of the Catholic church?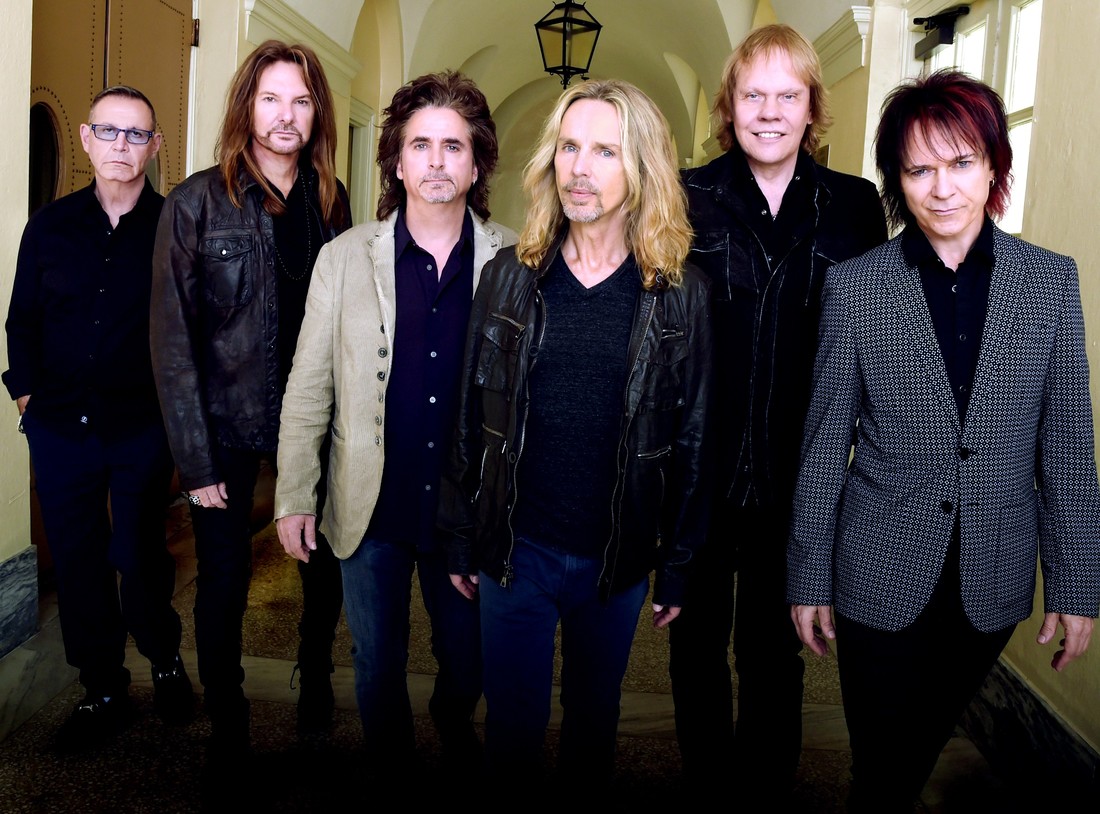 chuck panozzo (left) of styx
photo credit // rick diamond
Styx co-founder Chuck Panozzo talks about being a gay rocker and more
Prog-rock legends Styx recently got a taste of what it's like to be trending when, on the Tonight Show, Jimmy Fallon and Paul Rudd recreated, shot-for-shot, the band's 1981 "Too Much Time On My Hands" music video. These days there's almost no higher compliment than being paid tribute by Fallon and his guests. Styx, the band behind hits such as "Lady," "Mr. Roboto," "Come Sail Away" and "Babe," are still going strong with many original band members, maintaining a rigorous tour schedule and this year is no exception. Co-founding member and bass player Chuck Panozzo, who came out as an HIV+ gay man in 2001, sat down with me to discuss his musical career, as well as Styx and his longtime membership in the band. [Panozzo performs with Styx on June 21 at Coronado PAC in Rockford, on June 24 at Joliet Memorial Stadium in Joliet and on June 30 at Summerfest in Milwaukee.]
Gregg Shapiro: Next year, 2017, will be the 45th anniversary of the release of the first Styx album. What does it mean to you to still be performing and touring with American prog-rock legends Styx, the band you co-founded?
Chuck Panozzo: We played our first real show on New Year's Eve in 1962 (as Tradewinds). I had been taking music lessons for seven years and had the confidence to perform in front of people. I could never have imagined a career this long in anything, let alone music. I was an art teacher. I picked two great occupations – art and music. Your parents go, "Oh..."
GS: Right! How will my child survive?
CP: "…he'll be living in poverty forever!" Why did I pick art? Because I was pretty good at it!
GS: Do you still create visual art?
CP: Not anymore. I will, sometimes, for a benefit. I was able to influence some of (the covers of) our albums. The Grand Illusion is a famous one. I'll take credit for that. Most rock and roll bands are around for a few years and then it's over. We were blessed with great singers and songwriters.
GS: As one of the founding members of Styx, is there a style of music that you enjoy and listen to regularly that might come as a surprise to your fans?
CP: I was raised a good little Catholic. What's more theatrical than the ritual of the Catholic church? All of the incense and learning a foreign language and all of the music – it's very theatrical. That impacted me as a young kid.
GS: Are you saying you like to listen to liturgical music?
GS: Yes, I listen to that. I like to get away from noise, although I will play noisy music in my car to keep myself awake. But my ears need a rest sometimes. I do enjoy listening to classical music.
GS: Who do you consider to be your own personal music influences?
CP: I always say that Yes was a huge influence; The Rolling Stones and the Beatles, of course. But I went away to seminary when I was 14, the year that President Kennedy was assassinated, and we were devoid of all sorts of outside influence. No records, no TV, nothing. It was a true liturgical experience. It was near Douglas, Michigan. I kind of lost my sense of organized religion and became more spiritual from the experience. I would walk in the woods and to the sand dunes and the lake every day. That spoke to me more than getting up at six and the morning and saying some prayers. That had nothing to do with religion to me.
GS: Every year it seems that there are more and more rock musicians coming out as gay, but back in the early days of Styx, that was not as common. What was the experience of coming out to your band-mates like for you?
CP: I would say that it amounted to career suicide. Rock and roll is based on pretty boys who look like little girls. The girls love them because they're not threatening. As someone who is dark and kind of hairy and whatever, I said, "I don't have a chance with that." Luckily [laughs]! The other aspect, in the early days I wasn't quite ready for it. Around the time we became successful, I felt bitter. I couldn't be myself. I was living this miserable life of hell. I also felt like I had a huge responsibility to the band. If it was just my career, that would be one thing, but there were four other members. I think the guys were always aware that I was gay, it just wasn't in their vocabulary. It still isn't in their vocabulary.
GS: Really? Even today?
CP: They understand it; but to have a conversation like this? Maybe one band member would be cool about it. But the rest, they skirt the issue.
GS: What about the reaction from the fans?
CP: Everything bad that I thought was going to happen didn't. The best part is that when I came out (at the annual Human Rights Campaign dinner), it was in front of a thousand people, in front of friends. Living my life as an openly gay man…as you know…the weight it takes off of your shoulders. That's something that I should have gotten from religion, which I never did. It was total liberation. It's not that I'm anti-religion. I'm anti any religion that doesn't practice the core, which is love. I also find it reprehensible that parents will turn away from their children and use a religious excuse. Shaming and blaming your kid isn't going to make them change. You can't change yourself. Would I love to be tall and blonde? Yes, but that's not going to happen. I'm always going to be short and dark-haired, maybe gray-haired now [laugh].
GS: When it comes to eternal `70s anthems, Lynyrd Skynyrd had "Free Bird," Neil Diamond had "Sweet Caroline" and Styx had "Come Sail Away." What does that song mean to you?
CP: I think "Come Sail Away" was written by Tommy (Shaw) and Dennis (DeYoung). They still have great voices even to this day. They can't collaborate together [laughs], but they write wonderful songs and make beautiful music. When I'm onstage and the singer sings, "I think about childhood friends and the dreams we had" and "on board I'm the captain, so climb aboard and we'll search for tomorrow forever more."My head is down because I'm trying to keep the beat. I'll turn and look at the audience and my eyes will scan the entire space. This is a transcendent moment. I can't explain it. It has a lot of meaning to me
GS: Of all the songs in the Styx songbook, is there one that you identify with most?
CP: Tommy wrote this song called "Fooling Yourself (The Angry Young Man)." It's a song about young people. We all feel angry and there's something wrong. I was an angry young man, standing on the stage in front of all these people. I was making a lot of money at the time, but who could I share it with? Nobody. When I'm onstage, and Tommy introduces me and people stand and applaud -- I never got a standing ovation when I was teaching unless I said, "I won't be in tomorrow" [laughs]. (The lyrics) "Why must you be such an angry young man? Your future looks quite bright to me." These are words that young people who lack self-esteem, who have experienced a lot of blame and shame, that they should be hearing at a young age, that they have a wonderful life ahead of them.
GS: "Too Much Time On My Hands," with its near-disco beat and hand-claps, sounded like Styx's entry into the new wave dance music scene that was popular at the time. Does that sound like an accurate description?
CP: What I remember about it is that Tommy walks into the studio and asks, "Can you play this?" And he plays, (sings) "da-da da-da da-da da-da." I said, "Let the synthesizer play it, it'll be more accurate." Then I go to the corner and I play the part, and I think, "You idiot! You can play this!" I told Tommy that I'd play it for him. I learned something there. Never say no to a part because you almost gave away one of the greatest parts anybody could want to play. It was a fun song and different and catchy.
GS: Music biopics are very popular this season, with Hank Williams, Miles Davis and Chet Baker, being among the subjects. If there was a movie version of your 2007 memoir The Grand Illusion, who would you want to portray you?
CP: He'd have to be really good looking, of course [laughs]. The actor would also have to portray my twin brother (original Styx drummer John, who died in 1996).
GS: Styx is playing at Summerfest in Milwaukee. As a member of a band with Midwestern roots, does it have special meaning to you to perform for what is essentially a hometown crowd? Do you still feel like a Midwesterner?
CP: I think if you forget your roots you're lost. It helps to ground you. I always say, "Remember where you came from and why these songs are still meaningful. Not just to you, but to other people, too."
Interviewed by Gregg Shapiro. Gregg Shapiro is both a literary figure and a music and literary critic. As an entertainment journalist, his work appears on ChicagoPride.com and is syndicated nationally.