A GoPride Interview
Ethan Reynolds
Ethan Reynolds interview with ChicagoPride.com
Wed. September 10, 2008 by ChicagoPride.com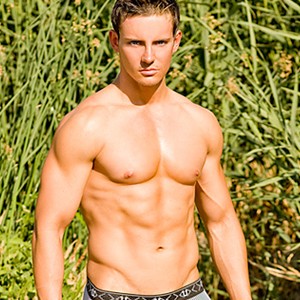 photo credit // nick coletsos - photosbync.com
Popular celebrity blogger to sexy Ginch Gonch spokesmodel--when ChicagoPride.com first introduced Ethan Reynolds last year, he was one half of the gay power couple-underwear modeling duo comprised of Reynolds and his then-boyfriend and gay porn actor Benjamin Bradley.
Since, the Vancouver-based Ginch Gonch declared bankruptcy and the power couple had a bitter public split.
Now, with an ongoing role on Season Two of here! Networks' "The Lair" vampire television series, Reynolds is back in the public eye, joining the regular cast with Colton Ford, Dylan Vox, Brian Nolan, and Johnny Hazzard.
CP:
(ChicagoPride.com) How did this opportunity come about?
ER:
(Ethan Reynolds) My management set up the audition and the great people at Here! Networks invited me to be a part of this great show. I can not express my gratitude!
CP:
You play a blood sucking-vampire, how exactly did you prepare for the role?
ER:
Well some people believe rumors and would state that the role was perfect for me. But I would tell you that I always had a fascination with the erotic stories of vampires.
CP:
What was the Ginch-Gonch experience like?
ER:
It was like the 'Facts of Life' theme song. Remember that? "You take the good, you take the bad...". I am extremely happy that I had the chance to get out there and meet so many great people. From Pride events to National Underwear Day to club appearances, the fun never stopped. But I would had a better time if I didn't have to stress about money issues. I still haven't been paid money that is owed to me.
CP:
Are you still wearing your Ginchs?
ER:
Well I definitely have a bunch of undies from them. I do wear them from time to time.
CP:
What happened to your popular Brat Boy School Blog?
ER:
I trusted the wrong people. I really do miss reaching out to people through the website though!
CP:
Now you have a great presence on MySpace.
ER:
Like I was saying, I miss reaching out. MySpace has given me that opportunity. Even if it is hard to keep up with some of the emails. But I can tell you that I was recently offered an opportunity to start a video blog! So you may just see whats going on in my daily life once again!
CP:
Thanks to the Internet blogs, your split with Benjamin – which at times became nasty – was on public display. What happened?
ER:
You would have to ask him. But without speaking for him I can say, he decided he wanted to go down a different path. Once he had everything the way he thought would work in his favor, he ended things with me. If you noticed, I never had anything to say about the breakup and just ignored the rumors. Most people figured out things on their own. They used to email me and voice their support but I was in shock for a while. The whole thing was a surprise to me. We had just moved into a dream house! But life goes on and I do wish him the best. I can not dwell on the things he has done to me. Plus, I have been told that he has returned to the stuff he was doing before we started modeling together.
CP:
Does being a gay celebrity and in the spotlight make dating tough?
ER:
No. I have actually been out on a few dates recently. They are pretty well known as well and have taught me a lot about dealing with rumors. The one thing about the spotlight is that it can highlight the parts of your life that you want to share, but make also makes shadows that you have to deal with. I have heard lots of rumors about me. Fortunately most people figure out things on their own.
CP:
So are you single?
ER:
I am! But not by choice... is someone asking?
CP:
What do you look for in another guy?
ER:
Loyalty, honesty, someone who can make me laugh, and someone who can remember the little things I may say and use them romantically when they can. I won't get into the things I stay away from now!
CP:
What is your "I'm turned on button" (neck, ears, nipples, etc.)?
ER:
The mouth. But not like that. Romance, words, and conversation will always get to me!
CP:
Most interesting place you've had sex?
ER:
The beach near LA.
CP:
If you could trade places with anyone for a few days, who would it be?
ER:
David Geffen! He's gay, he is involved in everything with entertainment, he's worth billions, and people thought he was with Keanu Reeves! Now what did he do in life to get that rumor going? Definitely a life that would be interesting to experience.
CP:
So when you're not traveling where do you call home?
ER:
LA and Vegas. I keep going back and forth for projects. They are both home to me.
CP:
What is something in your home that would make a stranger KNOW you were gay?
ER:
The pictures of boyfriends, friends, and other milestones of my life would probably be a clue!
CP:
How do you spend your free time?
ER:
I actually love computer games. Most people would laugh if they knew that I am a big nerd and love to play World of Warcraft. And if that laugh gets too loud I am going to out some "celebrities" that play with me!!
CP:
What's next for you?
ER:
Well let's just say that I have some new sponsors about to make some announcements, some more television work, and I heard a rumor about some movies. But its always smart to never count your chickens before the eggs hatch!
All I know is that I am extremely grateful that so many people have stayed with me and proved they are my true friends. I hope a club in Chicago invites me soon to come visit all of you guys again! I have always had a good time visiting Boystown!
For more information on Ethan Reynolds, visit
www.myspace.com/bratboyschool
Interviewed by ChicagoPride.com