A GoPride Interview
Sinqua Walls
Sinqua Walls Brings Love, Peace and Soul to American Soul
The biggest thing for us on American Soul is we are trying to have soul.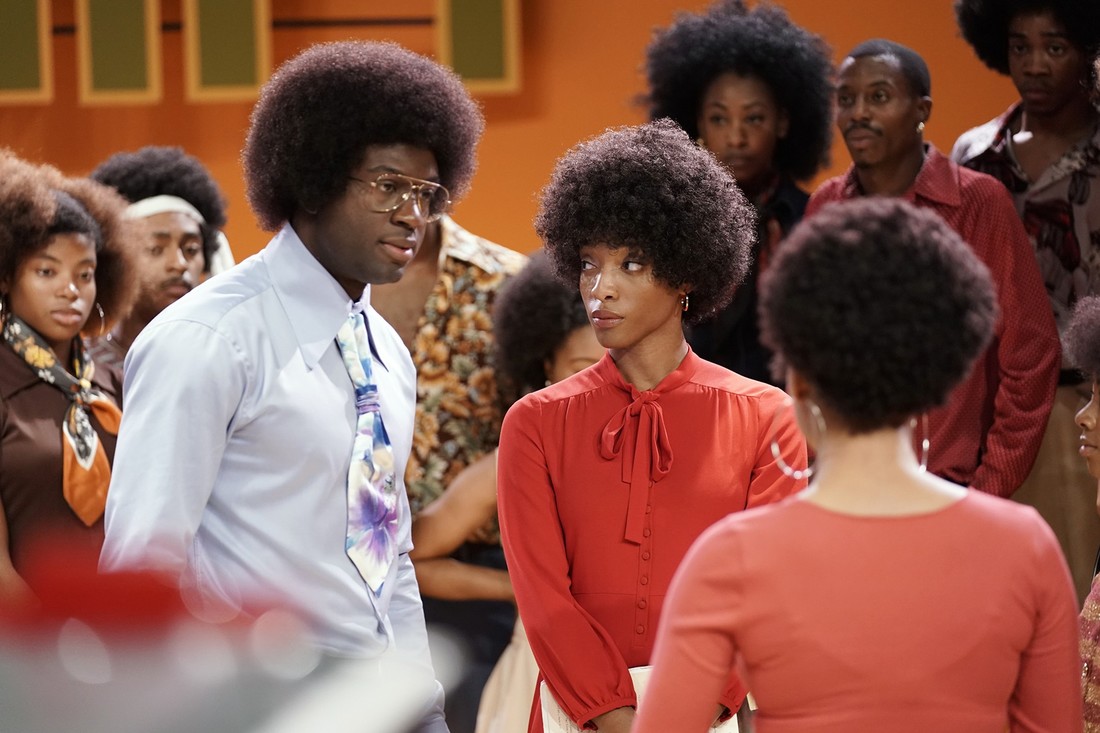 sinqua walls american soul
Actor Sinqua Walls portrays Don Cornelius
American Soul is the new BET television show about the rise and fall of Don Cornelius. He is known for creating the dance party program Soul Train. 
Actor Sinqua Walls plays the main role portraying Cornelius on the small screen. He brings a background full of television credits such as MTV's Teen Wolf and Grey's Anatomy. 
He talked about Soul during a recent stop in Chicago.
JN: (Jerry Nunn) Have you been to Chicago before?
DC: (Don Cornelius) I have only been once. That first time was a quick turnaround so this time I can somewhat see the city. 
JN: How did you get involved with American Soul?
DC: I read the script of the first episode. I was intrigued and really liked it. I got to read the script for the second episode and liked it even more. I talked to the producers and the creatives just to see if our visions aligned on the character and the story. From there they liked my take on it. They were interested enough where they wanted me to come to LA and do a chemistry read with myself and other actors they were considering. I did it and they loved the pieces we put together. The rest is history. 
JN: Did you ever think you would play Don Cornelius?
DC: Not at all. What is so cool about Don is that a lot of his persona has so much secrecy as a part of it. It was not something that you knew. My introduction to him was the host of Soul Train. I didn't know the experience of life he had apart from that. Now it has been a joy to unpack his history. 
JN: We learn so much about him in this show. 
DC: We get to see him get Soul Train off the ground, who he was as a man and what he dealt with as a family man. 
JN: In the police brutality scene in the first episode, did that happen to him?
DC: I think it happened to him in many ways. In the '70s, being a Black man he had many racially charged experiences. That was one of them where he had interactions like that. He said he didn't experience a lot of specific racism day to day where it became an inhibitor to his movements, but he did deal with it at times. 
JN: Is this why it's important to have this show in these times?
DC: Yes. The times today are a mirror of yesterday and where we are going as a culture and a community. We can progress further, but it has been incrementally better with all of these statements and movements. 
JN: Do you have a favorite outfit he wears?
DC: I've got a couple. My first fitting was in LA. We were doing the first version on Don Cornelius' suit. It was blue with a big patterned tie, big hair and platform shoes that come all the way up to my calf muscle. Originally that suit was supposed to be pants or shorts. He wore it with shorts but we ended up with pants. One of the creatives didn't think I would be comfortable wearing shorts, but I was game! 
That was the first outfit that I loved. I loved all of the Soul Train outfits. I liked keeping my shirt open because I purposely didn't shave any chest hair. I let it live!
JN: Do you have a favorite song from American Soul?
DC: I listened to a lot of Marvin Gaye throughout filming the show. He was so socially conscious and his voice was amazing. I listened to Isley Brothers too and had a whole Soul Train soundtrack that I listened to in the mornings. It was all of the artists that were implemented in the success of Soul Train. 
JN: So music and costumes got you in the mood?
DC: All of it. The wig stylist that did my hair was important. I would come in as me to the chair. My afro would get bigger and I would move into these little mannerisms in the  chair. I always had my headphones on. I would have a moment of going into the zone of Don Cornelius. It all set the tone and mood for me. 
JN: I heard that Don's hair got lower as time moved on. 
DC: Eventually. He progressed with the times so every decade it would get smaller. It started pretty big. 
JN: How was Kelly Rowland?
DC: Amazing for a lot of reasons. Have you interviewed her before?
JN: I have and she's very real. 
DC: She's so real. She's gracious, dedicated and focused. She's immensely talented. We had a lot of time to spend together on the show and talk. People will be surprised that although she's a brand and a notable celebrity, Kelly came in committed to telling Gladys Knight's story. She did her research on her history. She walked in with a lot of knowledge to tell that story authentically. She killed it. 
JN: You both had very good chemistry. 
DC: I walked in and she gave me a hug. We had chemistry then, done, boom! 
JN: I heard Michelle Williams is Diana Ross. 
DC: She set it on fire. She moves with grace very much like Miss Ross. She carried it so well. They both studied so hard to just be prepared. 
JN: I have been around Diana and Michelle, but never thought of them looking alike. 
DC: Shout out to our hair and makeup squad. They are award winners and made them look like  the original people. 
JN: So is Beyonce coming on the show?
DC: I hope so! [laughs] I was asked who was guesting on the show and I couldn't tell them that it was Kelly and Michelle. I just said, "A lot of people." I knew but couldn't say anything. 
I would love to get all the three with Queen B! American Soul would be the place to be if it is not already. 
JN: Is it planned for more seasons?
DC: Absolutely. There are plans for more seasons. I think internally the people that have seen it are happy with it. They support it and are behind it. They are giving us the tools that we need to succeed. We are doing our part to do the same for them. 
JN: I am hoping there are some LGBT scenes coming up. 
DC: Me, too. I am hoping there will be because that is the truth of all society. The biggest thing for us on American Soul is we are trying to have soul. We want the truth in everyone's experience and the is represented. That was represented from the genesis of time. 
JN: You have something new coming out on Netflix?
DC: Otherhood is starring myself, Angela Bassett, Patricia Arquette and Felicity Huffman. They are current legends in the game and such great teachers. It was an amazing experience to learn from those women. I play Angela Bassett's son in the film. We have some really great moments. I am happy I did my homework before walking into a scene with Miss Bassett. If you don't, the train will leave the track! 
She is so gracious. I was happy as a teammate and a costar that I could be there and be present. Her mind is so weak that you have to do your work to be present. That is the testament of a great actress. For me to grow as an actor I am happy that I did the homework before and that I wasn't learning my lines on the day. She told me that I was going a good job since I knew my lines. She said, "I really believed that you were my son." 
JN: What do you want audiences to get out of American Soul?
DC: I want it to be the show that people watch and enjoy every day. I want it to build a community and be watched every Tuesday.
Interviewed by Jerry Nunn. Jerry Nunn is a contributing writer to the GoPride Network. His work is also featured in Windy City Times, Nightspots Magazine and syndicated nationally. Follow @jerrynunn