A GoPride Interview
Adam Shankman
Adam Shankman Discovers What Men Want
I feel very good about the LGBT characters I depict in the movie.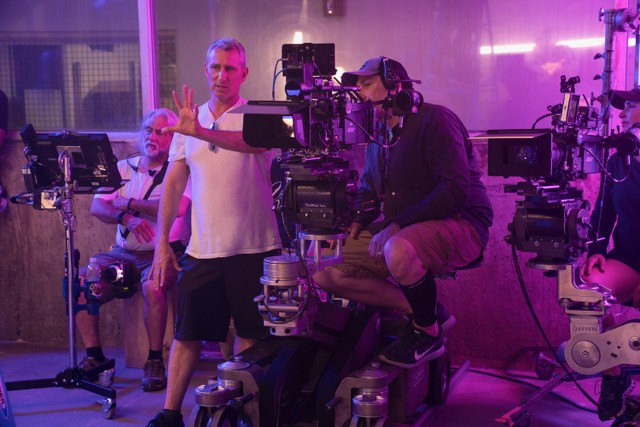 Interview with director from What Men Want
Adam Shankman danced his way into a career full of musical theater and music videos with artists such as Paula Abdul and Janet Jackson. He went on to choreograph films such as A Walk to Remember, Boogie Nights and the 2007 remake of Hairspray. He choreographed for television also with Friends, Glee, Modern Family and The Ellen DeGeneres Show. 
This openly gay talent produced Touchtone Pictures' Step Up franchise and the 82nd Academy Awards where he earned two Emmy nominations. 
He created Offspring Entertainment to develop films and many recognize him as a judge on So You Think You Can Dance. 
Shankman moved into directing with The Wedding Planner to great success then tackled The Pacifier and Rock of Ages. His latest directing project is called What Men Want and is released on Feb. 8 art theaters everywhere. He talked on the phone about it shortly before the release. 
JN: (Jerry Nunn) Thanks for calling in from California, Adam. Have you been to Chicago much?
AS: (Adam Shankman) Yes. I lived in Chicago for eight months when I was a young dancer doing theater at the Drury Lane. I was in Guys and Dolls.
JN: How did you get involved with the movie What Men Want?
AS: When it was announced I heard about it and my agent called. I wasn't interested in a remake but they said Taraji P. Henson and I said yes immediately. I think she is an incredibly interesting actor and wanted to work with her. Her characters are always steeped in irony. 
I read the script and it was not a remake. It's a total reimagining. The way it was reimagined felt very of the moment with me. I felt passionate about it.
JN: Was it easy to get everyone onboard? How was Erykah Badu?
AS: We were looking at the usual suspects and who those character actors would be for the Erykah part. Our producer James Lopez and Taraji said to look at Erykah Badu's Instagram feed. I did and thought it was unbelievable. 
I agreed to do a Skype meeting with her. When her image came up there was no sound. It was just a mess, but she was dressed as Sister in her home. It was crazy what she had done to prepare the scene. I didn't realize we were doing a Skype audition. I was unprepared for that. I said, "Action." Because the way the camera was angled all I could see was her neck! She washout of the camera frame. I didn't have the heart to say anything. She finished and sat back down. I told her it was great and to sit back to do it one more time. It was magical and I told everyone to hire her. 
It didn't feel like an actor and instead very authentic. I felt it was very special. 
JN: There was a gay character in the film that was not stereotypical. 
AS: We had a lot of talk about what that character would be like. That was the one character that was written in a way that made me uncomfortable. I had them change it. I was the only gay person in the room so they listened to me. I didn't want the stereotypical gay best friend, a character flouncing around with her. 
It's a very testosterone fueled movie at the end of the day. I told them the gay guy I want to see is someone who knows more about sports than anyone at that agency. I wanted him to not care what other people think of him, but be hyper devoted to his boss. He can take anything because he believes in himself. He's there because he chooses to be. They wanted him to be funny and I was okay with that. It worked out because everyone listened to me. 
I feel very good about the LGBT characters I depict in the movie. 
JN: Taraji told me a few weeks ago that it was your idea for the womanscaping where she was shaving…
AS: [laughs] Oh yeah! I actually needed a time cut to get Kellan Lutz into his drag as it were, so we needed her to be doing something. I happened to fill the bathroom with stuff she could work with. I had a megaphone and I was barking into a speaker to have her do things. I thought it was authentic. 
JN: I had never seen that onscreen before. What do you want audiences to get out of the movie?
AS: First and foremost I want people to have a couple of hours to get away from all of the negative energy in the world. They can sit in a theater together and laugh. When they leave they can think about it and see it again. 
It's smart and has a lot of heart. The sort of after taste that I want people to understand is this is a movie about the vital importance of communication and listening to each other. These people are so dug into who they think they are, what the world practices and who they think they should be. This is about a person who is forced to listen to someone that she thinks is the opposition. They come to grow from that experience. They become companioned and infinitely deepened by it. 
Hopefully that won't be the first thing people will see, but they will definitely walk away with that. 
JN: Do you ever get starstruck with all of these amazing people you work with?
AS: The first time I met Tom Cruise I was pretty starstruck. One person I didn't know what to do with myself around was Michell Pfeiffer. Doing Hairspray with her felt like I had rounded a corner in my career!
I have been working on sets for about 30 years now. After choreographing and directing so long, the reality is that the set and rehearsal room is my safe space. That is where I work. Nothing is intimidating about anyone in my safe space. When they step over that threshold it's a collaborative spot. My feeling of being starstruck goes away. We have a job to do!
JN: So your sequel to Enchanted called Disenchanted is coming up?
AS: Yes. I can't guarantee anything, but I know Amy Adams and the rest of the cast is so excited about it. Idina Menzel is singing in it. We are just trying to get it made. 
JN: What else are working on?
AS: We have some Step Up that will be on YouTube. I really love that show and we reset that whole franchise. We put it back to where we really were when we started. 
I am woking on some TV shows and movies, but feel very fortunate to be working at all. I really am so grateful!
Interviewed by Jerry Nunn. Jerry Nunn is a contributing writer to the GoPride Network. His work is also featured in Windy City Times, Nightspots Magazine and syndicated nationally. Follow @jerrynunn