A GoPride Interview
Michael Fabiano
Michael Fabiano sings out as La boheme returns to Lyric
There are LGBT artists working in the field but with leads in opera there are only a few.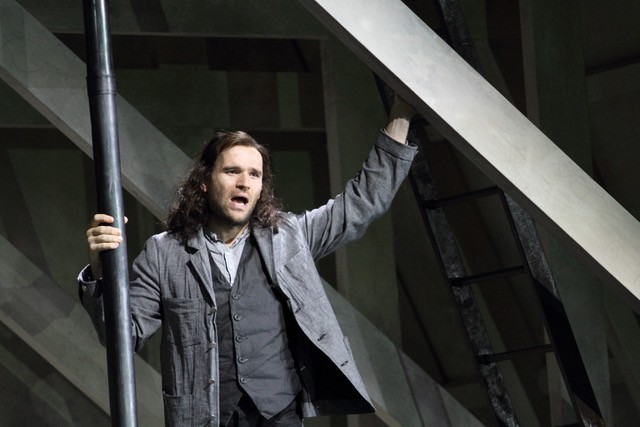 Set in Paris in the year 1830, La boheme is the tragic love story of Mimi and Rodolfo that has captivated audiences for decades. Michael Fabiano leads the cast as an openly gay tenor playing Rodolfo. He was born in Montclair, New Jersey and went to high school in St. Louis Park, Minnesota. After graduation from University of Michigan School of Music, he went on to study at the Academy of Vocal Arts in Philadelphia. 
He's now traveled throughout the world performing and won several wards in the process. He co-founded ArtSmart, a nonprofit organization that provides free voice lessons to students. 
He met up at the Lyric Opera to discuss La boheme that returns for a second run now until Jan. 31.
JN: (Jerry Nunn) Where are you from?
MF: (Michael Fabiano) New Jersey. I studied in Philadelphia. I consider it part of New Jersey because there's just a bridge and that's it. I come from a large Italian family, who immigrated to the United State from 1900 to 1920.  There's been a book written about our immigration called Elizabeth Street that my aunt write. My great grandfather was crushed building the Chrysler Building and there's mafia intrigue in the book. 
JN: Did you always want to be a singer?
MF: Not at all. I went to the University of Michigan to go to business school. I wanted to study economics and get a business degree. I took music lessons because I've always liked music. My teacher George Shirley, the first African American tenor to sing at The Met, made me realize the talent I had. He told me I had a responsibility to share that talent with other people. He told me my talent was not mine, but everyone else's. I became passionate about that. 
JN: What led you to La boheme?
MF: I got this contract in 2014. The lucky thing is that this is a new production of it that was originated at the Royal Opera House in London, which I also made two years ago. There had only been three productions of the show at the Royal Opera in its entire history. The third production was done by me. 
Chicago Lyric partnered with the production and brought it here. 
JN: You also performed it at The Met?
MF: Yes, so much. I can't even count how many times at The Met. 
JN: One thing I noticed with opera performers is that once you prove yourself you can keep going in that role.
MF: Yes. There are a lot of titles that opera singers have. If you know an opera you basically can do it everywhere, with the caveat that some directors will go super avant-garde with a piece. Then you just have to step outside of yourself and be open to new ideas. 
JN: Do you take liberties with the shows?
MF: I am a constructionist when it comes to music. I do what is on the page. I don't stretch it or make up things. I believe what the composer wrote is what we do. If I do a great job of what is written then the music is delivered the best way possible. 
There are other artists that don't do that. I bring the music alive when I do what is there. 
JN: How are the spaces different that you have worked in?
MF: I have sung in huge amphitheaters of 20,000 people. I have sung at The Met with 4,000 seats, this theater has 3,500. I have sung in theaters with 800 seats. That adaptation is tricky because I have a large voice that projects very easily. In small theaters, critics will say I am singing too loudly. In large theaters, people never have a problem hearing me.
It takes work to streamline my voice in the smaller theaters and still sound like me. 
JN: Talk about your character Rodolfo. 
MF: Rodolfo is a young guy with a lot of experience in life. He chooses to live a life of poverty with his friends because it is the cool thing to do. He's an 1860s hipster in so many words. He chooses to live with ratty clothes and a cold attic because that's the hip thing. 
His backstory is that he speaks many languages. He comes from a middle income family. He's very well written and educated. He has a great way with words. 
The progression of La boheme is this man meets a common girl that doesn't speak the language that he speaks. She doesn't have a vast vocabulary. She is entirely impressed by this smart man. 
Over the course of the evening we see a woman who is gravely sick. He doesn't want to see her die so he threatens to leave her. She sleeps with other men to pay her bills. She was an escort. When I talk about it in the third act before I realize she is really sick, I joke about it. There's truth in jokes. She works for medicine. At the end I don't want to believe she's dying but everyone around me does. She describes her love to me as big as an ocean and I love, but she dies. I don't believe she's dead and just asleep. That's boheme. That's life and the story of so many people. It's a story of life and death. 
JN: Are you a Rent fan?
MF: I saw Rent when I was 18. I didn't know what opera was then and not a big fan of it. I didn't relate to Rent back then and today I can't say because I don't listen to it. 
JN: What is ArtSmart?
MF: I run an organization that give free weekly one on one voice lessons to children. It is rapidly growing and will teach 10,000 voice lessons to children all over the nation. I have many mentors that teach for me. 
I started this program because I saw graduates from major universities struggling with debt and not getting a career. I have had my break and wanted to help them. I decided to pay them to teach kids in the city. Next year we will provide 40,000 lessons. I am employing people at a really nice wage.
JN: How do people sign up?
MF: They should send their information to ArtSmart.org. We then go through an interview process. We hope to open up in Chicago this year. We don't work in Chicago yet. My board makes me raise $50,000 to start up in a new city from the community. We are starting in other cities that are confirmed. 
JN: Are there other LGBT cast members in La boheme?
MF: No, I'm it. I would venture to say in our world of the classic arts with leading artists there are only a few. You don't find a lot. There are LGBT artists working in the field but with leads in opera there are only a few. 
JN: I wonder why that is?
MF: We are in an art form that is an older generation. The patronage is older than musical theater. It is not a huge community. I know all of my colleagues and it's a small world. I know everyone that's out.
Interviewed by Jerry Nunn. Jerry Nunn is a contributing writer to the GoPride Network. His work is also featured in Windy City Times, Nightspots Magazine and syndicated nationally. Follow @jerrynunn