A GoPride Interview
Jesus Trejo
Care to Laugh With Jesus Trejo
You have to go on the road to cut your teeth a bit.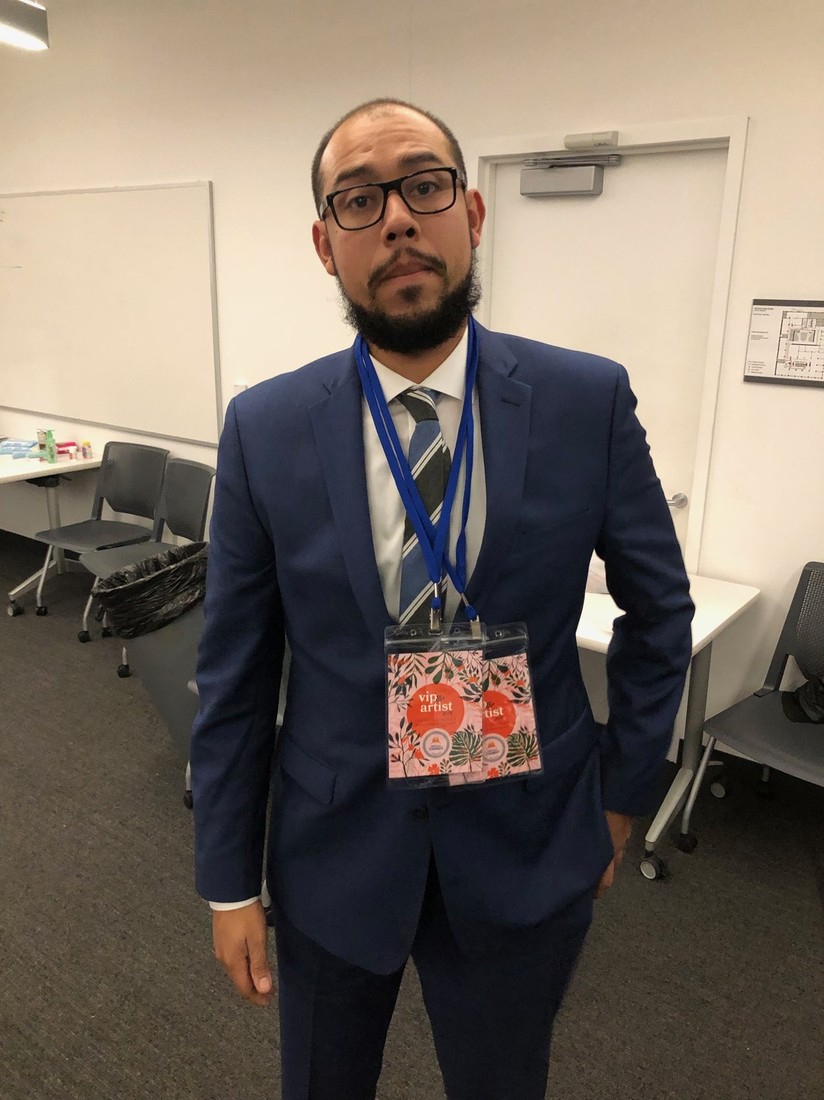 photo credit // jerry nunn
New documentary explores family and comedy
Stand-up comedian Jesus Trejo continues to take on new projects. The Long Beach native was named one of Variety's Top 10 Comics to Watch. He's a regular at The Comedy Store in Los Angeles and appears often on Comedy Central's Roast Battle. He's a recurring cast member on TBS's sitcom Sullivan & Son and was on season two of Stand Up & Deliver.
AARP Studios's new Care to Laugh documentary follows Trejo while he navigates his comedy career while taking care of his aging parents. The unique funnyman sat down to talk about the doc after a recent screening in Chicago. 
JN: (Jerry Nunn) Where are you from?
JT: (Jesus Trejo) Long Beach, California. Born and raised! My mom is from Guadalajara and my dad is from Sinaloa, Mexico. 
JN: My ex is from there. I went down there to see the farm and his family. 
JT: I've never been to Sinaloa or Guadalajara, but I heard it's beautiful. 
JN: This documentary really shows your family dynamic. What did you parents think watching it?
JT: They haven't seen it yet. They are going to see it in South Bay. There will be screenings all over California. 
JN: Are you nervous about that?
JT: Yes, I am nervous. I grew up recording my sets so was surprised to hear myself. This is going to be a different world for them when they see themselves and hear it. I hope they see the bigger picture and not focus on something that will make them feel bad. I want them to be happy with it. 
JN: Did you always want to do comedy?
JT: I did. My early influences were Cantinflas and Chespirito. He was a great playwright and means "Little Shakespeare." I was exposed to these artists because Spanish is my first language. They were the comedic stars that my parents grew up with. They will still putting content out. 
With time, I transitioned into SNL and stand-up with Paul Rodriguez and George Lopez, who were pioneers. Louie Anderson had a cartoon called Life with Louie. I watched that unfold. Howie Mandel had a cartoon also with Bobby's World.
Don Rickles was interesting because he had a style that was done in my neighborhood, which was making fun of people. He did it in an eloquent way with a suit. I saw him do it in a professional manner, while we did it in a backyard it was the same thing. 
I wanted to follow in their footsteps. It was big shoes to fill, but I thought I could carve my own little niche. 
JN: The LA comedy scene is much different than everywhere else isn't it?
JT: Yes. LA is a showcase town for stand-up. You are not going to get any long sets, maybe 15 minutes if you are lucky. 
You have to go on the road to cut your teeth a bit. 
 JN: In the movie your parents are looking for a new home. Did your parents ever find a place to live?
JT: Yes. In the documentary you see the place we have. It is downstairs, so we no longer have to go upstairs. 
JN: When was the documentary made?
JT: It took a year. The last part they followed up to show the audience that I have a new apartment. 
JN: Do you feel the movie covers your life well?
JT: It is a snapshot. Life is full of change. That was the reality at the time. It shows my family correctly. The moment when my dad says he's proud of me outside of the comedy club was real. 
JN: His quote where he says dreamers need to wake up was powerful. 
JT: My dad didn't have schooling but he managed to be a critical thinker. He's a smart man. No one gets to another country without speaking the language, opens a business and puts his children through school without being smart. 
JN: James Corden had a segment in the movie. If you were singing on Carpool Karaoke what would you sing?
JT: Smokey Robinson "Being With You."
JN: You have a background of roasting, but it is not in the film. That is going back to the neighborhood right?
JT: Yes. It is a skill that I learned there. It's a defense mechanism. You make fun of somebody after they make fun of you. Now your feelings aren't hurt and you are going toe to toe. 
JN: What do you recommend for someone starting in comedy?
JT: I recommend writing and going up as much as you can. There's no way to circumvent the system. You have to put in the time. This happens with writing and being onstage. 
Writing is organizing your ideas and it's important to be onstage to get comfortable. It's holding the mic and looking people in the eye. It's presenting material and putting it away if a joke doesn't work. 
There are two things at stake and they both require time. If you do it long enough they meet at a certain point. That is a whole other experience in itself. Someone starting off should rack in as many hours as they can writing and performing. Comedy is just one percent of the gig!
Interviewed by Jerry Nunn. Jerry Nunn is a contributing writer to the GoPride Network. His work is also featured in Windy City Times, Nightspots Magazine and syndicated nationally. Follow @jerrynunn