A GoPride Interview
Brian Viglione
Brian Viglione interview with ChicagoPride.com
Sun. June 22, 2008 by ChicagoPride.com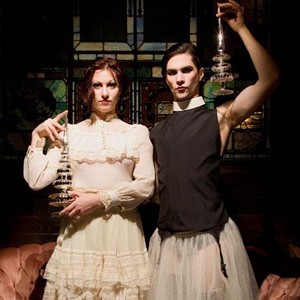 amanda palmer and brian viglione, the dresden dolls
photo credit // kenneth thomas
A band that blurs the lines between spectator and sport, hunter and prey, the real and the imagined, Boston's,
The Dresden Dolls
are an all-encompassing machine, which is somewhat of a feat considering the band is only two people strong. Vocalist/keyboardist
Amanda Palmer
and drummer
Brian Viglione
create a world entirely of their own, full of dress-up, independence, confused sexual orientations, loneliness, camaraderie and a bursting, uncontainable amount of heart all pounded effortlessly into the piano and the drums.
Having spent nearly two years solid on the road since the release of their second album
Yes,Virginia
, including tours with Panic! at the Disco, the True Colors tour with Cyndi Lauper and The Gossip, and their own sold-out headlining shows across the country, The Dresden Dolls are proud to release their newest collection of songs, the mischievously titled
No, Virginia
. The album is made up of new songs, old demos and b-sides from the
Yes, Virginia
sessions. A startling companion album to an old fan favorite,
No, Virginia
is ripe with the incredible songwriting by which the Dolls are defined, and presents some of their best playing yet: Palmer's piano may literally be turning to dust from the strength she uses to bang on it, while Viglione's drums carry every melody on their sturdy snare snaps and chaotic cymbal crashes.
Every song on
No, Virginia
stings (sometimes with laughter, sometimes with pain), from the strains of "The Kill," to the bands cheeky cover of the Psychedelic Furs "Pretty in Pink," to the sing-song melody of "Lonesome Organist Rapes Page Turner." Rolling drums fill the choruses of "Mouse and the Model," the only song written when the Dolls were briefly a four-piece that included a guitarist and bassist, while "The Sheep Song," a dark lullaby of sorts, features what may be one of Amanda Palmer's most innocent vocal performances put to tape.
The Dresden Dolls will be playing select shows in support of
No, Virginia
later this year. In the meantime, Palmer will be playing a special solo show in her hometown of Boston with The Boston Pops in early June. Additionally, Viglione recently contributed his rhythmic talents to two songs on the recently released
Nine Inch Nails
album,
Ghosts I-IV
.
Here, Viglione talks about his transcendent musical connection with Palmer, the rush of dressing in drag, and the message of empowerment and acceptance the band strives to impart to their gay fans.
CP:
(ChicagoPride.com) How did you and Amanda first get together?
BV:
(Brian Viglione) We met at a Halloween party. She was playing music on her spinet piano. I thought, "This is what I've been looking for." I was playing bass in a band, and I wanted to get back to playing drums. Her music offered everything I wanted to experience.
CP:
How so?
BV:
The first time that we sat down and played together, we realized that we connected on a really deep, fundamental level. We realized that we'd found what we were looking for musically, that we were fulfilling our deepest dreams. It was like, "You're the most beautiful wonderful person." She became a catalyst for my passion in music. We felt like the luckiest people. We were in our early 20s, and we were trying to figure out what our first steps were going to be. We discovered we had a completely shared passion and joy for playing music that had this really eclectic style and was the result of really diverse influences. When you meet someone who really understands your soul, you just feel unstoppable.
CP:
The language you're using makes it sound like there was also a romantic attraction between the two of you. Was there?
BV:
I would say yes. But I think those things are always sort of transient.
They tend to depend on who you are as person, where you are in your life, and how open you are emotionally at the time. That kind of connection has certainly happened to me, but I don't think I'm one of those people looking for a soulmate. With Amanda, the idea of a soulmate
came in a different way. We decided early on not to endanger our working relationship by having a romantic relationship. Amanda had done that before, and when the relationship ended, it broke up the band. We said, "Let's make the band our top priority. That'll be the institution we're trying to protect."
CP:
You both come across as very sexual onstage. Was that part of your initial attraction?
BV:
We have great sexual chemistry. We definitely both thought the other was hot when we first met. It's definitely a sexually charged experience playing music together. It's like making love, when you just feed off someone. It only fuels the excitement of playing for us. Plus, she and I are both exhibitionists, and we have that going on onstage as well.
CP:
What would you say the overall message of your music is?
BV:
We want people to feel free enough to be themselves. When you go to a show, you bask in the energy of the people onstage. Hopefully, when people go home, they carry that energy into their everday lfe. Our message is about feeling free to express yourself and respect yourself. As a person, you combat a lot of discrimination in everyday life. Some people don't like it when you express opposing opinions. It's okay to have confidence to do that, as long as you're not hurting anyone. Be who you are.
CP:
Why did you decide to put out the songs on NO, VIRGINA?
BV:
We've amassed a lot of songs after finishing the first two albums. We began looking at the songs, and thought, "These are actually great." We wanted them to be heard. Ultimately, Amanda and I are pleased by how well they fit together, how cohesive they are.
CP:
Tell me about dressing in drag. What does that mean to you?
BV:
For me, it's about expressing a very uncomplicated side of who I am physically. I was nine-years-old when I first discovered I had a feminine side. I was with a cousin in a pool, and I had a mullet. When I got out of the pool, my hair was wrapped around my head. He said I looked like a girl, and I couldn't deny it. I felt empowered by it. I never possessed that brute masculinity that a man s supposed to have. I just decided to embrace my natural physique, which was sort of feminine.
CP:
And did you continue to explore this side when you were growing up?
BV:
Yes. When I was 14, I discovered THE ROCKY HORROR PICTURE SHOW. It had everything—rock and roll, sexuality, humor. All the things that seemed so vital. To me, Frankenfurter was self-evolved and empowered, a model for individualism. That was right in line with all the things I wanted.
CP:
And how did your parents feel?
BV:
They were supportive, but they urged me to be cautious. It was the kind of thing where I might have wanted to go out in a garter belt for Halloween, but they didn't want me to get beat up. They said, "Don't live in fear, but have your head about you."
CP:
And the other kids in high school? How did they feel?
BV:
I grew up in the mid-90s, which was a pretty progressive era. I grew up thinking that high school was going to be like THE BREAKFAST CLUB, that people were going to beat me up all the time. But when I was in high school, it was cool to dress weird. Even before high school, I went in drag to one of my 8th grade dances, and the other kids were like, "Oh, man, you look awesome." They thought it was cool. They knew I was having a good time.
CP:
It's a stereotype that all men who dress in drag are gay. Have you gotten that?
BV:
That happens to me all the time anyway. Dressing in drag hasn't increased the amount of times that people have asked me if I'm gay. Mostly, people are curious about the ways in which I'm able to uncover different parts of myself. People have said, "I thought you were a punk rocker" or "I thought you were a transvestite freak." I am--I'm both! I like what I like, and I do what I want.
CP:
You dress in drag onstage as well.
BV:
Yes, but I'm not a drag queen. When I get dressed up for the band, it's because I feel like looking hot. I could wear a boring suit, but why not dress in an awesome gown and stockings? It's what I look better in.
CP:
It's Gay Pride season around the country and here in Chicago. Your message of liberation and acceptance is particularly relevant during this time.
BV:
Definitely. You know, we have gay people writing us all the time. They say things like, "Thank you for giving me the strength to be who I am even though my family was against it." We've had people who were sexually abused thank us for helping them come out with their story. Mostly, people write that we helped them conquer a fear or motivated them to express themselves.
For more information on The Dresden Dolls, visit
www.dresdendolls.com
Interviewed by ChicagoPride.com