A GoPride Interview
Jared Watson
Jared "Dirty J" Watson talks about the band Dirty Heads
The gay fans are my favorite as I see more couples together, holding hands and no one judging them at our shows.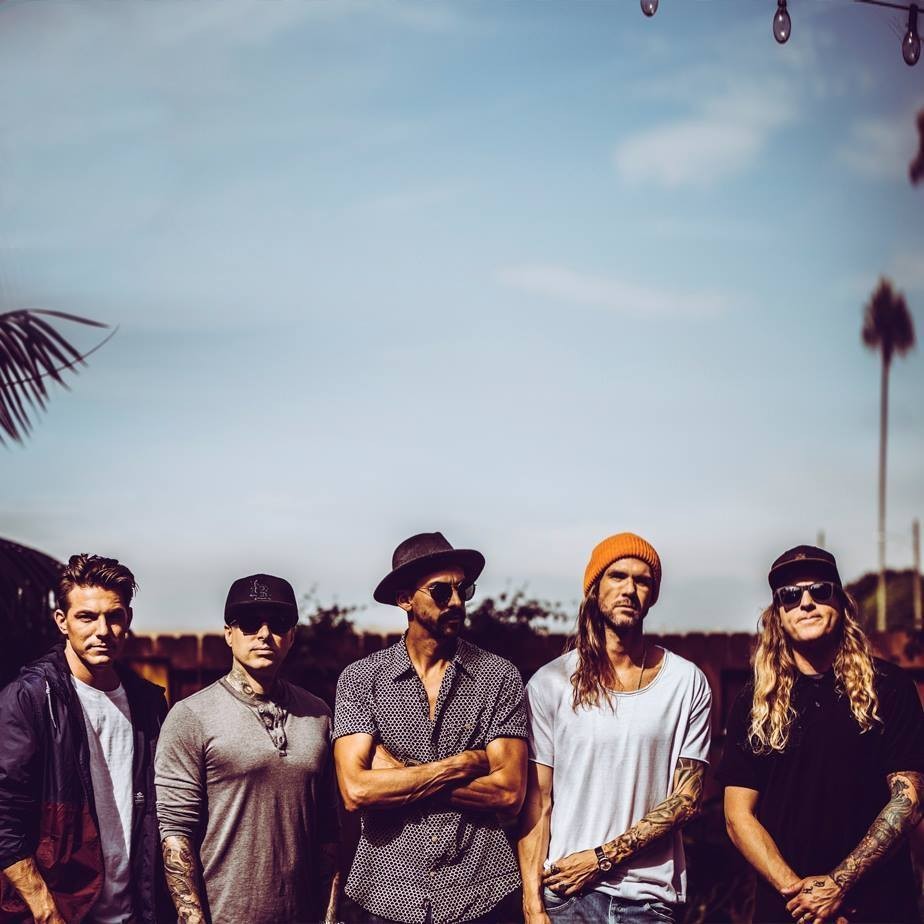 Jared "Dirty J" Watson talks about the band Dirty Heads
Dirty Heads Celebrates 10 Year Together
Alternative band Dirty Heads came straight out of California with a debut album  Any Port in a Storm back in 2008 leading them to their latest Swim Team. Jared "Dirty J" Watson and Dustin "Duddy B" Bushnell met at a party in high school. They began writing songs in a garage and were later joined by Jon Olazabal, David Foral, Matt Ochoa and Shawn Hagood.
The Southern California rockers are offering a vinyl limited edition version of their debut album Any Port in a Storm just recently released. 
The band's frontman Jared Watson talks about the long history and gay fans backstage on the tour. 
JN: (Jerry Nunn) Tel me about your involvement with the band. 
JW: (Jared Watson) There are six of us and I am the singer. Me and Duddy and Jon Jon started playing music when we were 16. We really got into it in 2003 when we were about 21. 
JN: Everyone is from California?
JW: Yes. I am from Huntington Beach.
JN: How did you meet?
JW: In school. I have known the percussion player since third grade. I have known the singer since freshman year. We met the other guys as friends of friends. 
JN: How does it feel to be in the band all of this time?
JW: I was just thinking about that the other day. It's really awesome. It can easily go south and we could not get along. I have seen so many documentaries where the band just falls apart. It really has nothing to do with anything big. You are just around each other and people start getting egos. It can be avoided. 
I think we were all mindful of that when we were younger. We grew up as friends in the same area. We had discussions about not falling apart. We checked egos as the door and gave people their space. We are good people and respectful of each other. 
If you are stuck on a bus with a person you are going to find things that annoy you. Every guy in the band is an amazing person, so the little things don't bother us. We are all here for the same reason. We don't let things get in the way. 
JN: This is the end of the tour?
JW: Yes. The bigger we get, the smaller the runs have to be. We only play the bigger cities usually. We used to do over 200 dates a year. Now when you get a little more success, you don't have to tour as long. Now we tour a month and a half. 
JN: You are celebrating an anniversary?
JW: The tenth anniversary since the first album. It will be on vinyl. I am a huge vinyl guy. I'm so glad it didn't go away. I am sure there will be some hipsters that collect CDs because now they collect cassettes. I get it, but tapes don't sound better, like vinyl does. 
JN: How was playing Lollapalooza?
JW: Festivals are cool. They can humble you because fans can wait for you to finish and be waiting for the person after you. They can be good because you get in front of people that would never see you. That is my favorite thing about festivals. You can play to massive crowds and it is the best. Sometimes people don't know who you are. If there are 10,000 people there then that's a win even if 9,000 of them don't like us. That is the beauty of festivals. 
JN: Your music is varied. Is there one song that describes the band?
JW: Not really. We are an alternative band with reggae and hip hop influences. There is some folk and acoustic guitar also. 
It would be hard to come up with one song, but where we are going as a band the songs "Oxygen" or "Visions" would describe that. We have been working a bit with acoustic guitars so that is why. 
JN: "Visions" is on the radio here in Chicago. 
JW: I love that. 
JN: My friend Kitten is on that song.
JW: She has a great voice. We are stoked. We put out the remix. I just wanted to go deeper with her. We were on the road and it was last minute for her feature. I would have made it a duet and given her more parts. I wanted to go in the studio with her. 
JN: Talk about the song "Celebrate."
JW: That song hit us like a Mack Truck. We were in the studio working on that hook. It just summed up every moment of our career until that time. It is about sacrificing all the things that you don't think you are sacrificing. You are out there partying and having a goal in mind. You don't think about family's birthdays or little things that are very special to people. Sometimes you take things for granted because of the goal at the end. You can be young and dumb and a rock star, but when you get older then you realize you missed a lot. 
It is about showing the real side of being a touring musician. People think it's very glamorous and it's not. It's rad and fun, but there's a side to it that's super fun. You have to be gone and sacrifice a lot. I don't think people see that. People want to get rich and famous overnight, but not sacrifice what has to be sacrificed. 
This song is a like a thank you to our family and friends. 
JN: It is must be easier that you are friends with the band. 
JW: A hundred percent. We have known each other for a long time so there is a lot a love between everybody. We fly out friends that aren't in the band just for that reason. It is nice to see a new face! 
JN: Everyone is straight in the band?
JW: Yes. Me and some of the guys have done some stuff before but we have wives and girlfriends now. I'm close with a lot of people in the community. We all have gay friends but some of my best friends are. A lesbian friend of mine just got married. We support it and have since day one. 
JN: People like Dan Reynolds from Imagine Dragons are doing important things with concerts in Utah. 
JW: I think he should, especially being a Mormon. I think it's our place to do that. If anyone in the band knew that community they would. If you are connected to it and get to a certain point the support it. The message that would send as a band would have to say something or do something. We are very positive and our lyrics are very positive. Our mission statement is to make people happy. 
We want people to come to our shows and have a good time. We have to back that up, especially when our friends are in the community and our fans are too. 
The gay fans are my favorite as I see more couples together, holding hands and no one judging them at our shows. The fact that we have made a safe place for them years ago is even better. At a Dirty Heads show they can feel good about themselves as opposed to another band's show. That means a lot to us. 
JN: How many tattoos do you have?
JW: A lot. I don't have any underwear on or I would show you! Studio Ghibli who did the Japanese anime stuff like Spirited Away and Princess Monoke. I was getting another one of those tattoos in New York. It was a forest spirit with a half deer. It was huge and gets into it for five minutes. There is just an ear of the weird deer thing. A guy came in and said he couldn't tattoo in the building because of a health code violation. My tattoo artist left and now all I have is an ear. I have an ear the size of your thumb sitting here. I have 25.1 tattoos! 
JN: Are you going to finish it?
JW: Yes. I will go back in a couple of weeks. 
JN: What are your plans coming up?
JW: To get home. I just had a baby girl and three weeks later I had to leave. I thought it would be hard but I have a reason to go out and tour now to make money. 
We are going to Nashville for five days to start writing. 
JN: That is where I grew up. 
JW: It is awesome. I have been there a couple of times and just went out on the town. We are going back to write the new album, then the family is taking a vacation.
Interviewed by Jerry Nunn. Jerry Nunn is a contributing writer to the GoPride Network. His work is also featured in Windy City Times, Nightspots Magazine and syndicated nationally. Follow @jerrynunn
Serving the Chicago gay, lesbian, bisexual and transgender communities. ©Copyright 2019 GoPride Networks. All rights reserved.