A GoPride Interview
Joey Beretta
New band Nightly breaks out on their own
Chicago is such an incredible city for us.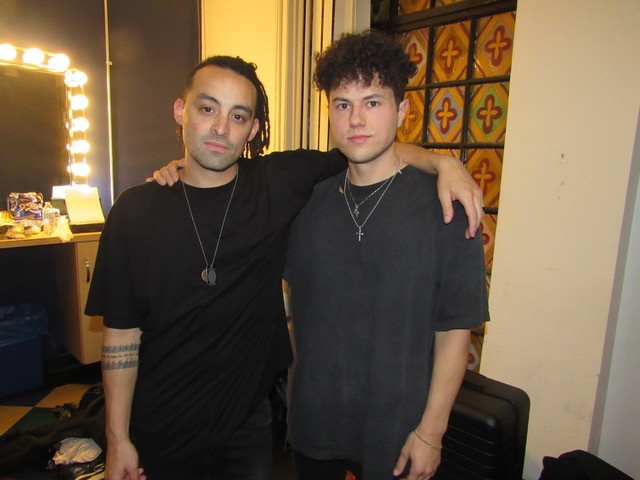 photo credit // jerry nunn
Nightly Brings the Noise from Nashville
Alternative band Nightly hails from Nashville, Tennessee, but grew up in Philadelphia. Composed of cousins, Jonathan Capeci and Joey Beretta, the group released a debut EP titled Honest in 2016. 
Touring has improved their following after opening for Kesha, The Struts and most recently rapper NF. This led them to Chicago where they talked backstage about their music. 
JN: (Jerry Nunn) So you were originally in bands in school?
JB: (Joey Beretta) We are cousins and were in bands. Instead of playing sports, our friends were in separate bands. We did that for a while. Everybody else grew up and we haven't grown up yet, I guess. 
We just love doing it even if it were in our parent's basement. Our last band ended and we were in LA writing songs. 
JC: (Jonathan Capeci) We just decided to write whatever we wanted. 
JB: So we wrote these four songs that started us out. 
JN: Where did the name Nightly come from?
JB: We were trying to think of a band name. It is so hard to think of one. The first song we wrote was called "The Night." It is not out yet. It will probably come out at some point. 
We wanted night in the name so we came up with Night Love You then we shortened it to Night-L-Y.
JN: It is mainly the two of you?
JB: We have a drummer too. 
JN: You are putting out music while on tour?
JC: We are trying to. 
JB: There is a lot that comes with each release because we are really particular with everything that we do. We make sure the artwork is right and the video is good. There are a lot of moving parts. 
We had the vision for this second EP, but just putting out a song at a time. 
JN: Is that how it is done these days with releasing singles?
JB: Yes. I think with NF on this tour, he's a great example of someone putting out a full length record every year for three years and had an EP before that. He's encouraged us that constant content is important. It gives you a reason to tour and something for the fans. 
 It can be daunting, but I like it. We can write a song tomorrow and release it in January. 
JC: We are constantly writing. I don't think there will be a situation where we are asked to put something out and we have nothing to release. We are very proactive and will write on our days off on tour. It is what we love to do. 
JB: We will be in the studio ready to work. This is what we love doing. 
JC: Also, we are terrible at everything else. 
JB: So no other jobs?
JC: We worked other jobs before this, but there is no plan B. 
JN: You are stationed in Nashville?
JB: Yes. I am floating because of the schedule right now. 
JN: Was the video for "XO" filmed in Nashville?
JC: It was. We filmed with drums late at night and everyone came out to watch. People were so chill there. If someone was banging on drums at midnight while I was sleeping I would go crazy! 
JN: Your songs all sound different. Is there one that describes you as a group?
JB: That is a good question. I think the song "S.T.A.Y." is one I really love. 
JN: How do you describe your music to the people. 
JB: In a simple way alternative pop. 
JC: We grew up loving bands like The Killers. We just want to be that kind of band in the modern era. 
JB: We don't want to make cheesy pop songs. We want to be the band of 2019 and 2020. That is what we are striving for. 
JN: Seems like the reactions on tour is bringing new fans for Nightly. 
JB: It is amazing. Chicago is such an incredible city for us. It is one of those early cities where we had zero fans and we came here to a 150 people that knew our songs just from the Internet. That doesn't happen everywhere else. That for us is special. 
Playing live is the best part. 
JC: It makes everything else worth doing. 
JB: Especially when people connect to our lyrics. We don't think about that when we are writing but it makes it all worthwhile. 
JN: Any other influences from touring?
JB: K. Flay is another great example of someone that taught us to build a fan base. She will still text me to check in with me. She's truly an amazing person. 
JC: We have been fortunate to tour with really great people. They guide us on how to interact with other artists. 
JN: Did Kesha do anything crazy when you were around here?
JC: She tackled her friend onstage and pretended to rip his heart out. Confetti shot out everywhere! 
Look for Nightly back in Chicago at Subterranean on March 19.
Interviewed by Jerry Nunn. Jerry Nunn is a contributing writer to the GoPride Network. His work is also featured in Windy City Times, Nightspots Magazine and syndicated nationally. Follow @jerrynunn