A GoPride Interview
Angelica Ross
Trans actress Angelica Ross talks about 'Pose'
I have been acting my whole life.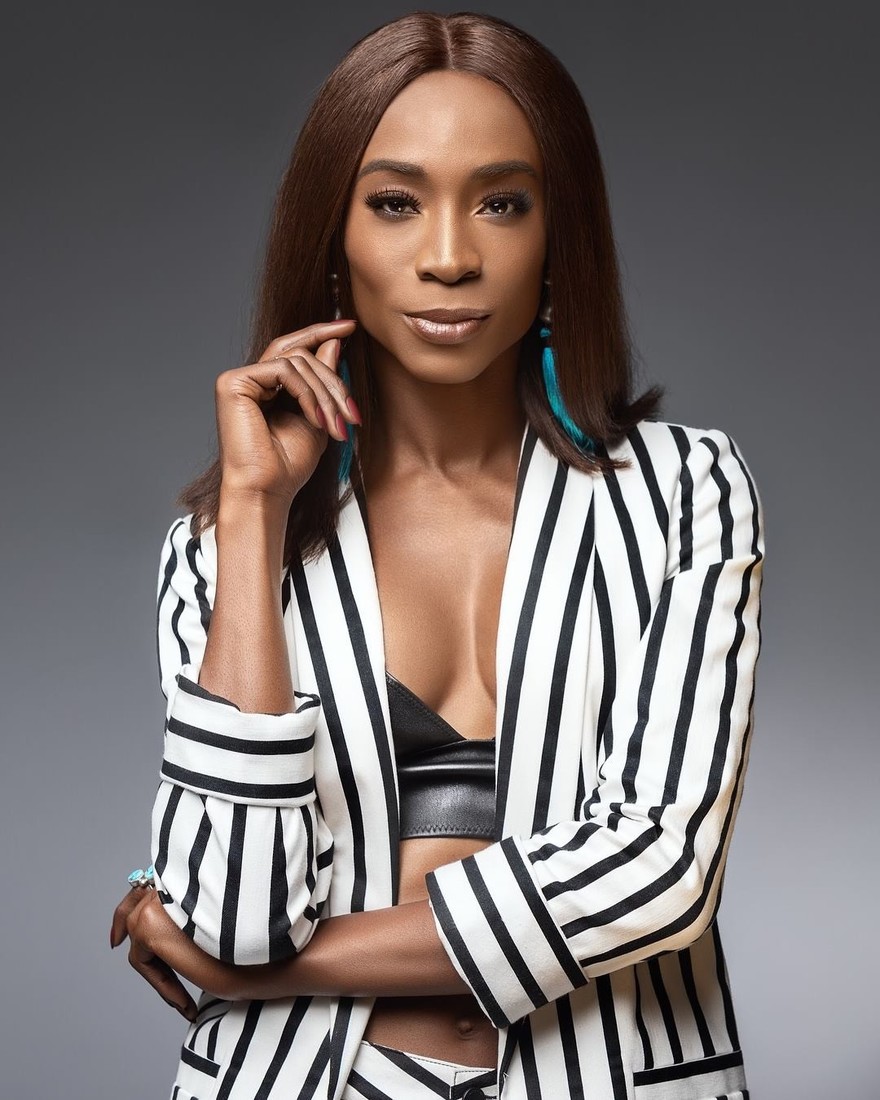 'pose' star angelica ross
Angelica Ross Strikes a Pose
FX's television drama Pose has made history once again by breaking ground with a mostly trans cast being nominated for any category for the Hollywood Foreign Press Association's annual Golden Globes. Billy Porter, who plays Pray Tell, from the show could possibly win a Best Actor in a Drama TV Series Award airing on Jan. 6 at 7 p,m. on NBC. 
Angelica Ross not only acts on Pose, playing Candy Abundance, but is also a strong business woman founding TransTech Social Enterprises. Ross cut her teeth on the web series Her Story and guested on the Amazon show Transparent. She voiced Danger & Eggs on Amazon Video in 2017. 
The year 2019 promises to be even bigger for the talented trans actress with the sophomore run of Pose and a celebrity ambassador appearance for the 50th Anniversary Stonewall celebration in June. 
Ross sat down to talk about her life and how she is changing the workplace at her TransTech Summit. 
JN: (Jerry Nunn) I saw you speak at Sidetrack during the Outspoken series. 
AR: (Angelica Ross) I remember that moment because I feel like people want to hear our stories but prior to me they didn't have trans voices involved in that. It made me think of coming to Boystown and the gayborhood that I didn't see myself or my community in any of the places that I walked into. Restaurants weren't hiring trans people at the time. 
It was so gay male focused that people only saw trans people as entertainment at Kit Kat Lounge and Hydrate. I used to be a showgirl at Kit Kat. The audiences made us work very hard for a dollar tip. They didn't realize that the tip went towards the cab fare, the makeup and the costumes, let alone just paying a bill because it was a job. 
When it comes to employment there is a very tricky conversation because it is going to involve some accountability. Gay men have been oppressing trans people while making money off of our backs. There are drag shows all over the country with many of them not paying. There are only a few places that pay such as Kit Kat Lounge and The Baton Show Lounge.
JN: I have written about Pose addressing employment for trans people. 
AR: I liked Pose addressing it on episode two. It was all about access with Blanca and Lulu trying to have a drink at a gay bar. We are not welcome in our own spaces and that is ridiculous. Some people watched it and couldn't believe while others know it's still happening today. 
JN: Lots of gay people would not let the word "tranny" because they thought it was so funny. 
AR: And how can they complain about people using the word "faggot?" That doesn't make sense. 
JN: Sometimes when people are abused they pay it forward. 
AR: That is unfortunate, but we have to stop that cycle. That is part of my message. I have a theory that we can make more of an impact if we focus on what we already have. The reality is there are a lot of LGBTQ owned businesses that aren't hiring trans people. If we are not doing it then how are we pressing other people to do it? We have to start here with that. 
JN: You are working at that with this TransTech Summit?
AR: The summit is because I have planted these eggs that are going to hatch. For the past year, we have had a relationship with the National LGBTQ Task Force. For this year they have hired and have been paying one of our TransTech workers remotely to send out all of their newsletters. Every 10 minutes a screen shot is taken when she is logged in working on the project. She is able to make notes explaining what she is working on.
I am able to tell my folks to really be powerful with their time by being able to estimate how long it will take and also enjoying the freedom of freelance by hitting the stop button. 
Right now with the job market people are looking for jobs that they can sit down on and run the clock out. Bosses are walking around and seeing the clock run out. There are certain things they can't work on during business hours for whatever reason. Now if I am up late I can go in and start working. All is not lost if it doesn't fit in a specific box. 
With the Task Force we are creating something called a Task Tank where we ask organizations to provide us with different tasks. It asks them to put their money where their mouth is so they can say they support the community by providing on the job experiences. 
JN: People work differently now. 
AR: Way differently! I worked from home with Apple and at the store in LA. When I moved to Wisconsin because my mother was ill, they promoted me to Mac expert so I could work at the online store from home. There is a whole setup and portal with that. 
I am teaching folks that if they are looking for work and unemployed, they need to put their body in the synergy of work and success. Whatever shift you want to work in then go to work at the center for six hours actively looking for a job with your laptop. Do a work day. People can get rusty and mess an opportunity up. Even if you are working at home, show up dressed for work and not in your pajamas. I can feel when people are working in their pajamas. 
JN: You are a self made person. What is the key? Is it faking it until you make it?
AR: I used to complain to my boyfriend about how hard things were. He said, "No one cares that you are working hard. It's about working smarter." 
I hate that phrase faking it until you make it because so many people are doing it. On Instagram it is very easy to fake a whole life. If someone is hired based on that fake thing then they can't deliver. 
If people are faking it then they need to be catching themselves up to where everyone else is. Go read books, watch videos and invest like it is your job. When someone is unemployed they should build up their craft. 
There was one moment when someone hired a trans person, then something would go wrong in the program. They blamed the trans person instead of the organization. The trans person was not set up for success in the first place. 
JN: How has your role evolved?
AR: I'm turning into Anna Wintour or Miranda Priestly from The Devil Wears Prada. I don't come for them because they are trans, or Black, it's because they are late or whatever other reason. We need to be pushed in ways that are healthy. I also need to push society. I am doing both. 
JN: Do you want to write a book?
AR: I am writing a book. It is a spiritually focused book. I feel most of the experiences we have as a community are arguing on the physical plane. We are not focusing on what it takes to spiritually transition. 
I am having my gender reassignment surgery two days before my birthday. I am 37 and started my transition when I was 19. when I was on Caitlyn Jenner's show there is a clip of me saying to her that started my transition at 19 and still not able to access the things that Caitlyn can. 
The dysphoria that comes along with that can be addressed spiritually. It is grounding yourself for that transition. It is coming from the inside out. 
People get tripped up when I talk about spirituality so I am writing this book that is very open. I am buddhist but want to talk across denominations. People need to know I am talking about the energy tank inside each of us. People need to feel their own energy and not look outside of themselves to do that. That is the quickest way to activate your power. 
JN: How did you land the part on Pose?
AR: I have been acting my whole life. I think Her Story, the web series, was something that catapulted me to another level. I won Best Actor at the New York City TV Festival, which is not an LGBTQ thing. We got a Peabody Award, a Gotham Award and nominated for a Primetime Emmy. The decision makers were then watching me. Claws called and I got on season one then Transparent called.  
When the Pose audition came up I didn't think it was for me. Elektra was too old for me and Blanca was a Latina so I didn't audition at first. My agents told me to send in a tape. Ryan Murphy had me fly to New York for a call back. I auditioned in front of 16 executives. It was terrifying but they were so sweet. I felt like I was ushered out. I went home and cried. I let it go. I found out months later that they wrote the role of Candy for me. 
JN: I have known Billy Porter for some time now.
AR: I love that Pose is giving Billy his due just. 
JN: Give him the trophies!
AR: He's been doing things that I didn't even know was him at first. As a Black, gay man I know he's been limited by Hollywood's perception on what Black, gay men can do. 
JN: When is the debut of season two of Pose?
AR: We don't know yet but the writers are in the room right now cooking up stories for Candy!
Interviewed by Jerry Nunn. Jerry Nunn is a contributing writer to the GoPride Network. His work is also featured in Windy City Times, Nightspots Magazine and syndicated nationally. Follow @jerrynunn