A GoPride Interview
Dixie Longate
Dixie Longate interview with ChicagoPride.com
Tue. May 20, 2008 by Dana Caprina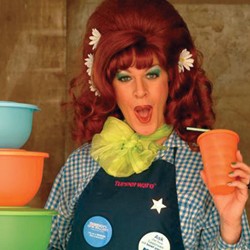 DC:
(Dana Caprina) Dixie, how do you describe yourself?
DL:
(Dixie Longate) I am just like any other gal, you know, from down the street, who went to prison a few times and sells Tupperware. I get up in the morning and have a cocktail in my item 464 tumbler and put my panties on one leg at a time. That is, of course, if I decide to wear any.
DC:
Are you married?
DL:
I was married three times but, sadly, each one of my previous husbands died under mysterious circumstances. It is a little sad. But what the hell? Let's drink.
DC:
Do you have any children?
DL:
I have three adorable children. Dwayne, he's 10. Wynona, she's 16, and Absorbine Jr. He is just three years old. What an angel.
DC:
Where are you from?
DL:
Originally, I am from Mobile, Alabama, but I had to leave there as part of the conditions of my parole so now I live in Los Angeles. It's like Mexico there, only closer.
DC:
How did you get involved with Tupperware?
DL:
My parole officer was the one who got me started. She said that I needed a job in order to get my kids back, which is so stupid, 'cause I didn't want 'em. I mean, I think if the law is going to be so kind as to take them from me and take care of them while I am in prison, why the hell do they want to give them back when I get out? It is like some sick consolation prize if I lose a game show.
Anyway, she was the one that got me started in this whole thing. I mean I never knew that I would have so much fun selling plastic to the gals that live in the trailer park, but apparently, any excuse to drink is good enough for them.
DC:
Do you have a favorite Tupperware product?
DL:
Well, I have a few that I just can't live without. The Jell-o shot caddy (item 787) is great for taking snacks to church so I can get through those long-winded sermons from the pastor. The can opener (item 1288) is just a thing of beauty, and the spill proof tumblers just make me happy to be a Christian.
DC:
I have heard that Tupperware parties can get wild. Is that true?
DL:
Well. I think any party can get wild, but that all depends on the hookers at the party. I mean, I can stay at home and get wild with my dog and a jar of Skippy Chunky, so I guess it all depends on the party and the crowd.
I have had all sorts of crazy things happen at parties. I have had people fall over or walk into screen doors, because they got a little too much of the Tupperware party spirit going through their veins. I had an older lady laugh so hard she ended up spitting her teeth in her hand. That was funny. We all thought she was chocking to death - hilarious.
Then there was the lady who got so drunk, her own daughter kicked her out of the party. I saw a gal tinkle once on the chair. That was pretty great. That would have been even wilder during International Mr. Leather weekend, but she didn't do anything that was untoward with the pee like some of those people would.
DC:
I have also heard that Tupperware products can be used as sex toys. Is that true?
DL:
Well, to be honest, I didn't know that Tupperware was even for the kitchen until about two years into my selling it. Then I found out, dug it out from under the bed, washed all the goo off of it, and then realized things like, WOW, the handle on the colander is for holdin' it, not for, well, you know ...
DC:
On an average night, how much Tupperware do you sell at a party?
DL:
My average per party is around $1,300, which is great. I do about 15-20 parties per month, so I really make a good living.
DC:
Are you one of Tupperware's top sales people?
DL:
I am! Right now, I am number two in the country in personal sales. There is this Amish lady who is beating me. No lie! I swear. She is beating me by about $6,000. I need to outsell her by the end of June in order to be the Queen of Jubilee, the Tupperware convention. I don't care who I have to kill, I am going to do it!
DC:
Is it hard being on the road?
DL:
It is a little hard traveling so much. The winter is kind of strange because I will get on the plane in the sunshine and get off where it is really cold and wet. Hmmm. Wait a minute. That doesn't sound so bad after all. Let's get out of here and go somewhere.
DC:
Have you ever cheated on your husband?
DL:
Well, since I am no longer married, I would have to say no. Now, do you mean cheating, like, at cards? 'Cause I have never done that. I am usually too busy having sex with people to learn something like cards.
DC:
I understand that you recently appeared on Jack Osbourne's TV show in London. What was he like?
DL:
Oh, Lord, that was like three years ago. I didn't even meet him. They did a segment with Jack's best friend interviewing me. It was fine except that the guy was like 17 years old and had never thought about food storage in his life, so it was all a little overwhelming.
DC:
Is there any truth to the story of them turning your life into a TV show?
DL:
Yes, we are talking to a lot of people right now, and hopefully there will be a show coming up soon. Too little to really give you any solid info, right?
DC:
Who do you think should play you?
DL:
It would be me being me on the show. Hooker, there is only one gal that I have found who sells the plastic crap like me, and that is ME!
DC:
You are coming to Chicago for one of you world famous Tupperware parties. Is this your first time in the Windy City?
DL:
I have been in Chicago one other time for a few days to see a friend of mine, from back in the days of the state pen. I ended up doing one Tupperware party for some friends while I was there. This will be my first big event though. I am so excited. I know that people in Chicago need some creative food storage solutions. I am here to give it to them!
DC:
Do you have anything special planned while you are in town?
DL:
Well, I know that this is a big weekend when people covered in leather come out to show off, so I am sure that I will be watching that with my jaw wide open and ready for action. This should be an entertaining weekend to say the least.
DC:
I too have seen the ads in Gay Chicago for Dixie Longate and her Tupperware Party, and all I have to say is I need to talk with Dixie!
Dixie Longate's Tupperware Party will be held on 9 p.m. on Saturday May 24, at Hydrate 3458 N.Halsted. You can purchase your tickets online at
hydratechicago.com
. (
Event Details
)
This interview was originally published in
Gay Chicago Magazine
and provided in partnership with
www.gaychicagomagazine.com
. All questions for Dana can be sent to Danacaprina@aol.com.
Interviewed by Dana Caprina
Serving the Chicago gay, lesbian, bisexual and transgender communities. ©Copyright 2019 GoPride Networks. All rights reserved.