A GoPride Interview
Rupert Everett
Rupert Everett takes a Wilde ride
By the time I shot the film I was all jowls!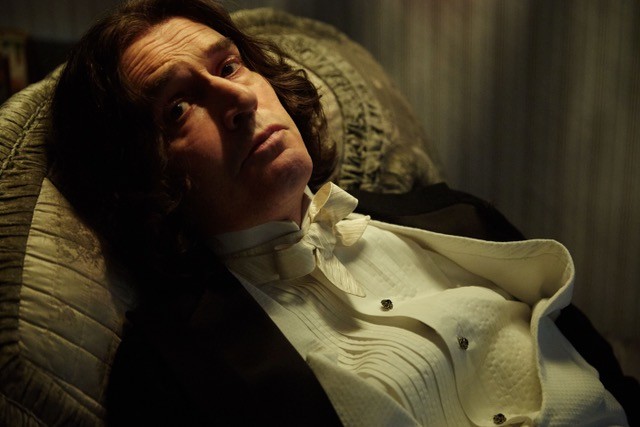 photo credit // sony pictures classics
Rupert Everett talks about new movie
Actor Rupert Everett is bringing Oscar Wilde back to life for a whole new generation. The Happy Prince is the new film set in the 19th century depicting Wilde's final years in Dieppe, Naples and Paris. Everett plays Wilde while also directing and writing the script. 
His journey to The Happy Prince was a long one including a revival of The Judas Kiss in London's Hampstead Theatre in 2012 where his portrayal won a WhatsOnStage Award for Best Actor in a Play. 
As one of the Hollywood's first openly gay actors, he was cast in the play and movie of Another Country about a gay student at an English public school in the '30s. He later received a Golden Globe nomination for My Best Friend's Wedding and An Ideal Husband. Other roles included Shakespeare in Love, The Next Best Thing and the Shrek sequels. He has a new movie called Swords and Sceptres coming out this year about the Indian rebellion. 
JN: (Jerry Nunn) What made you want to juggle so many plates with The Happy Prince?
RE: (Rupert Everett) Well, I didn't want to. I never had a notion to try to direct the movie. I tried to take the law in my own hands in a period of my career when everything had dried up. I decided to write myself a role. 
In considering my own history and who I was, Oscar Wilde seemed the best thing to write. I had written it for a director friend of mine, Roger Michell. He was unable to do it. I sent     it to seven directors and it didn't work out.
A screenplay is dead if it never gets published so I made it myself, not really knowing what would be involved. 
JN: How long was the process?
RE: That was two and half years trying to find the director. For three years I tried to find money with me as a director. I then found a play called The Judas Kiss. That took me a year to put together. It was good and did what I thought. I got great reviews. The BBC then took part in the film and Lions Gate. Little by little I managed to patchwork together many of the little things for the movie. We made it in 2016. 
JN: What did you bring from Judas Kiss into this project?
 RE: Lots. I got the look of the character from that. It's a play that takes place in two sections. The first act is the Cadogan Hotel where Oscar Wilde went after his second court case collapse before he was arrested. The second act takes place in Naples. 
I have always felt very certain about the character of Oscar Wilde. I just hand an inkling about it and how he really was.
JN: How was the makeup and wig?
RE: That I got from the play. It was a huge body suit that I wore a corset over. I shaved my head and wore thin wigs. I had a thing in my mouth to make my face a bit rounder. 
I became the character for some reason. I started drinking quite heavily and put on weight. By the time I shot the film I was all jowls! 
JN: Where did his mannerisms come from?
RE: I just got informed by the way I looked. Once I looked at myself it took over, by osmosis I suppose. 
JN: How many languages do you speak?
RE: I speak four. I spoke Italian and French for the film. That was one of the things I was very keen on. I wanted make it essentially a European film in the way that we spoke naturally in three languages.
JN: What was the drug they used with cotton balls in the film?
RE: Cocaine. They put it on the cotton and it would drip into their gums. 
JN: Was there anything you wanted to put in the film but didn't?
RE: If I had known series would be so popular in the last three years I could have made a wonderful series about it. I would have gone back more in time. 
I had written at one point a flashback about his whole period in Algeria. It just took too long to film. There was another flashback when he was in Rome and touched the Pope. He had a mysterious skin rash and after he touched the Pope it disappeared. 
JN: What was the hardest scene for you in The Happy Prince?
RE: The scene where I was standing on the table. It was one day's work that would normally be made in four days. We had the band, the singer, the fight, I sang, and we had 150 extras. We planed through it and managed to get it together. If we didn't make it on that day we would never have had a chance to do it again. 
JN: What do you think Oscar Wilde's story says to gay audiences today?
RE: Oscar Wilde in the spectrum of global gay experience is only halfway across the spectrum. In three quarters of our globe being gay is still a life and death challenge. In that sense, this story is a very real today story. 
I would love it if young people go to see it. I think it's useful to know in such a short time what has happened to us.
JN: When you first came out did you hear from fans about it?
RE: When I made my first movie Another Country people came up to me and said they were living in an out of the way place and that movie meant a lot to them. That was the most amazing thing to me, something that I did could have that impact. It was always very moving and encouraging.
The Happy Prince opens at Landmark Century Centre Cinema, 2828 N. Clark St., on Oct. 26.
Interviewed by Jerry Nunn. Jerry Nunn is a contributing writer to the GoPride Network. His work is also featured in Windy City Times, Nightspots Magazine and syndicated nationally. Follow @jerrynunn