A GoPride Interview
Jonah Markowitz
Jonah Markowitz interview with ChicagoPride.com
Wed. April 2, 2008 by Windy City Media Group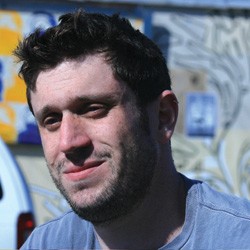 Out writer-director Jonah Markowitz is justly proud of his first feature film, Shelter (which opens Fri., April 4, at the Music Box Theatre, 3733 N. Southport). It's an appealing queer-themed, love story that focuses on two hunky surfers in sunny California: Zach (newcomer Trevor Wright) and Shaun (played by Brad Rowe, who is familiar to gay audiences as the object of Sean Hayes' lust in Billy Hollywood's Screen Kiss). Markowitz talked with Windy City Times about the film as he drove through L.A. traffic.
WCT:
(Windy City Times) Shelter has characters that are into surfing. Is that in your background?
JM:
(Jonah Markowitz) I started surfing when I did a movie called Blue Crush. I worked as an art director on that movie so I started doing that. More than anything, I wanted to do a film that fell in love doing something that was sort of very traditionally "male"—something that men do to bond and usually out of doors—like hunting or camping or dirt biking or snowboarding or surfing that had that element as well as being an urban environment.
WCT:
You sure it wasn't just an excuse to spend lots and lots of days around nearly naked hunks? [Laughs]
JM:
Well, living in California that's sort of a given. It served a couple of purposes, I'll just say. [Laughs]
WCT:
As a surfer yourself and being integrated into that subculture a little bit, is it a group that's particularly homophobic? My guess is that it would be a little more laidback.
JM:
I think it's both. I think it's like anything else in the sports world, you will find both. Mostly it's about people out there surfing because that's what they love and they're not really interested in what other people are doing.
Read the full interview with Jonah Markowitz at
Windy City Media Group
Related:
Read the CP interview
with actor
Brad Rowe
Article provided in partnership with
Windy City Media Group
.
Interviewed by Windy City Media Group