A GoPride Interview
Nichelle Nichols
Seeing Stars, such as Nichelle Nichols, at Wizard World
George never really came out, he's just always been George.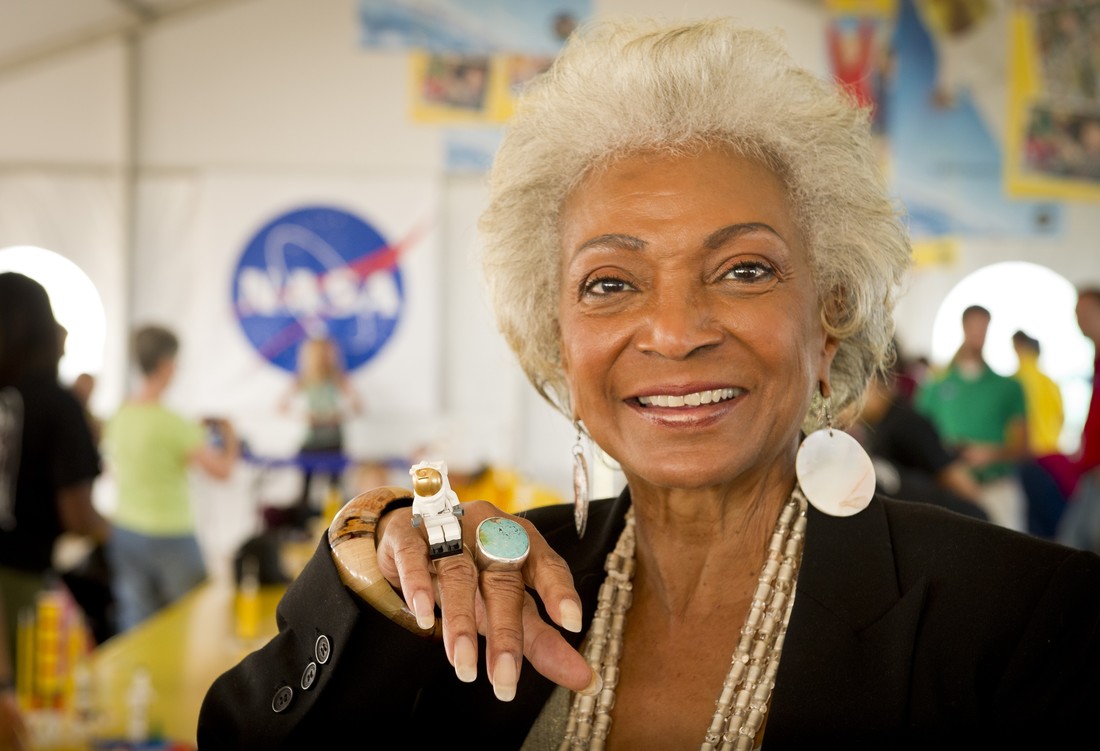 Star Trek's Nichelle Nichols talks about Wizard World
The legendary actress Nichelle Nichols is heading to the Chicago area for Wizard World to sign autographs and take pictures with fans Aug. 23-27. 
Born in Robbins, Illinois, Nichols rose to fame being the first Black woman to be featured on a major television show not portraying a servant as Lieutenant Uhura on Star Trek. She had a groundbreaking kiss with actor William Shatner and went on to voice an ainmated series of the show and co-starred in six of the Star Trek films. 
She recruited for NASA, wrote books, and voiced video games over the years. 
Nichols talks about some of her experiences in a brand new interview before her arrival in town. 
JN: (Jerry Nunn) Being originally from Chicago, what is it like returning to your roots and being a hometown hero
over the years?
NN: (Nichelle Nichols) I love Chicago, and I still have a lot of family there! I'm actually going to make a bit of a family
visit out of the convention while I'm here, which I'm really looking forward too. Chicago is the
home and heart of a lot of culture, of music, of talent, and I'm delighted to see that continue to
flourish,.
JN: What is the craziest or most interesting request a fan has asked of you at one of these comic
conventions?
NN: I don't get a lot of request, I get a lot of stories. Stories of how sci-fi, of Star Trek, inspired them
to pursue futures in science and technology. Those, I can't get enough of.
JN: What has appearing in Deadpool meant to you and is there a behind the scenes story with Ryan
Reynolds?
NN: You wouldn't believe how many times I've been asked that, but that actually is NOT me in
Deadpool. I'd like to meet the actress one day though; she looks like a hoot.
JN: Oops, turns out that is Leslie Uggams. George Takei said you came to his wedding and have always supported him. Have you always supported LGTB rights and how did he come out to you?
NN: We all supported each other. Seeing how we were both cast by Gene, maybe he was going out
of his way to find people who were simply open and accepting by nature. George never really
came out, he's just always been George. And we all love him to death.
JN: With a women's movement currently happening in Hollywood, what story from the past would
you tell about it and thoughts on it today?
NN: Stand up for yourself, demand what you deserve, and you might be surprised that you get just
what you ask for. I can't say I have any horror stories. That was my experience transitioning
from Hollywood to recruiting for NASA, I laid my demands out and was impressed when I was
given the benefit of the doubt.
JN: How is your health these days and what are your projects for the future?
NN: I'm feeling better than I have in years. I'm travelling less than I have in past years, but am
spending more time with family. Looking forward to doing more of that in Chicago!
As for other projects, I've been doing some voiceover work in a couple upcoming video games,
Star Trek and non-Trek related. Also, you may be seeing me back on set soon!
See Nichols in person with many more celebrities at Wizard World, Donald E. Stephens Convention Center, 5555 N. River Rd., Rosemont, IL with tickets at WizardWorld.com. 
Interviewed by Jerry Nunn. Jerry Nunn is a contributing writer to the GoPride Network. His work is also featured in Windy City Times, Nightspots Magazine and syndicated nationally. Follow @jerrynunn