A GoPride Interview
Paul Young
Paul Young continues a long career
It is a struggle but thank god for the last decade where there was a faithful fanbase.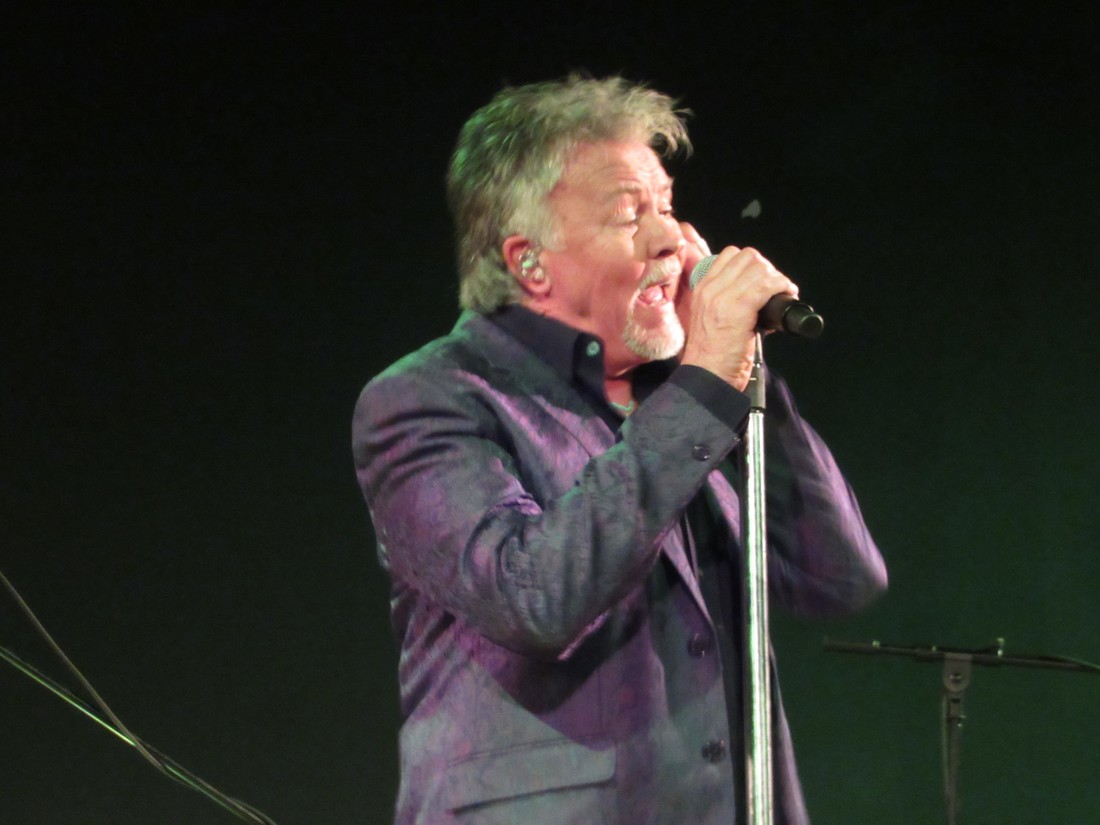 photo credit // jerry nunn
Wherever Paul Young leaves his hat is his home
Singer Paul Young started with several bands before blossoming into a solo success. Many know him from a string of hit singles like "Love of the Common People," "Wherever I Lay My Hat" and "Come Back and Stay." 
Young performed at Live Aid in 1985 and with the Band Aid hit "Do They Know It's Christmas?" 
Since the '90s he has performed with his band Los Pacaminos. While on The Soundtrack of Your Life Tour, Young talked backstage about his music and projects.  
JN: (Jerry Nunn) What is the secret to having a long career?
PY: (Paul Young) I wish I knew. I have just blindly gone through it all. I have always liked music all the way through. Instead of starting a band 25 years ago I could have picked another hobby, but I chose a different type of music and did that. 
It is something that I have always liked to do and get a lot of pleasure out of it. Maybe that makes a big difference. I enjoy what I do and it's a lot of fun. 
The people that I love seeing on stage like Rod Stewart enjoy it. I take a lead from him. I listen to loads of different types of music as I go through life. I don't think my albums sound the same. That is always a challenge. 
JN: The album Good Thing seems to have a bluesy feel to it. 
PY: Yes it does. It is an R&B type soul album. It is more like the Stax and the Chess stuff. The problem I created for myself being quite diverse on the albums was I didn't know what the formula was for a Paul Young album, because there isn't one. 
Until just recently I realized the only common thread that runs through them is I write some songs and cover other songs. I do each track in the way that suits the song. I try to style the song in the way that will benefit. I fit in around that. 
If I do cover then I cover some quite poppy things or maybe it should be pop, but it wasn't the first time around. They need to have depth to them. We pull all that together and that is what a Paul Young album is. 
You look at the singles like "Come Back and Stay" and "Wherever I Lay My Hat" the other side of the album has "I Was In Chains" and "Standing On the Edge." They have more depth of character. They are basically all experiments. 
JN: When you wanted to experiment did the music labels push you to be more pop?
PY: To begin with on the first album the record company had no faith in it at all, but it was massive. They couldn't believe it and thought I must know what I was doing. So they just left me to it and I was just feeling my way. 
The second album was a bit different. They started to lean on me a bit for the second album, but I refused to give in. 
The third album I gave in because the American record company constantly complained that my material was too diverse so radio didn't understand me. I tried to one solid thing for the third album. The American audiences weren't into it and I was losing my European audience so I went back to pleasing myself. 
JN: Was that always tricky balancing between American and European audiences?
PY: Yes. Here they talk about "Every Time You Go Away" being my big hit. It was number one in America and Japan. In Europe my top ten's were "Wherever I Lay My Hat" in UK, "Come Back and Stay" in Germany, and "Love of the Common People" in Italy. There are different ones everywhere. It is quite peculiar. 
JN: Where is the craziest place you ever heard "Every Time You Go Away" played?
PY: [laughs] A bar in Bangkok. 
JN: Is there a song you get tired of playing?
PY: "Wherever I Lay My Hat" can get tedious because there is very little on it. It is just a drum machine, a bass, and keyboards. I have put more rhythm behind it now. It makes it more fun to do.
JN: What is a new food you like cooking?
PY: I loved doing cajun, Mexican or Italian. Mexican is my own little exploration. In the UK the one I feel most people are surprised by is cajun food. You can't get really good cajun food in the UK. When I do it at home people have not tasted food like that before. It is straight out of New Orleans. 
JN: Did you ever think you would be known for cooking?
PY: No, I didn't. It was a hobby. This new passion with food has grown and grown over the years. All of sudden there were food programs that were having celebrity guests on them. It became a side thing. 
JN: Your song " Touch a Hand, Make a Friend" seems important with the craziness of the world right now. 
PY: Yes, that is true. I should go back and do that one again. 
JN: Did you notice a LGBT following at your shows?
PY: Yes and at Los Pacaminos shows as well. They seem to love it. It is very up and happy music. 
JN: Why is there suddenly a resurgence of retro music in the world?
PY: I know for my part with me not knowing how I fit into music world it created a big gap in my recording career. Many artists put out an album every once in a while. I think what happened is the rest of the world has taken notice of this particular decade of music. 
If you listen to a lot of modern records out on the radio right now they all seem to be pursuing the same production sound. The arrangements of the songs are quite similar. They all have the same technique and start to sound the same. In the '80s you had techno. You have Culture Club and Wham! You had me, Duran Duran, Depeche Mode and Simply Red. Everyone had a definable sound. I think that is why people come back to the '80s a lot. There was so much diversity. 
JN: I know it is a struggle for bands like Duran Duran to be played on the radio. 
PY: It is a struggle but thank god for the last decade where there was a faithful fanbase. When they earned money, music was the thing to spend it on. It is very important to people. That is why the fans were so faithful. 
Some musicians from bands say they envy me because with the advent of streaming, downloading, and random playing we are only as good as our last album. If they don't like that one there is plenty of others to choose from. People aren't that faithful anymore. 
JN: What was it like seeing all the musicians for "Do They Know It's Christmas?" 
PY: It was wild. It didn't really happen before that. People in the '60s and '70s didn't get together and make a record like that. When Band Aid came out it was amazing really for all of those people to be in one room together. Then you had the American version and other countries did it too. They all get together for charities. 
JN: How was performing with Queen?
PY: Queen has a massive fanbase. People idolize Freddie Mercury. Picking "Radio Gaga" was a bit of luck on my part. I was on the other side of the world and was asked if I wanted to appear at the event. My manager read out the list of five songs left to perform and "Radio Gaga" was one of them.  
JN: What are you doing next?
PY: I go back home and do a little guest spot with UB40, then I go back out on the road with Los Pacaminos. I will spend some time with my kids. Since I lost my wife this past January it is quite important to spend time with them. 
It won't be long before we do the West Coast leg of this tour. In September and October I will be doing 35 years of No Parlez. We will be playing the whole album!
Interviewed by Jerry Nunn. Jerry Nunn is a contributing writer to the GoPride Network. His work is also featured in Windy City Times, Nightspots Magazine and syndicated nationally. Follow @jerrynunn
Serving the Chicago gay, lesbian, bisexual and transgender communities. ©Copyright 2019 GoPride Networks. All rights reserved.