A GoPride Interview
Adam Raphael
Adam Raphael interview with ChicagoPride.com
Wed. March 12, 2008 by Windy City Media Group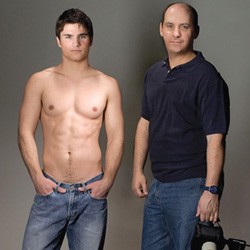 adam raphael right ) with one of his models
In Room Service ( $49.95, Powerhouse Books ) , photographer Adam Raphael has compiled 150 images of various male models who posed in some of the most elegant hotels on the East Coast. Raphael talked about the book, models and racial diversity.
(
Related:
View photos
from the book)
WCT:
(Windy City Times) How did you get into photography?
AR:
(Adam Raphael) I was successful in construction, which was boring to me. My partner and I used to go ( and still go ) to Fort Lauderdale, Fla., for long weekends, and I would go down to the beach. Fort Lauderdale seems to have an ever-changing visual array of college-age boys [ playing around ] . I was so overwhelmed that I went and bought a camera—and I literally had never taken pictures before I was 39 years old [ Raphael is now 48 ] —and I would ask to take their pictures. They would ask what [ the pictures ] were for, because it doesn't make sense for someone to take pictures. So, I dreamed up reasons, such as trend studies, and paid them, say, $20. So that's literally how I got started.
Then, some wanted to take more pictures. They'd come back and bring their parents. I started with outdoor pictures, and I'd ask the guys if they wanted to bring friends or whatever. That's how I ended up with the collection of pictures that's in my first book, Book One. We did a really limited print run, like 300. One of the people who [ got the book ] was an agent who contacted me and said, "This stuff could sell." Then, I went to Philadelphia with a friend and chatted with a bookstore owner and started working on my first real book, Friends; we did 1,000 and that sold well. Then we did Friends and Brothers, which also sold well. I then took courses and then built up studios; at this time, I was spending less time with my real job and more time with photography.
One big moment was when I sent a kid [ I had photographed ] to the Abercrombie [ & Fitch ] casting people in 1999, and they put him on the cover. So then I got a reputation that I could put kids into Abercrombie, which is not remotely true.
WCT:
Let's talk about Room Service. How did the idea for this book come about?
AR:
I was getting sick of the studio and, with studios, there are usually a zillion people around. [ Also, ] I found out that models are usually more comfortable with fewer people around. [ In addition, ] I got tired of just the white or black background; I wanted furniture, and I figured the easiest, cheapest way to rent a set was to rent a hotel room and bring the model there.
I didn't know where it was going to go or what I was going to do with it. I started getting a lot of material for a book and my partner—the genius book-namer—said, "You should call it room service" because he called down and ordered room service after every shoot; the kids wouldn't eat before a shoot. So the name is a bit of a double entendre, but it was also literally what happened.
WCT:
How costly was this?
AR:
That's a very good question. It was expensive. I did not disclose to the hotel that I was doing photo shoots, so I paid the normal rate for one night, and sometimes I'd use the room or let the model keep the room. There's some very good room service out there. [ Laughs ] It definitely added up.
WCT:
But did you think that they might have given you [ a discount ] if they knew that you were doing photo shoots, given the possible publicity they would've gotten?
AR:
I think it depends on the hotel. They have boutique hotels with a big gay following that probably would've been thrilled. But the big chain hotels would've come up with a way to say no—and I didn't want anyone saying no to me.
A lot of the models in Room Service were shot over a period of years, and I have documentation from 18 through 20, 21 or 22, and it's kind of nice to track their progress.
WCT:
I read that it took two years to put this book together. Why did it take so long?
AR:
It shouldn't take two years to shoot that much material, but I had other things I was doing. I was shooting for agencies and had a head-shot business, so I would fit [ the Room Service shoots ] when I could. And, not every shoot was usable—either the model or the environment might have be [ wrong ] . With one model, there was a freshness or spontaneity we didn't achieve after the first shoot. ... Also, the shoots are going to be inherently better with the models I like being with; that makes sense. There are some really great-looking kids who it's just not fun to be with, and life's too short.
Then there are kids who are good-looking, and who have a lot of energy, are a lot of fun and who work hard. If I say, "I don't like shaved stomachs. You can't shave your stomach any more," they do what I ask. I like shaved faces but I don't like shaved bodies. My goal is have it look like the kid walked into the room, [ took ] the picture and walked out—not like a bunch of queens spent three hours fussing over them.
That's why most of the models in the book are straight—a lot of gay kids tend to look very processed. These straight kids do to themselves what the gay kids did 10 years ago. And it's not that I don't like gay people—obviously, I'm gay, my friends are gay and my partner is gay.
WCT:
What's the most unusual thing to happen during one of your shoots?
AR:
It had to be the hotel [ staff ] coming to the door for various things—which meant I had to run around and hide the equipment, cover the model and answer the door. I learned that the fancier the hotel suite is, the more they bother you. If you're in the presidential suite, they bring you chocolates or ice water, or they want to turn down the bed.
WCT:
Who would you like to photograph?
AR:
My partner always teases me because I want to photograph [ actor ] Ryan Philippe; I think he's unbelievably hot. Usually, celebrities bore me to tears but Ryan Philippe is right up my alley.
WCT:
He is attractive, although I 'm not usually into blondes.
AR:
Now, see? That's one of my favorite things about Room Service: the diversity. There's something for everyone in that book.
I want kids to have the look; race is irrelevant. Also, there are some really masculine-looking kids and there are some pretty boys. Then, there are some delicate kids and some serious hunks, like Brian Walker.
See
www.adamraphael.com
.
Article provided in partnership with
Windy City Media Group
. Read more of this interview by Andrew Davis at
Windy City Media Group
.
Interviewed by Windy City Media Group
Serving the Chicago gay, lesbian, bisexual and transgender communities. ©Copyright 2019 GoPride Networks. All rights reserved.