A GoPride Interview
Alison Sudol
Alison Sudol interview with ChicagoPride.com
Sun. February 24, 2008 by ChicagoPride.com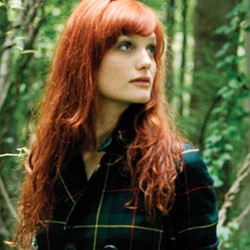 alison sudol, a fine frenzy
photo credit // www.afinefrenzy.com
Alison Sudol inhabits a vivid imaginary world populated by siren songs and sailors, sightless creatures and fragile fallen eagles, a place where almost lovers and hopeless dreams are bid a melancholy musical farewell. And on
One Cell in the Sea
, Sudol allows the listener inside that often-fantastical world, revealing her inner life via songs Harp magazine praised as "fraught, haunted and beautiful." Listen closely, and you will hear echoes of some of Sudol's eclectic array of influences, artists and writers like Elton John, Jane Austen, Radiohead, Lewis Carroll, Philip Glass, Ella Fitzgerald, and Shakespeare (the source for the album's title, a quote from
A Midsummer Night's Dream
).
One Cell in the Sea
is the 14-song debut from
A Fine Frenzy
, the lineup fronted by 22-year-old singer/pianist Sudol. The album debuted at #3 on
Billboard
's Heatseekers chart earlier this year and has scanned over 110,000 units thus far. The band, which was the first in 2007 to cross over from the new artist chart to
Billboard
's Top 100, has performed on "The Tonight Show with Jay Leno" and "Last Call with Carson Daly."
"The melodies on this debut are breathless... imbued with piano swells," said
Entertainment Weekly
about
One Cell in the Sea
.
"Such attention to the dramatic works wonders on stripped-down tunes like 'Almost Lover,' which lets Sudol's delicate voice take center stage."
In September, Sudol made her acting debut on the season opener of CSI: NY. Sudol performed two songs: "Almost Lover," the first single from One Cell in the Sea, and "Last of Days," another track from the album.
Sudol has been featured in
Vogue, Keyboard, Rise
, and A Fine Frenzy recorded a searing version of "Fever" (the Peggy Lee classic) for the
Dan In Real Life
soundtrack.
Here, Sudol talks about her fervent and fertile imagination, her poetic take on the origin of life, and the strength she derives from her gay fans.
CP:
(ChicagoPride.com) Your lyrics conjure up so many different worlds. Even your love songs seem to exist in another time and place. But the emotional worlds you inhabit are never so surreal that they're frightening. Your imagination seems to give you a lot of comfort.
AS:
(Alison Sudol) Well, I'm not the greatest at functioning in the world sometimes. I get affected by a lot of things. I'm probably more sensitive than it's smart to be.
When I sit down at the piano, it's the safest place in the world to me. I'm able to express myself, and in the process, make some sense out of life. I'm always picking at things, trying to get to the truth. Finding the truth is very important to me.
CP:
What does finding the truth mean to you?
AS:
People need truth to make sense of things, to be happy, to survive. When I see a movie, and it doesn't ring true, it's very frustrating for me. When I'm writing, I can tell when I'm not duplicating the truth of what I'm feeling. If I can't be honest with myself, then I'm not doing my job.
CP:
Many of your songs convey the fragility of life. Hope is an important and regenerative force, but it's not always enough to ward off the mortality inherent in nature. But in your song "The Minnow and the Trout," you question whether it's always necessary for the strong to devour the weak. It's almost written like a fable. Does the song in any way relate to what's going on in the world today?
AS:
Yes, definitely. Traveling around the world, I've seen the physical differences that set us all apart—different faces, eye shapes, skin colors. It may sound corny, but people all feel. We're all going for the same things in life.
CP:
You sing that we all started from "one cell in the sea," a view that strikes me as both scientific and romantic.
AS:
Well, looking at it from a distance, I wonder: do we have to fight with each other? People could live more harmoniously if we remembered that we all came from the same place. If it wasn't one cell in the sea, it was definitely somewhere. Whatever your views about the origin of life, you have to believe that all of humanity came from the same place.
CP:
An awkward segue perhaps, but I think most gay people have wondered why the world has to be so exclusionary—and even hateful--to them. I definitely saw a lot of gay fans at your show in New York. Guys with guys, girls with girls, intertwined with each other and singing every word. Are you aware of having a gay fan base?
AS:
Yes, I'm definitely aware of my gay fans. And I've been on tour with artists who have large gay followings. They're such a strong group—it feels like a real community.
CP:
I know you toured with Rufus Wainwright. How was that?
AS:
Rufus is awesome—I was so star struck. He is such an incredible performer, and so brave. He's completely himself in every way. He's a wild, funny, cool human being. My hat is off to him.
CP:
It's an amazing thing to be able to remain who you are amidst the inevitable process of trying to hit different niches and demographics.
AS:
Well, I've been amazed to see all different kinds of people come to my shows this year--grandparents, little kids, gay couples, young hipsters, metal heads, big trucker-looking guys. I always wanted to create music that anybody could relate to. I don't make references to "him" or "her" in my songs on purpose. I wanted guys to listen and be able to think about another guy, girls to think about girls, girls to think about guys. I mean, no matter who you are, we're all just trying to connect, aren't we?
For more information, visit
www.afinefrenzy.com
Interviewed by ChicagoPride.com
Serving the Chicago gay, lesbian, bisexual and transgender communities. ©Copyright 2019 GoPride Networks. All rights reserved.