A GoPride Interview
Jordan Liberty
Life, Jordan Liberty, and the Pursuit of Happiness
I realized you can be anyone you want to be on the Internet.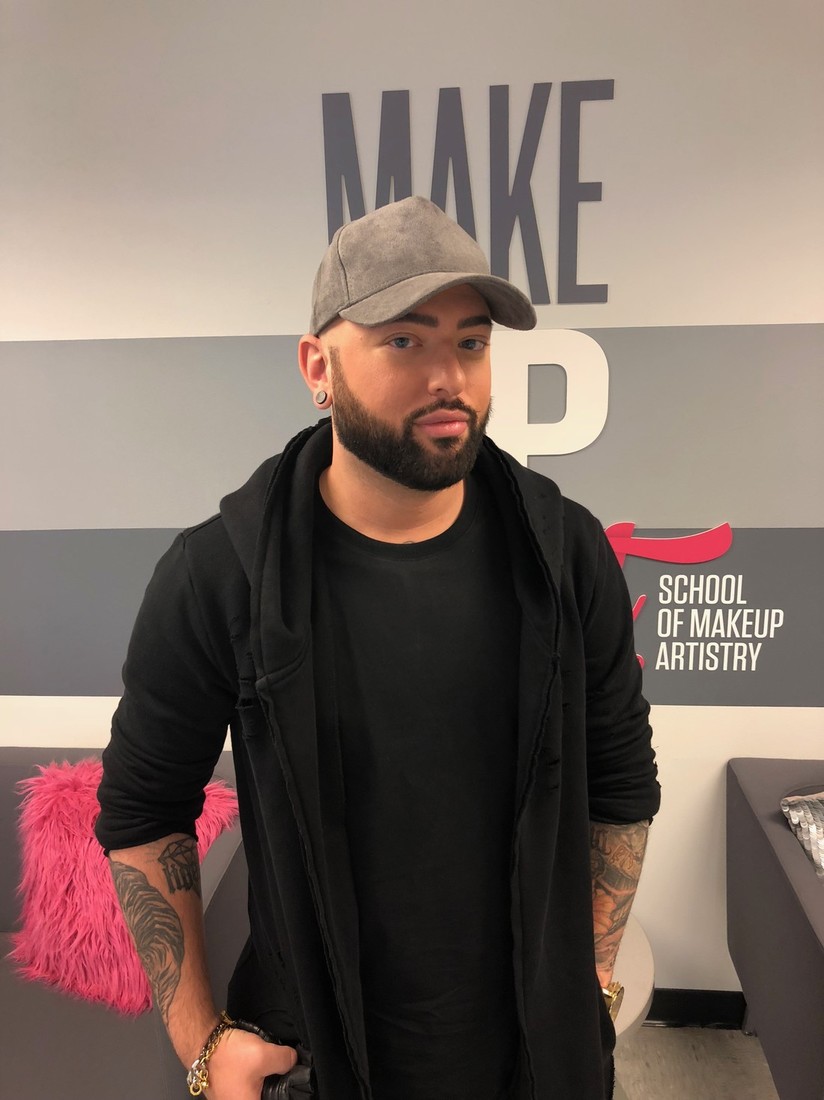 photo credit // jerry nunn
Makeup artist Jordan Liberty talks about his career
Celebrity makeup artist Jordan Liberty obviously gives good face. He is openly gay with a witty sense of humor and an impressive resume. His major credits include Glamour, MakeUp Artist magazine, and Wantable. His YouTube channel has over 300,000 followers. 
He taught a class at Make Up First School of Makeup Artistry at 100 N. LaSalle St. and sat down to talk about his work. 
JN: (Jerry Nunn)Tell me about you. 
JL: (Jordan Liberty) i'm a Taurus, and I like along walks on the beach [laughs]
JN: Good to know! Where are you from?
JL: I'm in LA now, but originally from Toledo, Ohio. I built my career in New York. I move to LA a little over a year ago. 
JN: How did you build your career?
JL: It was a lot of falling flat on my ass. Everything happened by accident. I didn't know what I wanted to do in college, so I ended up dropping out of fashion school in New York. I started art directing shoots and one day the makeup artist didn't show up. 
I filled in that day and next thing you know I was doing Fashion Week and photoshoots. I guess it stuck. 
JN: Is that common to happen?
JL: No. I don't know how I got so lucky. I am in the top one percent of makeup artists that this happens to. I think I have a business mind so that is why I have been able to succeed. Some artists may think it is fun and games, but there really is a business aspect to it. Every time you touch a face you are selling something. Time is money, too. 
As much as I would love to spend four hours gabbing with a client about their new boyfriend, it is better to get them done in 30 minutes. The client is paying for results, not to talk all day. 
I might get eight looks done in a day as opposed to three. 
JN: Do you have a favorite product?
JL: There are so many! The Kevin Aucoin Diamond Eye Gloss is one of my favorites. I am know for glossy eyes. Every magician has their signature trick and that is mine. 
JN: What do you think of makeup on reality television?
JL: I will watch the Real Housewives and I will see a makeup artist blowing on a brush on double dipping. They are TV and the hygiene standards are never there. Reality TV drives me nuts, because it encourages bad behavior even for makeup artists.
JN: Have you been asked before to do it?
JL: I have, but I don't want to. I had a big fear of public speaking until three years ago. I never wanted to be in front of the camera at all. When I started a YouTube channel I was drunk for the first 10 videos. I didn't want to do it, but I knew that was where the business was moving. I had to step out in front and elevate what I was doing. 
JN: How did the YouTube channel start?
JL: I was writing a makeup book at the time, which never came out because no one was buying books at the time. A lot of new artists were starting to look up to me. I was requested to put up some of my signature looks and promote the book. YouTube was new and people told me not to do it. I decided to do it a little differently. They are all filmed professionally. I realized you can be anyone you want to be on the Internet. I surprised people choose asshole! 
I said I was pro-makeup artist and that's what I became known for. I put it out there and really grew my name. It went from working East Coast to working worldwide, because of social media. 
JN: How did you wind up working with Make Up First?
JL: I met the company at one of the trade shows in New York. At the time I had a makeup line called Liberty Republic. Jill came up and asked me to teach in Chicago. Every time I come here this is my world. 
JN: You don't hit the bars?
JL: I did the first time. I went to Boystown and went to a bunch of bars. 
JN: What do you like about teaching workshops?
JL: I never teach the same thing twice. Every time I come I teach something different. This is my favorite workshop because it is two days and they get images of their work on day two. It is the most unique of the workshops that I do. 
I learn so much from the students. I learn what most makeup artists are lacking. That gives me clarity on what I do well. It gives a pulse of what is going on and how other artists work. I am different because I am self taught. It is good to see other artists because it is usually just me on set. 
I didn't have a makeup school like this when I was learning. They didn't exist. 
JN: Do you have a favorite tattoo?
JL: The crown here is from when my product sold out so we all got matching tattoos. This was my logo with the crown around it. 
I just got a new one in Tokyo. It means, "Seven fall, eight rises." When you fall seven times then you get up eight. I survived cancer this year for the second time so I thought it was very appropriate. 
JN: How is your health?
JL: I just had my follow up scan and my condition is stable. I had it and had surgery August of 2016. That cured it and I went back to work. I moved to LA to not deal with winter anymore. I sold my house that I only owned a year, not a good financial decision by the way!
In 2017 I was in the ER for what I thought was food poisoning and kidney stones. It ended up being stage three cancer. I was diagnosed one year after being cured. That really ruined the party!
I went through chemo and finished that in November. My counts are recovering quickly. My beard grew back, thank god. I looked like a Cabbage Patch Kid without it! 
JN: What are you working on for the future?
JL: I work on photography. I am one of the few makeup artists that does both. The only thing people have to hire aside from me is a model and a hairstylist. I love that. 
I know the retail side also, so I think eventually I want to be a creative director. This year I am adding that as something I do for companies. 
Interviewed by Jerry Nunn. Jerry Nunn is a contributing writer to the GoPride Network. His work is also featured in Windy City Times, Nightspots Magazine and syndicated nationally. Follow @jerrynunn