A GoPride Interview
Thelma Houston
Thelma Houston interview with ChicagoPride.com
Wed. August 15, 2007 by Samuel Baker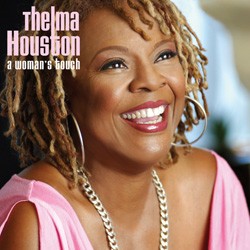 the cover of thelma houston's new cd, a woman's touch
Thelma's TouchGrammy Award Winner Re-Touches the Classics
Thelma Houston, the dynamic voice behind the disco anthem "Don't Leave Me This Way," is back with her first album in 17 years. In a clever twist, Houston uses A Woman's Touch to transform songs made famous by some of the biggest male singers in R&B and pop.
"They are songs I always wished I had recorded," she explained from her home in Los Angeles, "and I loved doing them from a woman's standpoint."
But Houston doesn't just put a female spin on the lyrics, she takes over and completely reworks the songs through soul, R&B, blues and dance floor filters. "Ain't That Peculiar" and Sting's "Brand New Day" get bluesy, sassy makeovers, while "Disco Heat/Mighty Real" (a nod to Houston's disco past and tribute to her old friend Sylvester) starts out as a poignant gospel song and closes with Studio 54-era exuberance. And then there's Thelma's triumphant return to her dance floor roots with Luther Vandross' "Never Too Much."
In the years since "Don't Leave Me This Way" topped the pop and dance charts, Houston has toured incessantly, performing over 200 shows each year, including an opening slot on Cher's Farewell tour. The tireless supporter of AIDS related charities was recently inducted into the Dance Music Hall of Fame and honored on the television show Showtime at the Apollo as an Apollo Legend.
SB:
This year, VH1 ranked your single as one of the top ten songs of all time.
TH:
Isn't that amazing?
SB:
Is it a blessing or a curse to be forever identified with such a classic?
TH:
Oh, after struggling for so long in the music business, a hit was a blessing!
I love singing "Don't Leave This Way" to this day. I never tire of it. People tell me all kinds of stories about how the song has affected them in some way. It has indeed been a blessing.
SB:
You did have your share of hard times on the road to superstardom. Is it true you grew up without a Dad?
TH:
That's true. When we first met I was a Grammy winner and well into my career.
SB:
And you had two babies while pursuing your dream?
TH:
Oh, yes. I certainly wouldn't recommend doing it that way, however, I believe that if you have the talent and you go for whatever it is you want, you can accomplish your goals. I was lucky to have a supportive family though, primarily my mother.
Without her help, I could not have done it.
SB:
How did you get signed to MoTown?
TH:
I was working in Las Vegas and Suzanne DePasse, the A&R exec at Motown, caught my show. She signed me to the label.
SB:
Did you choose disco or did disco choose you?
TH:
After years of trying to get a hit in the R&B category, Suzanne found "Don't Leave Me This Way" on a Harold Melvin and the Blue Notes album. It was her idea to re-record it as a disco record.
She was a smart cookie.
SB:
After the phenomenal success of the single, was there pressure to release another smash hit?
TH:
No. I felt like I had accomplished my dream with "Don't Leave This Way". It took years of hard work to get it so once it was mine, I basked in the glory of it. I never put pressure on myself to produce another hit. I focus on making the music that inspires me and hope that people will share the love.
SB:
Your new album was a labor of love.
TH:
A Woman's Touch is my tribute to the men who, in my humble opinion, are among the best artists of our time. My aim was not to change the meaning of the songs, I was just hoping to infuse a new personality to the classics.
SB:
You have done it, Thelma. One reviewer in Chicago said of your re-make of Sylvester's "Disco Heat/Mighty Real": "If there is any justice in the political world of dance music, it will top the dance charts."
TH:
From his mouth to God's ears! I loved recording the song. Sylvester was a dear friend.
SB:
Sylvester passed from AIDS in 1988, only 40 but with a legacy that will forever endure.
TH:
AIDS has stolen so many of my friends throughout the years. It's disheartening when I think that thirty years later, we still do not have a cure.
SB:
Thanks to activists like you, there have been tremendous advancements.
TH:
Advancements are wonderful, but we can't rest until there is a cure.
SB:
From your mouth to God's ears.
TH:
Hallelujah!
For more information on Thelma Houston and her new album A WOMAN'S TOUCH, visit
thelmahouston.com
.
Interviewed by Samuel Baker
Serving the Chicago gay, lesbian, bisexual and transgender communities. ©Copyright 2019 GoPride Networks. All rights reserved.