A GoPride Interview
Aluna Francis
Collaborators AlunaGeorge talk about touring and new music
I have a shower singing voice.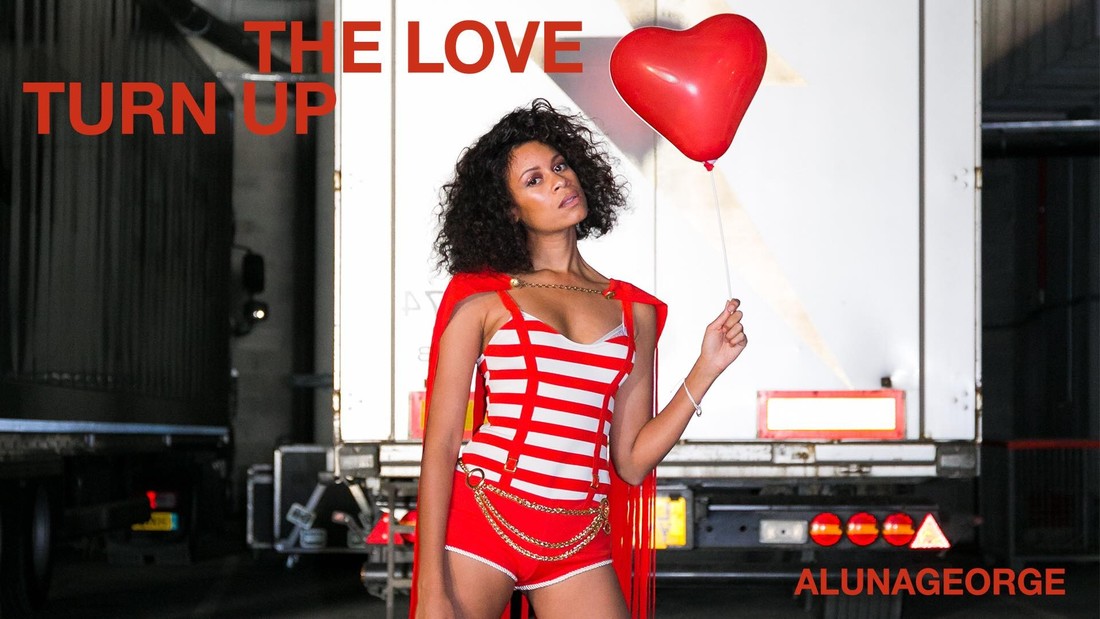 The English duo AlunaGeorge is made up of singer Aluna Francis and producer George Reid. The two met in 2009 when Reid mixed Francis' band My Toys Like Me's song "Sweetheart."
Combining their names for AlunaGeorge, they began releasing several singles. Top 40 success happened with Disclosure for "White Noise." Two new songs have just been released with "Turn Up the Love" and "Last Kiss."
Touring with Sia and Coldplay have led to new audiences and Aluna Francis sat down to talk about it in Chicago. 
JN: (Jerry Nunn) So you are from London?
AF: (Aluna Francis) Yes. Have you ever been?
JN: Yes. I thought I could walk everywhere but I got lost a lot. 
AF: A hundred percent! I needed a map for anything that I was going to at the time, because there is no logic to it and nobody knows where you are. 
JN: How did you meet George?
AF: We met on something as old school as Myspace. He saw my band on the front page of that and wanted to do a remix. 
JN: George is still in the band?
AF: Oh yes. We would make a global announcement if he leaves. He is not in the live show and doesn't do press so that is why he isn't here today. He just does production. 
JN: You have two new pop songs. 
AF: Well, "Last Kiss" is more of a ballad. We wrote it in Jamaica. 
JN: Is it a collaboration process?
AF: Yes, we just get in the studio. I see what he is vibing to that day. 
JN: Where is your music background from?
AF: I don't have a professional singing background. I have a shower singing voice. I had a boyfriend at the time. He was doing music at Ibiza so wanted help making songs. That was the first time that I thought my rudimentary skill could be applied to something as opposed to the other things I tried in life. 
I lost track of time but discovered the cure to boredom and teenage apathy. I finally knew what to do with myself. 
After that I got my private training with random singers at their house. One of my teachers had their kid on the other side of a barrier in their house crying! 
JN: You have done some strong singing collaborations. 
AF: We were born at the time when people started naming who they were collaborating with. I think as musicians we have always collaborated in the past for clarity. For example Moby didn't talk about any of the people who sang songs on his tracks. That was the tradition. There are tons of collaborations with him as the producers and everyone was doing everything else. People wanted to know who it was so it seemed like a new thing. 
JN: Do the artists reach out to you or you to them?
AF: A lot of people that I have collaborated with I have met at festivals. 
JN: The DJ Snake song "You Know You Like It" was a huge hit. 
AF: That was back when we were trying to find out who the new weird producer was. It came out and nobody really noticed. DJ Snake started to play that song in his set and as he got more famous. He was known for the heavy EDM tracks but wanted to move into the pop zone. That meant a full song vocal. He had one in the bag and wanted to rerelease it as the next track after his big hit. 
JN: Did you work in the studio for your song with Disclosure?
AF: I did. That was my first time leaving the nest. I had to be pushed out by George and my manager. I didn't know them so wasn't sure. I turned up in deepest south London where Howard picked me up. 
We went to get sandwiches and went to their dad's antique shop. They were up in the attic and started writing. 
I saw them at Christmas and asked if they liked the track we wrote together. They said, "Of course and we are going to release it."
JN: How is it touring with these massive tours?
AF: Sia was a bigger learning curve. It was a big jump. I didn't even know how to do it because I had no production. We had done Coachella, but that was a one off. We had visuals, lights, and dancers. We threw everything at them! 
That is not what we had access to for the Sia tour. We had to be stripped back. We had just the band, what we wore, and maybe some lights, but we had to entertain the same amount of people. 
We had to get our stage presence right. We had to sing on point every night. When people are finding their seats not being put off by that. When the place is only filled halfway we had to perform like everyone is there. 
JN: How is Coldplay different?
AF: It is huge. When I had done huge shows before it was a one off. I had blacked out because it was too terrifying. I couldn't do that this time. Every night I know I am doing it again the next night. I had to deal with it. There are 40,000 people out there to connect with or it is a waste of time. 
JN: Going on before Coldplay must be tricky.
AF: It is someone else's audience. It is more of an extreme difference than the Sia audience is to mine. Sia and AlunaGeorge yeah people can see that but Coldplay AlunaGeorge is vastly different. The difference between "Yellow" and "You Know You Like It." I can almost feel the hate of EDM electronica coming across but it is one of our most popular songs. We have to play it! 
JN: Coldplay is moving more into that though with The Chainsmokers song. 
AF That is true. 
JN: But you are talking more of the Radiohead sound that Coldplay has. 
AF: Yes, and that's funny because Radiohead is our favorite band. Deep down we are the same! 
JN: Do you see AlunaGeorge's sound moving into pop?
AF: We have always been in a funny space of our own. When we first started out we were doing the sound that have now. It hasn't really changed a huge amount. Back then it was weird, but now it is normal because the music industry has changed. Whatever we were tapping into a lot of people have tapped into now. 
JN: Have you played at G-A-Y in London?
AF: We were actually offered the Pride festival gig in LA this year but I was in Europe. I can't do that until I know I have put everything into it. I will dive into those honorable shows at some point. 
When they asked me I took it very seriously. I am not going to do it on the side. I was in the middle of the European Coldplay tour. I wanted to do a proper show. 
JN: Your gay audience will appreciate that. You have to have the right clothes. 
AF: At the time I only had one outfit, but now I have three! 
Interviewed by Jerry Nunn. Jerry Nunn is a contributing writer to the GoPride Network. His work is also featured in Windy City Times, Nightspots Magazine and syndicated nationally. Follow @jerrynunn