A GoPride Interview
Bishop Briggs
Bishop Briggs returns to Chicago with more music
I loved the idea of all of us having this dark side that is giving it a face.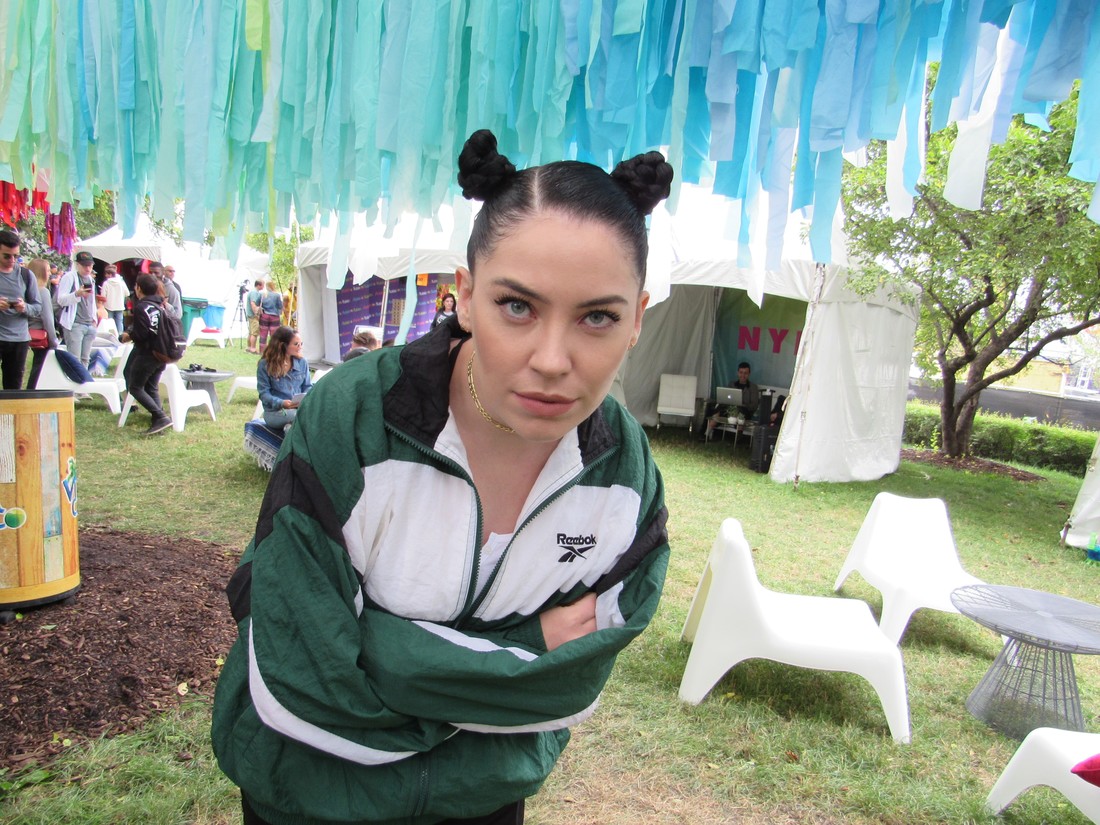 photo credit // jerry nunn
The British singer known as Bishop Briggs should be blowing up by now. Her music and voice is incredibly memorable in a sonic landscape that tends to create boring pop music. 
The well travel performer was born in London, live in Tokyo and eventually arrive in LA where she went to school at the Musician's Institute. 
With songs such as "Wild Horses" and "River" she opened for Coldplay in 2016. Her self titled EP was released in April of this year with new songs. 
This emerging artist is on the way to big things and sat down recently to talk about it. 
JN: (Jerry Nunn) I heard you became noticed in the first place through a karaoke bar. Did you know the same thing happened to singer Sia?
BB: (Bishop Briggs) No, I didn't, and that is changing the game for me! I lived in Japan and karaoke is the go to thing to do there. I first saw my dad doing it and singing Frank Sinatra. That's when I got the bug, really early on. 
JN: Are you a Sinatra fan?
BB: I went up and did something super low key. I sang "Greatest Love of All" by Whitney Houston. 
JN: That is not an easy song. 
BB: I didn't do it justice. I did a terrible job. I was into the Motown world, so Otis Redding, and Aretha Franklin. Those were my favorite artists. 
JN: Motown the Musical is great. 
BB: I have to see it. 
JN: What is your favorite musical?
BB: I love Book of Mormon and Hairspray. With Wicked I cry every single time, no matter how many times I see it. 
JN: Have you seen Hamilton yet?
BB: Oh my god, that should have been my first choice as favorite musical! That soundtrack I listen to every day. I'm a bit obsessive about it. 
JN: Do you speak Chinese?
BB: I should, but I went to international schools so I only know enough to take me around in a taxi in Hong Kong. 
JN: When was the first time you heard your song on the radio?
BB: I was leaving rehearsal and everyone in the band had already heard it on the radio. It was "River." It was a moment when I wanted to film what was happening. I wanted to call my parents and friends. All of these things are very unsafe to do on the road. I freaked out and pulled to the side of the road. It was on K-Rock. It was the coolest thing. 
JN: Since you have a song titled "Dark Side," what is your dark side?
BB: I feel like every time I write it's my dark side. I feel it is more of my honest side and who I actually am. I think we all put on a front of who we actually are. It is generally lighter, because that is more socially acceptable. The place that I write from is never like that. It is a lot more raw and real I feel. It is a darker side. 
JN: Do you feel people have the wrong perception of you from your songs?
BB: You never know how you will be interpreted. I loved the idea of all of us having this dark side that is giving it a face. Making it a taunting figure that is teasing you. That's why some of the lyrics are "we're going to have a good time because I am not going to leave. I will always be there lingering like a dark cloud over you." That was the idea behind it. 
JN: Seems like you music is made for movies. Would you be interested in that?
BB: That would be amazing. 
JN: Do you have a favorite movie?
BB: I love Requiem for a Dream, and Before Sunrise. Those are my top two. 
JN: Before Sunrise is romantic. 
BB: Yes, but super dark. The undertones are very dark. 
JN: How do you protect your voice on the road. 
BB: I warm up for 45 minutes before I go on. I drink Throat Coat tea. Those are my little secrets. 
JN: What do you recommend for an artist starting in the music business?
BB: It really has to be their soul purpose. There can't really be a plan B, because it should be their whole being. It is their words, and melodies. They have to believe in themselves in order for other people to believe in them. Sometimes others won't believe in you so believe in yourself. They need to have a passion for it where they can't be doing anything else. 
JN: You have to sell these songs, right?
BB: Totally! 
JN: Some of your gay fans wanted me to tell you, "Hi." 
BB: I have gay fans? That makes me so happy. 
JN: Would you perform at gay Pride festivals?
BB: You don't even know but that is on my bucket list as a performer. I want to do gay Pride. They have all come and gone this year, but I want to next year. I think the energy is just insane at those music festivals they have around Pride. 
JN: Maybe some gay bars gigs…
BB: I would so be into that. 
JN: You have a pretty name with Sarah Grace McLaughlin. Why did you change it?
BB: So with Sarah McLaughlin that was already taken with the famous Canadian singer. I don't want to compete with her, because she is incredible. I had to do something different. I wanted to pick my hometown so I am reminded of where I come from. 
With this music it needed something different so I went with a different name. That is how it came about. 
JN: How often do you go back to your hometown in Scotland?
BB: Not very often, but I used to go every single year meticulously. I recently got to visit, because we were doing a little tour where we passed through. I got to hang out with my aunt. 
JN: Did your family know you can sing?
BB: I always sang around them. That is the thing, they have always been supportive since the beginning. 
JN: When are you coming back to Chicago?
BB: I will be at Riviera Theatre on Nov. 11 with Bleachers so I am very excited. 
JN: I interviewed Jack Antonoff from Bleachers. Isn't he the sweetest?
BB: He's the best guy ever. 
JN: I interviewed him one time and he said to me that his dad did a lot for African American rights during the Martin Luther King, Jr. era and he wants to do the same thing for gay people. 
BB: I am so glad we are in the same head space!
Interviewed by Jerry Nunn. Jerry Nunn is a contributing writer to the GoPride Network. His work is also featured in Windy City Times, Nightspots Magazine and syndicated nationally. Follow @jerrynunn