A GoPride Interview
Jonathan Jackson
Jonathan Jackson leads his band, Enation, out of Nashville
There was a time where it was three men and a baby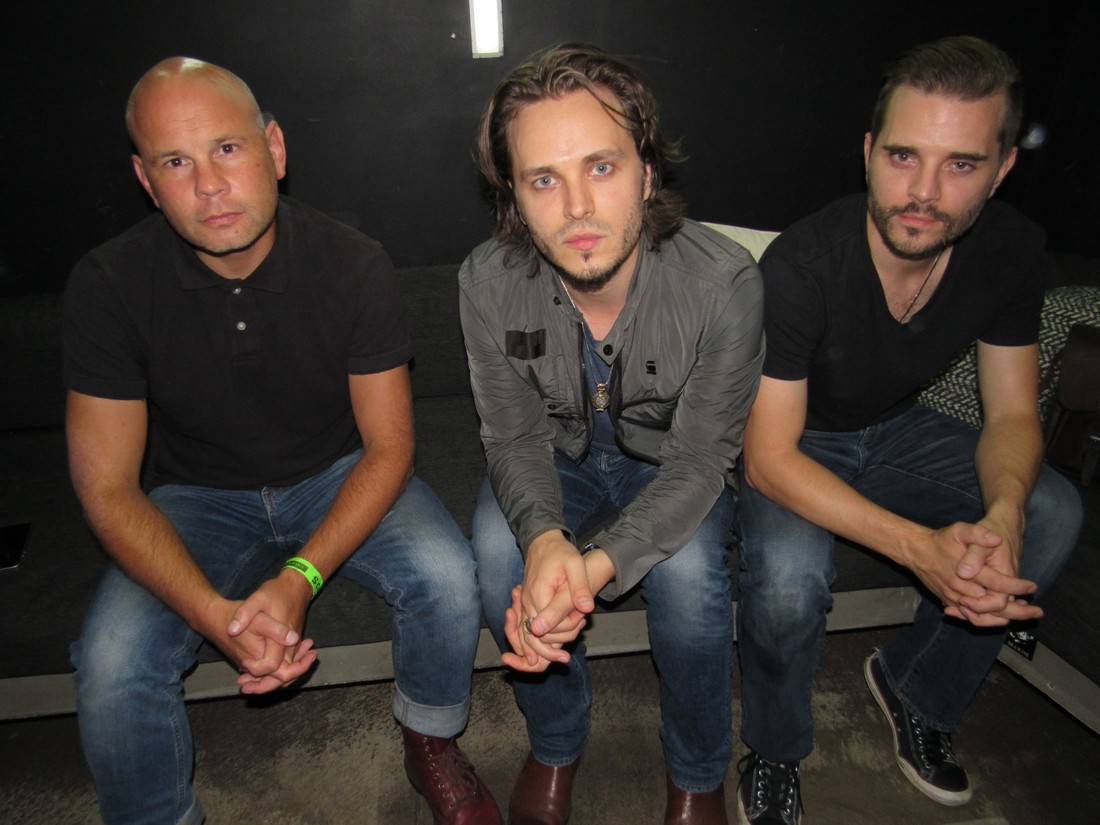 photo credit // jerry nunn
Jonathan Jackson is a singer and actor with an impressive resume. He played Lucky Spencer on the ABC Daytime soap opera General Hospital where he won five Emmy Awards. His movie roles include Jesse Tuck in Tuck Everlasting, Vincent Cappadora in The Deep End of the Ocean and Dirty Dancing: Havana Nights as James Phelps. On television he portrays Avery Barkley on Nashville as part of the main cast. 
His band Enation is made up of his brother Richard Lee Jackson and Jonathan Thatcher. They sat down to chat while on tour recently. 
JN: (Jerry Nunn) So everyone lives in Nashville?
JJ: (Jonathan Jackson) Yes, before we lived in different place. I started working on the TV show Nashville so that was the first thing that brought us there. We have been living there for about five years. 
RJ: (Richard Lee Jackson) Our music team is there and we have good friends that live there. It is a great town. 
JN: Do you like traveling?
JJ: I don't mind traveling, especially to play music. I like the immediacy of performing live. It is really fun. 
JN: Talk about the album Anthems for the Apocalypse. 
JJ: It is an alternative rock record. It is a lean rock album. We wanted to make a driving record. Something people could put in their car and drive to. It is pretty fast paced. 
Lyrically for me it was a paradox to have music out there on the edge.
RJ: With Jonathan and I being from the northwest originally I think there is the grunge influence in there. It rattles around in our head, like Pearl Jam and Nirvana, bands like that. We though that would be fun to explore that a bit. 
JN: So influenced by that, any country?
JJ: There is no country on this record. Some of the other influences would be Echo & the Bunnymen, Radiohead, and bands like that. 
JN: The Nashville Soundtrack was just released when you are in the middle of all of this. 
JJ: Yes, for season five. 
JN: Do you perform songs from that or is this separate?
JJ: It is totally separate. A song of ours was actually on the show called "The Morning of the Rain" so we perform that from time to time. Right now in our current set list we don't have any other songs from the show. 
JN: When you are not filming the show then you are on tour?
JJ: Pretty much or recording a record. It has been a lot keeping both worlds going. We are also looking at the future when Nashville has run its course. We want to have things musically set so we can keep doing what we are doing. 
JN: This is an independent act so all hands on deck.
JJ: It is a collective input so we all make it happen. We have a good team but this is very band driven. 
JN: What is one funny thing about working with Hayden Panettier on Nashville?
JJ: There are so many. She is a riot. She has a great sense of humor and is so fun to work with. She keeps everybody on their toes. Her and I wind up laughing a lot when we are together. We both have been working professionally since we were very young. There is a connection there. 
She's a blast. I love working with Hayden. She's incredibly gifted as an actress. She's amazing.
JN: Is Nashville different now that it is on CMT?
JJ: Yes and no. I think they did their best to keep it consistent so that people watching didn't feel jarred. There are some differences. We have a new show runner and writers so they have different sensibilities and instincts for the pace of the show and all of that. It is a paradox. A lot of it it is the same, but there are some differences as well. 
JN: You have a gay roommate on the show?
JJ: Yes but currently he is not my roommate. There was a time where it was three men and a baby. That's what we called the storyline.
JN: How was performing at the Grand Ole Opry?
JJ: It was amazing. That was a shocker because I never thought it would be part of the deal. 
I started doing the show and they asked if I would come perform. There is such a musical history there and reverence towards music. It was very special. 
JN: Was being in the movie Deep End of the Ocean an emotionally draining experience?
JJ: I guess so. It was wonderful working with Michelle Pfeiffer. It wasn't easy, but I walked away feeling really good about it. 
JN: What is one thing you learned from soap operas?
JJ: A few things…
RJ: They are not really dead!
JJ: A work ethic. 
JN: You won several Emmys so it was not a little thing.
JJ: I think I was encircled by Anthony Geary and Genie Francis. Everything I learned as a young actor I picked up from them. I was soaking in what they were about. That has stated with me for sure. 
JN: Any more movies coming out?
JJ: Not currently. I finished filming season five on a Tuesday and Wednesday I was flying to the UK for a tour. I have been touring all summer so there really hasn't been any time for other projects. I film Nashville and go do Enation. 
JN: What do you want people to know about you as a band?
RJ: We would like the music to stand on its own. Just give it a fair shake. To listen to it with open ears and enjoy it.
Interviewed by Jerry Nunn. Jerry Nunn is a contributing writer to the GoPride Network. His work is also featured in Windy City Times, Nightspots Magazine and syndicated nationally. Follow @jerrynunn
Serving the Chicago gay, lesbian, bisexual and transgender communities. ©Copyright 2019 GoPride Networks. All rights reserved.