A GoPride Interview
Laura Pergolizzi
Singer LP talks about Cher and 'Orange is the New Black'
If you can't tell I am gay person in the first few seconds of laying eyes on me then I feel bad for you.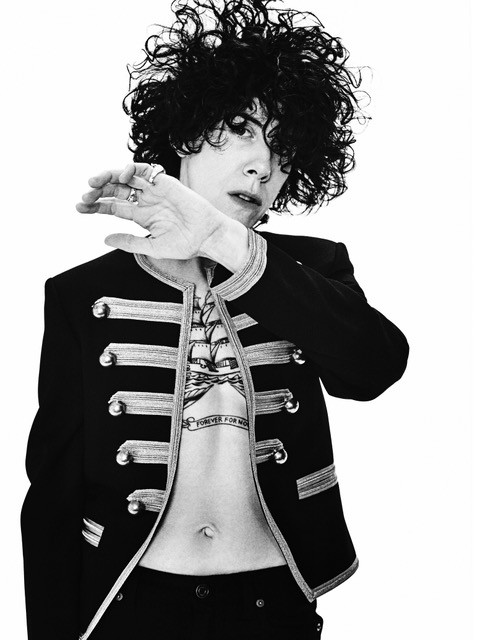 photo credit // michael comte
Hailing from Long Island, Laura Pergolizzi with the stage name of LP had released three albums and one EP. The out and proud songwriter has written for Cher, Rihanna, and Christina Aguilera. 
She was brought to attention by David Lowery of the band Cracker then worked with producer Linda Perry on her record Suburban, Sprawl & Alcohol.
Her song "Muddy Waters" was featured on Netflix's Orange Is the new Black and she packs that up with several other tunes to play a sold out show at Lincoln Hall on June 9.
JN: (Jerry Nunn) Where in the world are you calling from?
LP:  (Laura Pergolizzi) I'm in Nashville. I have the day off. I did a show here last night. I am bowling right now. You get to bowl with me! 
JN: Great. I hope you get a strike. Did you always want to be a singer?
LP: I had no idea I would be a musician. I grew up in an academic family. I thought I would be a doctor to be honest with you. 
My mother passed away when I was young. I didn't know what to do with my life. I decided to do something I loved, which was not something I was brought up to do. I went to school because I had to and was taught to do something that would make a lot of money. That was my dad's whole thing. It was about what he wished he had done with his life. 
I became a musician not knowing anything. I tried to make my way. Seven records deals later it is going good! 
JN: So you learned on your feet, but have written for a lot of other musicians in the process. 
LP: Yes. The writing thing came out of me trying to be an artist. I got an indie deal at the beginning then a major one. Everyone thinks they want a major deal. 
I wrote around 140 songs. One of them got picked up by the Backstreet Boys. 
I just bowled a strike. That bodes well for the interview! 
Anyways, the Backstreet Boys was my first big cut. Ironically I wrote it on the day my father died, which is insane. I never really thought about that. 
That launched me into a songwriter career. I was making a living with a songwriting career. Who knew?
I kept my head down and kept going. After writing songs for a few years the new management I got didn't want me to let go of my singing career. I had newly been playing the ukulele off the cuff. I fell in love with and it brought out all of these songs in me. I wrote "Into the Wild" and all of these songs. I had got a huge hit with Rihanna at that time. There was a lot of hype about me for a second. I got a deal with Warner Bros. I put out a couple of records with them. It got bumpy there with not putting records out on time. 
I have been able to write through everything. No one can come to your house and stop you from writing songs. That is why I kept doing that. I found that to be the best thing.
JN: How was it working with Linda Perry. 
LP: She is a genius and a badass. She really gets it. She is a musician. It is like being in the studio with Prince or what I imagine that would be like. 
JN: Did you happen to see Cher on the Billboard Awards?
LP: I didn't. Was she great? I was happy to hear she was back in action. 
JN: She was wearing pasties. 
LP: No shit! How did her boobies look?
JN: They looked great. They probably cost a lot of money. 
LP: Nothing wrong with that. 
JN: Was it a dream writing for her?
LP: Yeah. I had written a song called "Pride" for Cher. I was really hoping the gay community would get on it. It was on the deluxe record. Maybe I will be revive it one day. 
JN: How important is it for you to be an out artist?
LP: It is important, but not my go to. If you can't tell I am gay person in the first few seconds of laying eyes on me then I feel bad for you. It is not my calling card, but I live authentically. 
In my first video "Lost On You" I was in Europe and was being interviewed. They mentioned that I was kissing women. I said, "Most men are gyrating on women. I just peck a girl and people freak out." 
I love being a gay musician, man. It's great! 
JN: Were you a big Orange Is the New Black fan?
LP: Oh yeah. I was so stoked. I still haven't seen that scene. Everyone has ruined it for me completely. I know what happens. It is really cool to be a part of that show. 
JN: What are your plans after the tour?
LP: The tour ends on June 12 in LA then I leave on June 14 to do two months of festivals. I am gone until after the summer. 
JN: Sounds good. I will let you get back to bowling. You better win...
Interviewed by Jerry Nunn. Jerry Nunn is a contributing writer to the GoPride Network. His work is also featured in Windy City Times, Nightspots Magazine and syndicated nationally. Follow @jerrynunn