A GoPride Interview
Kevin Aviance
Kevin Aviance interview with ChicagoPride.com
Wed. November 29, 2006 by Ross von Metzke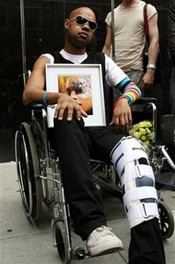 kevin aviance leaving the hospital in june
Just a few short months ago, life seemed pretty bleak for New York club performer Kevin Aviance.
The performance artist and singer, best known for the club hit "Alive" and his appearances on
America's Next Top Model
, was beaten to near death by four men as he was leaving a club in the wee hours of the morning last June. Aviance was taken to New York's Beth Israel hospital where he had his jaw wired shut and was treated for severe bruising all over his body. The men were apprehended by the crime division of New York's Police Department, but the damage to Kevin, both mental and physical, was done.
The recovery has been slow, but Aviance has bounced back—just weeks after being released from the hospital, Aviance, decked out in a glitter drenched top hat, jaw still wired shut, strutted down Fifth Avenue for New York's Gay and Lesbian Pride Parade, fans showering him with applause and cheers of support. In addition to prepping a U.S. club tour for the coming year and a private label fashion line to debut sometime in 2007, he's taken on the role of activist, speaking out at events and rallies against hate crimes and violence.
Now, five months after the attack that left him battered and bruised but ready to fight, Kevin Aviance talks to us for the first time about his recovery, the outpouring of support from friends and fans and what the entire experience has taught him about life.
RVM:
(Ross von Metzke) Kevin, first off, how are you feeling? You have a ton of fans coast to coast who are all hoping and praying for your speedy recovery.
KA:
(Kevin Aviance) Wow, I feel blessed, and I just want to thank everyone for their prayers. From the outside looking in it seems that I've recovered, but their are a lot of little things that still nag at me, such as my knees, on really bad day, and my jaw gets tired after a long day of talking, which is not normal for me. My mental state is a little shaken. There is not a moment that goes by that I can seem to put away this memory. All in all it is going to be a long road to a complete recovery, if any. But I know I am blessed. By having the proper professional help, this will help me gain the strength, sanity, and understanding of me—the new Kevin Aviance.
RVM:
What happened to you is something that would get almost any man down. But you have such a fighter's spirit. What caused you to react and speak out almost instantly after the attack?
KA:
If you know me, this is just the way I am. I also have a lot of incredible people around me who are extremely supportive.
RVM:
How has the response been in New York, that you've seen? I can imagine the attack sent shockwaves through the gay community there.
KA:
New Yorkers were there for me, and I am so blessed and fortunate to have had that.
RVM:
Have you ever asked the question, 'Why me? Why did this have to happen to me?'
KA:
Well of course! I was completely gagging and in such pain. My faith said to trust in him—'he only gives what you can handle.'
RVM:
You appeared on
The Tyra Banks Show
recently to talk about the attack. You have so many friends in the entertainment industry. How have friends like Tyra and others helped you to get through this?
KA:
Tyra is a brave, woman—so strong. It was her idea to bring my story to the light. She and many others called me while I was in the hospital; offering their help, and sending me positive energy. It was pretty overwhelming for me. I cried and cried everyday. I really lost it when Janet Jackson sent me a bouquet of balloons and lillies. This is what moved me to keep my head up. I got love from all over the world.
RVM:
Is there a piece of advice, a pearl of wisdom that someone offered to help you get through this?
KA:
Everyone was like, 'Kevin. If anybody could bring this to the light, it would be you.' I was not ready for this, but who is? I knew this was way bigger than me. There is a big problem here in this country, and we need to re-teach the simple factors of life. People need to be more tolerant of each other. No one should put their hands on anyone just because you don't agree with them. I am a lucky person. I survived, but I am not going to be quiet and just let this manifest and spoil my soul. I am going to continue to be an advocate on this, and many other issues that fester in the LGBT community. My voice will be heard by millions. This is going to end.
RVM:
Did it shock you at all that in 2006, gay bashings in cities as progressive as New York still happen?
KA:
You are talking to a person who wakes up in the morning, gets dressed and could care less about what people have to say. I always wear what I want and feel I need to give it to the world; never hiding who I am. So, when this happened, it was so surreal. It does not matter who is progressive and who is not. Those four young men thought it was a cool thing to do because that's all they probably knew. This attack has really opened my eyes. We all have to be aware of our surroundings and understand that it could happen to anyone of us. If this is ever the case, I say run as fast as you can to safety. Know where you are at all times. It does not make you less if you do not defend yourself, just protect yourself. These haters do it until they get results. So run, scream and get people's attention to help you. It is about one thing, and that is living. Trust god, for he will take care of it. He always does.
For more information on Kevin and his upcoming projects, visit
www.kevinavianceworld.com
Kevin makes his first appearance in Chicago since the attack, Saturday, December 9 at Circuit Nightclub, 3641 N Halsted.
Interviewed by Ross von Metzke