A GoPride Interview
Yukimi Nagano
Little Dragon Grows Bigger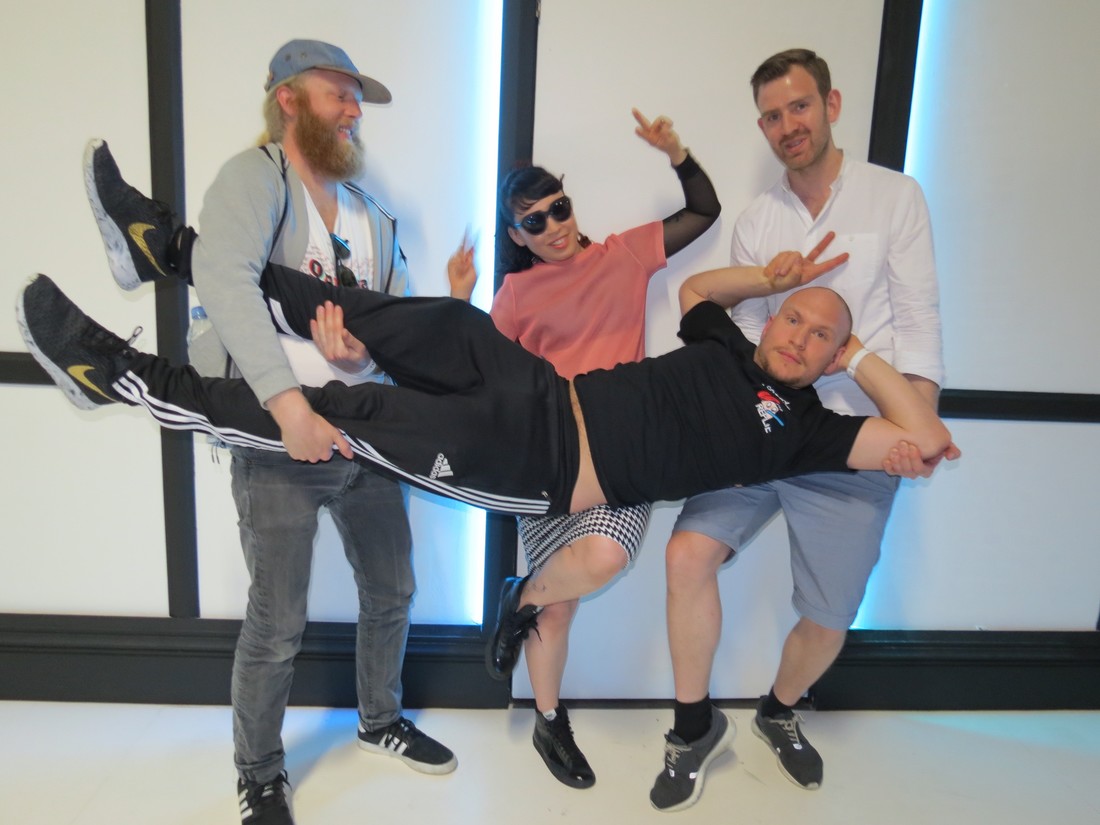 photo credit // jerry nunn
Little Dragon is interviewed in Miami
The Swedish electronic pop group Little Dragon is growing bigger every day. Formed in the late '90s in Gothenburg the band is made up of singer Yukimi Nagano, drummer Erik Bodin, bassist Fredrik Kallgren Wallin, and keyboardist Hakan Wirenstrand.
The band's fourth album was released last year titled Nabuma Rubberband.
They made an appearance at the launch party in Miami for a new beverage brand called Oculto and ChicagoPride spoke to them about their music.
JN: (Jerry Nunn) I am so excited that you are all coming to Chicago soon.
FW: (Fredrick Kallgren Wallin) Yes, at the end of May.
JN: You have been to Chicago several times in the past I believe.
YN: (Yukimi Nagano) Quite a few times.
FW: We did Lollapalooza.
YN: And a few clubs back in the day.
FW: We always have good shows in Chicago.
YN: The first show we did was the Kinetic Playground.
JN: Where did Little Dragon meet in the first place?
YN: High school.
JN: Explain the name of the band.
YN: Erik thought of the name. We have made up so many different stories so I am confused on which one to choose right now.
JN: I want the truth!
YN: The actual truthful story is Erik called me up and told me about it. Everyone loved the name.
JN: What do you think of other Swedish acts like Robyn?
YN: There are so many Swedish artists. I really like The Knife.
FW: Peter Bjorn and John.
JN: I interviewed those guys at a pizza party.
YN: First Aid Kit I like also.
JN: They are up and coming. How did get involved with the Oculto event?
YN: We were asked. It looks to be really fun.
JN: What was one thing you learned from working with Gorillaz on the track "Empire Ants?"
YN: We learned a lot of things from the Gorillaz. Me and Fred shared a bus with Bobby Womack, who performed with them. He passed away last year so it was a special time.
FW: We learned to always believe in yourself and stick to what you do.
JN: I heard Janet Jackson was an inspiration for the newest album. Is that true?
YN: She is not the main inspiration but for a couple of songs. There were so many inspirations. Fred discovers a lot of new music. We all love listening to music. Anything we come across can be an inspiration.
FW: I think we inspire each other. The beats and voice can make you want to make something cooler.
JN: You have songs on the game Grand Theft Auto. Do you play video games?
FW: I used to.
YN: I like Super Mario Brothers!
JN: What does the rest of the year look like for you?
YN: We have this tour in May in the US then there are festivals in the summer in Europe.
FW: There is a Lollapalooza in Berlin this year so we are doing that one in September.
YN: We are writing a new album also.
JN: Do you write much while touring?
FW: No, we try to focus on it when we are home.
JN: What do you want people to know about Little Dragon?
YN: We are a homemade act. We put a lot of work into touring and word being spread organically. Things have happened by word of mouth for us. It has not exploded overnight so that has been an important part of our journey. It still keeps growing in that way.
Ride the Little Dragon at Concord Music Hall, 2047 N Milwaukee Avenue, on May 29. Visit little-dragon.net for more details on the band.
Interviewed by Jerry Nunn. Jerry Nunn is a contributing writer to the GoPride Network. His work is also featured in Windy City Times, Nightspots Magazine and syndicated nationally. Follow @jerrynunn