A GoPride Interview
Darren Stein
Truth or Darren: an interview with 'G.B.F.' director Darren Stein
I think there was a wink and a nod to every character if you look at them. I like to pay attention to that.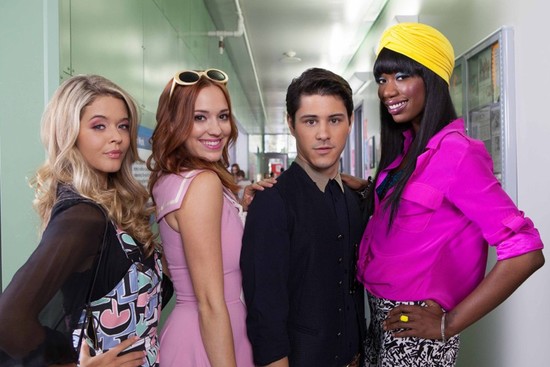 Gay filmmaker Darren Stein takes us back to school with his campy and colorful new comedy G.B.F. (Vertical); familiar territory for Stein, who also directed Jawbreaker, the classic '90s Mean Girls precursor. G.B.F. (Gay Best Friend, for the uninitiated) cranks up the homo high school hi-jinx with a story about an unintentional outing and the resulting chaos that ensues. Narrator Tanner's (Michael J. Willett) transformation from invisible man to in-demand dude is both hilarious and heartbreaking as he navigates the choppy waters of the high school shark tank. I spoke with Stein about G.B.F. shortly before its theatrical release in early 2014.

GS: (Gregg Shapiro) Darren, were you someone's G.B.F. when you were in high school?

DS: (Darren Stein) I went to an all-boys school, so I didn't have that experience in high school. I had female friends in college, several of them. When I graduated from college, I became very close with a close friend of my mom's [laughs]. So, I always had close female friends. Obviously, this is before the G.B.F. moniker was invented.

GS: Are you still in touch with any of them?

DS: I am! I actually just called my mom's friend [laughs] yesterday. I think the relationship between gay men and women is a very special one, and not one that comes easily. It's not like you can just order up a gay friend; or any friend for that matter. Obviously, there's a certain absurdity to the trend of the G.B.F. and the idea that these girls today think it's something on a must-have list. The film makes fun of that notion, but also celebrates the friendships.

GS: With each successive generation, having openly gay friends while you're in high school will only increase over time, don't you think?

DS: Yes. Down the line the moniker G.B.F. will be an ancient relic. It will be perfectly normal to have friends no matter what their sexual orientation is.

GS: High school is a popular theme in your movies G.B.F. and Jawbreaker. You said you went to an all-boys school; how would you sum up your high school experience?

DS: It wasn't the most exciting experience of my life [laughs]. It was a very sports and academically oriented school, and pretty cliquey as well. Most of the guys came from private and prep schools and I came from a public school. I didn't really know anyone when I came there. I was there from (grades) 7 to 12, a full six years. Growing up, high school movies such as Valley Girl, Pretty In Pink, Ferris Bueller… and Fast Times…, all those John Hughes movies especially, even the trashier ones such as Girls Just Want To Have Fun, presented a world that I personally didn't get to experience. But for gay kids in high school, the girls give you validation, give you self-esteem. They make you relevant to the heterosexual male population because the straight guys want to know what makes you so special or they want to use you to get to girls. I think it's a much more normalized world when it's a coed setting. I think I have a small, special high school wound that I didn't get to experience this [laughs].

GS: I'm glad you mentioned the John Hughes movies and others, because high school movies are a successful genre unto themselves, from Rebel Without a Cause to Hughes' series to Heathers, Mean Girls and Easy A, to name a few. Did you look to any of your films' precursors for inspiration and motivation?

DS: Yes. Part of the fun of the screenplay is that it plays with tropes from teen films of the past. I think the writer (George Northy), because he's a lot younger than I am, a lot of his references were more modern, such as Mean Girls, Easy A or Saved. We all have a fondness for the movies we grew up with and for me it's much more Fast Times…, Carrie, Rock and Roll High School, Valley Girl, Pretty In Pink and Sixteen Candles. Because the world was so heighted and the film is clearly playing with those tropes of the mean girls and the outsiders and what it means to be yourself in high school today, and still be accepted or not, was fun to go back and reference all those films. There are little references throughout the film, visually and also musically. One of my favorite references was repurposing Spandau Ballet's song "True," from the dance party scene in Sixteen Candles and using it when the two boys dance together in G.B.F. The version in G.B.F. is by a shoe-gazer band, so it's a lot more emo and feels a lot more today. But I think people from our generation will recognize it and tap into the experience of having watched Sixteen Candles.

GS: In the last couple of years, LGBT high school movies, such as Pariah, The Perks of Being a Wallflower, Geography Club, First Period, and now G.B.F. indicate that this sub-genre has come into its own. What does it mean to you to be a player in this arena?

DS: I feel very grateful to have made G.B.F. Getting films made is never easy, since I've only gotten to make a film a decade. Both of my movies capture not only what is happening in the year, but also in the decade. I think if you watch Jawbreaker, you can go back and say, "that was really '90s and bizarre," and with G.B.F., "that was a time when girls were calling gay guys G.B.F.s, that was really strange." I feel like there is a through line between Jawbreaker and G.B.F. both films have a stylized feeling to them and feel timeless, and hopefully they will be the kinds of films you want to revisit.

GS: G.B.F. has a wonderful cast of new, young actors and seasoned pros including Megan Mullally, Natasha Lyonne and Rebecca Gayheart (who was also in Jawbreaker).

DS: For me, casting the most important part of the filmmaking process. I'm very specific about each and every character. Especially in a film such as G.B.F., where it's such a huge world of characters. It was a definite process to find exactly the right person for each role and make the film accessible, not just to kids today, but people in their 20s, 30s, 40s, every generation. I think every great teen movie should do that. We all went to high school, we all have the wounds, good and bad. The happy memories of high school. I think, for the audience, using Sasha (Pieterse as Fawcett) from Pretty Little Liars is referencing something new in pop culture. Whereas using someone such as Rebecca Gayheart is a wink because she was in Jawbreaker, and she was a teenager and now she a mother. Natasha Lyonne, who was in But I'm A Cheerleader is a reference to one of the pioneering LGBT teen films. I think there was a wink and a nod to every character if you look at them. I like to pay attention to that. It's an honor to be able to make a film and you want to populate it with all the right choices.
Interviewed by Gregg Shapiro. Gregg Shapiro is both a literary figure and a music and literary critic. As an entertainment journalist, his work appears on ChicagoPride.com and is syndicated nationally.