A GoPride Interview
Margaret Cho
"Mother" superior: an interview with Margaret Cho
I never got permission! I've been making fun of my mom since I was a really young kid.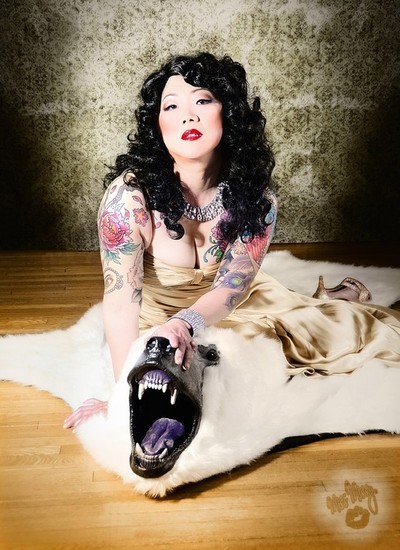 photo credit // missmissyphotography.net
Grammy-nominee Margaret Cho is constantly evolving professionally and personally. Starting out as a comedian, Cho branched out into acting, activism, burlesque and with Cho Dependent, released in 2011, she became a full-fledged singer/songwriter. A longtime, outspoken and close friend to the LGBT community, Cho is known and loved for the way she embraces her gays and includes them in her stand-up material. Cho is re-embarking on her latest comedy tour, titled Mother, this fall. (Margaret Cho performs at the Chicago Theater in Chicago on Oct. 19 and at The Wiltern in Los Angeles on Dec. 6.)

GS: (Gregg Shapiro) Margaret, I spoke to you earlier in the year as you were kicking off the Mother tour and I had the pleasure of seeing the show in West Palm Beach (Florida). How would you rate the experience of the tour on the whole?

MC: (Margaret Cho) It's been amazing because I had a little bit of a break from doing standup and now I'm getting back to it. It's the most exciting thing. It's the thing I love to do the most and what I think I'm best at and what I think energizes me in every way. I'm doing different things every day, different material, different comedy. Sometimes even a little bit of music, here and there. It's a great thing when you've been working as an artist for a long time and you have a lot to draw from.

GS: That way you're not bored either.

MC: Yes. It's also a way for me to get out some of the things I've been thinking about in the last few months when I haven't been touring. This is my life as a touring artist. I never think I would have to take breaks but now because I do many other things I do have to take breaks from touring. It's great to get back out there. It's great to go out there with my best friend and mentor Jim Short. He's phenomenal. We're really excited.

GS: The tagline for Mother is "Nothing is sacred. Least of all this."

MC: I think that motherhood is considered a sacred thing. But a mother has to have sex in order to be a mother. You have to have sex quite a lot of times, actually, in order to get it to work. That's sort of my thing. Being maternal doesn't necessarily mean being holy, being sacred. Even though I'm not a mother myself, there are a lot of people who relate to me as a maternal figure because of my age. I think that makes me a mother of the world by default which is great. I really think that's cool. The show is also about my mother, which is a popular thing in my work over the years.

GS: I'm glad that you mentioned your mother, because being the mother of a comedian brings its share of challenges and rewards. How do you think your mother really feels about being a part of your act?

MC: I think she loves it! I think she loves the feeling of being included and feeling like she's being seen and heard; that her words and presence have a lot of value to me.

GS: When you first began to include material about your mother in your shows, did you take the "it's easier to ask forgiveness than permission" approach or did you get her blessing right away?

MC: I never got permission! I've been making fun of my mom since I was a really young kid. It was clear it was going to do that when I became a comedian. There was never a question of what I was going to talk about. It was always assumed that I would talk about her.

GS: Mothers like to give advice, good and bad. What is the worst advice your mother ever gave you?

MC: I think the worst advice is to pluck above my eyebrow line. She does that. That was bad advice.

GS: Who are some of your favorite mothers from history?

MC: Let's see... I think Madonna's great as a mother figure. I talk about that in my show. Lady Gaga is sort of a mother figure in my show. I always liked Kathy Griffin's mom. Ellen's (DeGeneres) mom is great. Moms of comedians are lots of fun.

GS: There are different kinds of motherhood – as a dog-person, do you feel like your dogs fulfill the mother/child relationship for you?

MC: Oh, yes! It is a very enriching thing, a very powerful thing. I think animals and people are meant to cohabitate. I think it's a valuable relationship. I don't think it competes with the mother and child dynamic, but it's certainly something that satisfies a very important need. I would say it's a separate thing from the mother and child dynamic. It's on a different kind of scale and level entirely. But my animals are very important to me. People I know who have animals are deeply devoted to them. It's not really the same. Children are obviously much more important. With an animal your interspecies differences are always going to be there. It's just different.

GS: Do you have plans to record or film the Mother tour?

MC: Yes, that will happen later in the year when I finish out the tour. It should be out around Christmas or so.

GS: I recently interviewed Drop Dead Diva's creator Josh Berman and we talked about what it means to him that the show was saved from cancellation. As a cast member, what does it mean to you?

MC: It's really great. I think the show is great. I'm so excited. I've never seen that happen before. To have something that was canceled and then renewed, it was a new phenomenon. I didn't realize that could happen.

GS: I was glad to hear that your new album incorporates music with comedy in a way similar to Cho Dependent. What can you tell me about it?

MC: It's finished. Right now I'm putting everything together. I won't release it until I finish my tour, because I want to come back and make videos. It goes into really weird territory. I was imagining what musicians from North Korea would sound like. I thought they would sound like country musicians. I think North Korea probably sounds like Nashville in the '50s [laughs].

GS: Not Death Metal?

MC: No. It's very country and very simple. Also, I've written songs for Yoko Ono, which Sean Lennon cried when he heard them. Maybe she'll sing them. I don't know, we'll see. I wrote this really super cool disco song. I love Donna Summer and I wanted a song that was like Donna Summer, but also like Yoko Ono or really early Blondie.

GS: That's interesting because in recent years Yoko has had success topping the dance music charts.

MC: Yes. She's a phenomenal artist. I wrote her a dance song that addresses the tragedy that exists around her personal life and history in music. Sean was really moved. I don't know if they're going to do it, but it would be an honor. I want to start a full Asian band with Cibo Matto and Sean Lennon. A big Asian supergroup [laughs].

GS: As a frequent guest on talk shows, as well as guest co-host on The View, do you have any interest in hosting your own talk show, maybe even taking on the late night boys club of Letterman, Fallon, Kimmel and Leno?

MC: [Laughs] I would love to. There's nothing I would like to do more I think it would be so fun to have a really wild place that would be like Chelsea Lately meet Graham Norton with the rock 'n roll. I think it would be amazing. That's my hope. I've been wanting to do that for a long time.

GS: If anybody could do it would be you.

MC: Thank you!

GS: In these post-DOMA days, with your ability to officiate weddings, has anyone asked you to perform a marriage during one of your concert dates?

MC: Yes. I'm going to be doing them off and on. I have deputization in California to perform weddings and I also have that Universal Life Church Monastery card, so I have the ability to marry people all over the world. I'm doing some ceremonies. But it's always going be different in every state. For example, I don't know what it's going mean Georgia, where we film Drop Dead Diva. But it's a great thing. I'm going to be performing lots of weddings. I have done them that my concert dates before, but nobody's asked for this tour yet.

GS: I want to thank you for your routines on outing closeted celebrities and Hollywood homophobia and hypocrisy. Do you think the general public understands the importance of this?

MC: For me, I'm super honest about my life. I think people would be happier just being themselves. That's my truth as coming from an older person. If people are truthful in the way I am then things go easier. But Hollywood is a weird place. It's a weird situation where people want to be perceived in a certain way. Also, I'm just trying to be funny. The whole point of making that joke was so that I could talk about the police sketch artist doing a drawing of John Travolta's asshole. I just wanted to make this really crass ridiculous joke about Helen Mirren coming across the police sketch artists portrait of John Travolta's asshole [laughs]. What people forget about comedy is that it's just there to be ridiculous.

GS: Because of your outing activism, you have joked about going missing and Tom Cruise "taking you out. When I interviewed Kathy Griffin a couple of weeks ago, she joked about someone from the Tea Party assassinating her. All joking aside, do you have concerns about your safety?

MC: No, but it would be fierce if I did. Wouldn't that just be fierce? If I just had to have security. Having bodyguards and having to be protected, that is so fierce.

GS: If you had metal detectors at your shows, what would happen to all the people with piercings and cock rings?

MC: I know! It's so sad to separate a drag queen from her purse when she has to go through the x-ray machine.
Interviewed by Gregg Shapiro. Gregg Shapiro is both a literary figure and a music and literary critic. As an entertainment journalist, his work appears on ChicagoPride.com and is syndicated nationally.