A GoPride Interview
La Bouche
Sweet dreams: An interview with La Bouche
I kept trying to find words for the "la da da dee" part of the song. We couldn't find any words so we just left it in the song.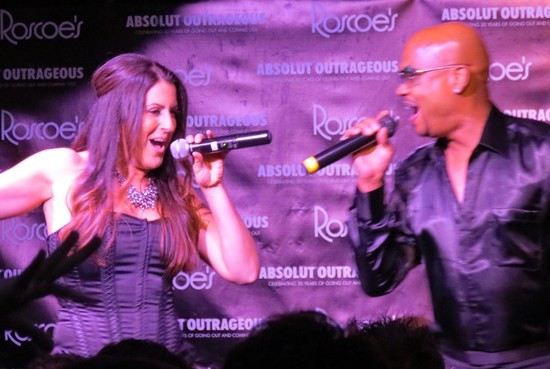 la bouche performs at roscoe's
photo credit // jerry nunn
The pop dance group La Bouche was formed in Germany by Frank Farian in Frankfurt in 1994. The group originally consisted of Melanie Thornton and Lane McCray. The two hit it big with "Be My Lover" and "Sweet Dreams." Their second album S.O.S. produced the minimal hit, "You Won't Forget Me."

Thornton left the group and was replaced with Natacha Wright but the music didn't chart. Thornton was killed in a plane crash near Zurich in 2001.

Farian came out with a greatest hits collection in 2002 and then a tribute single to Thornton entitled "In Your Life" that went to number nine on Billboard's Hot Dance Club Play chart.

Kayo Shekoni replaced Natacha Wright in 2001 and now singer Dana Rayne has joined McCray for the current tour.

ChicagoPride.com's Jerry Nunn talked to the current lineup before a recent performance at Roscoe's Tavern.

JN: (Jerry Nunn) So when was La Bouche last in Chicago?

LM: (Lane McCray) As a group it has been a few years. We have a big Polish following. Chicago has the largest Polish population outside of Poland. We did a concert for New Years here for them.

DR: (Dana Rayne) That was about two years ago.

JN: Shout out to the Polish people. I have a little Polish in me! Lane, you have been with the group since the beginning. How long has that been?

LM: I want to say 105! [Everyone laughs] It has been since 1994.

JN: Did you do most of the songwriting?

LM: Actually Melanie and I were in a band call Groovin' Affairs where Frank Farian from Milli Vanilli fame found us. The songs "You Won't Forget Me" "Be My Lover" and "Sweet Dreams" I cowrote with Melanie.

JN: They were huge hits.

LM: Huge hits, and interesting enough "Be My Lover" no one liked. I kept trying to find words for the

"la da da dee" part of the song. We couldn't find any words so we just left it in the song.

JN: That's some interesting trivia. Did someone speak French to form the name of the band?

LM: No, however the name came from Frank Farian who produced a lot of groups like Boney M and the list goes on. Melanie and I were adults. We weren't kids. We were American. We had opinions about everything, what we were going to do and not do. He said we had a lot of mouth. He wanted to go with the name The Mouth and we went with the French translation.

JN: Did you ever do a song with French lyrics?

LM: No.

JN: You took a break after Melanie passed away, correct?

LM: I did because as you can imagine it was devastating. I always tell people that it was like Melanie and I were married. We never dated but spent almost everyday together for the greater part of three or four years. You get to know someone intimately through that process. It was like getting my right arm cut off.

I took some time off and it came to me driving down the street one night. She would have wanted to me to keep going and to keep the music alive. There is not a day that goes by that I don't think about her and what we created in the world of dance music.

JN: How did you get invovled, Dana?

DR: We had the same manager. He was looking for somebody new. My manager played him one of my songs and he said, "Sounds good to me!"

LM: I said, "Be in Orlando three weeks from today!"

DR: We literally met at a show and practiced for a half hour then went onstage together.

JN: That was a whirlwind.

DR: It was meant to be. It was awesome.

LM: I kissed a lot of frogs before I found this princess. One had a great voice but didn't know how to work the stage. She needed more energy so we had to part ways. There was one lady that liked to hit the sauce and had pitch problems. I really needed to represent what we do live. I had to let her go. Then I found one that was a little too matronly even though she was only 27. This was about six years ago.

JN: So now you two are the perfect mix. You are working on new music?

DR: Yes and we are recording soon. That will be nice to finally get it down.

LM: With writing we are trying not to revisit what has been created already.

JN: You have to keep the vibe but make something new.

DR: Exactly. I don't sound anything like Melanie. I don't try to sound like her. She is one of a kind. I am a fan of La Bouche as well so I want to make sure that it is different enough where people aren't disappointed but at the same time there is still that feel of La Bouche.

LM: There are some diehard people that won't accept anything with Melanie because she is on their minds. That was even the case with a pretty well known agent that we were with. When I was ready to go back to work he said the group is dead without Melanie.

JN: That is tough to hear.

LM: It was harsh. I was really sensitive being the person that I am so I took it somewhere else. I did and we have been on the road ever since from Chile to Dubai, just all over the place.

DR: We are very blessed.

JN: Where are you going to next?

DR: New York. I am excited!

LM: I am taking off a few weeks first.

JN: Where are you from, Lane?

LM: I live in Nashville but I am from Anchorage.

JN: Is there a website people can go to about new music?

LM: It is being developed. There was one with me and Melanie but this one will be with Dana and I.

DR: I think it will be laboucheofficial.com.

JN: You do a lot with HIV groups from what I read.

LM: When I was stationed in Germany I was with an organization called Big Spender. We spent a lot of time at hospices. This was more a sit down with people to play checkers or just talk. It is an ongoing education for young people that think it is not a threat. I see it everyday where I live and it makes me crazy because it is avoidable.

JN: Is it a personal issue for you?

LM: Well, I have had some friends that were in the Air Force. There was an organization called Top Salute that I was a part of. One of the guys that I idolized was named Doug Washington. He died. He was sick and it came out that he had AIDS. He didn't want anyone to come to the hospital and see him. It was devastating for me because someone thought that I would turn my back on them because they had AIDS. There are a lot of ignorant people that think they can get it incorrectly from a variety of ways. That would be my biggest fear if I was to got AIDS or anything else that is terminal is that nobody would touch me. I was raised to have compassion.

JN: When you come back then I can help you get involved in an organization here in Chicago.

DR: We would love that.
Interviewed by Jerry Nunn. Jerry Nunn is a contributing writer to the GoPride Network. His work is also featured in Windy City Times, Nightspots Magazine and syndicated nationally. Follow @jerrynunn