A GoPride Interview
Tom Tunney
Chappell on Community: Tom Tunney
Thu. June 20, 2013 by Terrence Chappell
Pride is everyday for me! My only advice for Pride and Pride activities are let's be safe and respectful of each other.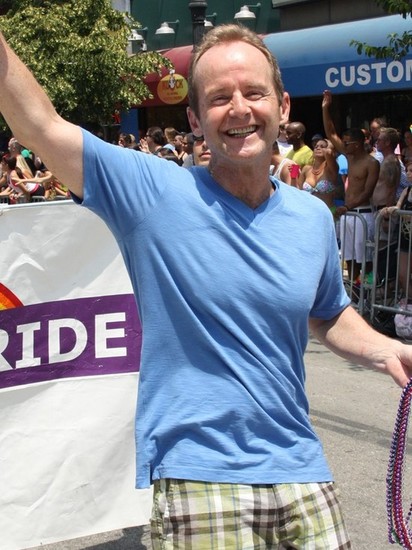 alderman tom tunney in the 2012 pride parade
photo credit // chicagopride.com
Chicago's first openly gay Alderman talks Lakeview and the Pride parade
As the first openly gay Alderman in the city of Chicago and as the long-time owner of one of the city's top dining destinations, Ann Sather, no one would hesitate to tap Tom Tunney as a leader. His resume of experience matched with his growing list of accomplishments is the result of strategic thinking, a deep understanding of the community, caring, and just good old fashion hard work. Tunney does not lead and delegate from the slick, comfortable walls of an office. He leads with his team in the trenches. Whether it was in his earlier career years when he assisted in creating the Open-Hand program which distributed food to AIDS patients or establishing Lakeview's first chamber of commerce to more recently working with the Northalsted Business Alliance to make Pride a safer time for all Tunney is absolutely plugged into the progression he wants to see. However, the seasoned business owner and Alderman didn't always see himself working in politics or owning a restaurant so early on in his life.

A Chicago-native, Tunney grew up on the Southside and attended Brother Rice High School. A star student, Tunney was active in sports and student government. "I always took to responsibility," remembers Tunney. He would carry this propensity for responsibility and leadership into his higher education and career aspirations. One bachelor's degree in restaurant management from University of Illinois- Champagne Urbana and one graduate degree in hotel management from New York's Cornell University, Tunney found himself on the corporate track at the Ritz Carlton in Chicago. Just like in high school, he was a star employee and one of the hotel's rising stars. At the time, Ann Sather was looking to retire and was in search of someone to take over her restaurant. When Tunney was presented with the opportunity from a close friend's father, he jumped at the chance and was then introduced to Ann Sather. The 24-year-old took over Ann Sather on February 1, 1980.

Tunney stepped in as a business owner in Lakeview long before it was Lakeview. Fraught with gang violence and abandoned storefronts, Lakeview was not the trendy neighborhood it is today. Tunney came to Lakeview in the early 80s as a business owner with a developer's vision for the neighborhood. Over time, he worked with fellow business owners and community organizers to establish a chamber of commerce as well as other entities to benefit and further develop the budding neighborhood.

Even still, at the time, Tunney was a fresh graduate school grad that took a risk by taking over Ann Sather. "I cannot fail," said Tunney. And fail he did not.

Today, Lakeview is one of the city's most vibrant neighborhoods with Boystown as its' gay mecca in large part due to the early efforts of Tunney and other professionals. What started off as a business venture risk resulted in multiple Ann Sather locations with a loyal following of diners. His business later led him to run and be elected as Alderman of the 44th Ward; making him the first openly gay alderman.

Tunney has proved that a leader isn't found in a title. A leader is found in his work and dedication to his craft. Tunney shares with ChicagoPride.com his early career fears, development plans for Lakeview, the Pride parade, and how he balances owning a business while working as a city Alderman.

TC: (Terrence Chappell) Did you always know you wanted to have a career in politics?

TT: (Tom Tunney) No. I grew up on the Southside of Chicago. I was really active in my high school: student affairs, student government, Captain of my sports' teams.

TC: So, you've always taken to a leadership role?

TT: I generally was one that would always accept responsibility. I think that's a good trait of leadership: taking initiative, having a little drive, and wanting to accept responsibility when it's bestowed on you. So, I think managing time, being a self-starter was just really ingrained in me from family life and sports.

TC: How did this carry over into your higher education?

TT: I went to graduate school at Cornell in New York. I had my undergraduate degree in restaurant management and my graduate degree in hotel management. There were very people in the country that had that duel degree, so I had lots of opportunities after I graduated from grad school.

TC: What was your first job out of grad school?

TT: Ironically, my first job was at the Ritz Carlton here in Chicago in the summer of 1979. I loved it. It was corporate. It was very motivated and energetic. At the time, I was thought to be one of the up-and-coming people in the Four Seasons Hotel Company. Actually, the gentleman who hired me was the general manager of the Ritz Carlton, Ken Cornell, said I want you to work for me in Chicago.

TC: Did you see yourself coming back to Chicago after graduate school?

TT: I was hesitating because I didn't want to move back to the Southside of Chicago where I grew up. I wasn't completely out. Well, I wasn't out, let's put it that way.

TC: So, you weren't out growing up?

TT: I dated girls throughout high school and college. The time was a little bit different. I enjoyed dating. I felt I had an attraction towards men but there weren't really any avenues to be out. Especially where I grew up, there wasn't really an opportunity for a gay man to be out. The times were the 70s on the Southwest side of Chicago.

TC: You attended Brother Rice High School, a private, Catholic all-boys school as well.

TT: Yes. There was just no opportunity for education on the issue of being gay. Also, being in a very strict Catholic upbringing there were certainly no headway in the issues of homosexuality.

TC: How was it when you went away to college?

TT: When I went away to college at the University of Illinois I was away from home, I was a bit more on my own, so I explored a little bit. But, I was also the president of my fraternity – ATO. So, it was difficult to be out in college, especially in Greek life. I thoroughly enjoyed college.

TC: How was it to have a better idea of your own sexuality but still not be able to really express it even while in college and away from home?

TT: Honestly, I still wasn't certain that I was gay. Greek life was very positive for me. And actually many years later a lot of guys in my fraternity came out. College was fantastic. I don't regret any part of my upbringing at all. But the idea of being out was just not realistic for me at the time.

TC: Are you still friends with any of your friends who later came out?

TT: Interestingly enough yes. Craig Maybourn. Actually, his father owned a place called Chicago Bar and Restaurant Supply at Clark and Lawrence of which Ann Sather was one of his restaurant accounts. At the time, Ann Sather was looking to retire and was looking for someone who could take over her business.

TC: And you were a hopeful prospect?

TT: Well my friend's dad told her that he knew a friend of his son's that might be interested in taking over the restaurant. So, he introduced us.

TC: Did you see yourself on the fast track to owning your own restaurant?

TT: I wasn't motivated to own my own business at the time. I thought sometime when I'm in my 40s I'd like to have my own little restaurant, but I was very happy in corporate life. But I felt that these people were decent people, it was an existing business, and I decided to give it a chance.

TC: So, you took a risk.

TT: I did. I always felt like hey if it didn't work out, I could always get back into corporate at entry level and work my way up. My impression was that the longer you stay in corporate America, the better the benefits and the harder it is to leave. Working at the Ritz Carlton probably would be a life-long career for me. But I took a chance. I took a risk, and I took over Ann Sather on February 1, 1980.

TC: How was the neighborhood back then when you took over Ann Sather?

TT: This was not called Boystown at the time. This was a roughed up community with lots of gangs, empty storefronts. and problems all over the place. It was not a safe neighborhood. The lakefront was okay but the rest of Broadway was pretty rough. At Clark and Belmont there was a liquor store where the Starbucks is at now. Ann Sather was a small, little place and then like one or two other stores and everything else was burned out.

TC: So, you got in before the development happened?

TT: Yes. We were a part of the development. There was a strong group of us, a fair amount of gay individuals, who wanted to bring life back into Lakeview.

TC: In this new role, you were working with fellow gay professionals and community people?

TT: I got involved more in the community. The community was my customer. I was kind of excited about the idea because I didn't realize there were gay people involved and really out there in the community.

TC: Outside of Ann Sather, what were some early community developments you worked on in Lakeview?

TT: We started the first chamber of commerce for Lakeview. I was involved in the Illinois Restaurant Association. We just really worked to build the community. My roots go pretty deep in this community.

TC: Earlier you mentioned that you were on this corporate America career trajectory. However, when this opportunity to take over Ann Sather presented itself, you jumped at the chance. How was that transition?

TT: It might have been safer to just stay in corporate. But at the end of the day what I came to grips with and what was actually helpful is that all I need to worry about is my own success, and my customers, and my business. I don't have to worry about playing politics in corporate America. So, in my own mind it wasn't a bad idea.

TC: Well, you obviously weren't scared of the risk.

TT: My pursuit was not to fail. I was not going to fail. It was just a matter of survival. My business is my life.

TC: So, there were no impromptu late night outs?

TT: My everyday was work. Everyday. Most people who even know me today say I'm a great guy but always-just work with him. Work. Survive. Thrive. That's just my make-up. Work comes first and everything else just comes second.

TC: Were you out to your family during this time?

TT: My family came to work for me in the early days. I eventually came out to them. But again, my focus was my business first – family second. I had to make sure that I didn't screw this thing up. So, I think my brother and sisters who came to work for me knew about my sexuality. But, I didn't really care. I gotta to do what I gotta to do. And it ends up that I'm now providing for my family. I'm more of a provider.

TC: How did your work and focus lead you into politics?

TT: There were two reasons why I got involved in politics. The AIDS epidemic devastated my generation. The government was not involved in probably the first seven or eight years of the epidemic. So, private businesses and individuals had to take heroic efforts to take care of our brothers. I was very angry with the government in that realm and the discrimination against gays.

TC: How did you try to pick up where the government failed in the AIDS crisis?

TT: I started the Open-Hand program for Ann Sather back in the day. And people would say that I'm not going to eat at Ann Sather because they make the meals for AIDS patients, I could get sick there. It was pretty rough.

TC: Did you have any friends that were impacted by the AIDS crisis?

TT: Half my friends are dead. They didn't make it to their 50th birthday.

TC: You were just getting into your sexuality and then the AIDS epidemic happens. Were you scared?

TT: Yes. Everyone was scared. Medical professionals even said don't get tested. It was the early 80s. Why would you get tested? There's no cure or anecdote. Your behavior basically had to be no unsafe sex. So, who cares if you're positive or negative you still have to have the same practice. But, you could lose your job, you could lose your insurance, you could lose everything if you were known to be HIV+ Back then, if you were HIV+ it was a death sentence. It was just a matter of time.

TC: What was your second reason for getting involved in politics?

TT: I think city government realized that small business owners would be instrumental in city council or in any government for that matter.

TC: So, in 2003 when you were elected alderman of the 44th Ward, what did that do for you?

TT: I think it opened up another level of being able to make the city. It was certainly historical of being the first openly gay alderman in the city of Chicago. There were actually talks of me running for alderman ten years before I actually did run. I was growing my business and in a lot of debt. And I just didn't feel that I was ready.

TC: What made you ready?

TT: I made sure I got myself in a financial position and in a position where my company could survive without me. Also, my family was working for me, which helped. Also, my predecessor was retiring for health reasons and I just thought it's now or I'm not going to do it. So, I decided to go for it. Just like back in 1980 with Ann Sather, we're going to go for it and we're going to win.

TC: You weren't always out but now you're the first openly gay city Alderman. How do you view your sexuality now?

TT: I never saw being gay as a handicap. I actually use it as a gift. It's very negative for you to look at it as a handicap. It's just very despairing. I feel very comfortable with myself as a gay man. At this point I have a responsibility that the community continues to move in a positive direction. I mean we had to struggle for human rights back in 1988 and now we're talking about gay marriage. That's amazing.

TC: What were some initial goals for the neighborhood once you took over as alderman?

TT: I decided that I wanted to bring in a group of leaders, residential organizations, and institutional members to work on a master plan of our work, let's have a vision. I didn't want to be a negative person.

TC: Owning a restaurant and being an Alderman is pretty much two full-time jobs. How did you balance those roles?

TT: I have a good staff.

I work Saturday, Sundays, and holidays at the restaurant, and Monday through Friday I work in politics. So, I work seven days a week. So, is that balance – probably not. But I do get a lot of satisfaction in what I'm able to do for my restaurant employees and my company. We have a fair amount of notoriety. And then I'm able to represent what I think is the best neighborhood in the city of Chicago. It's a pretty prestigious honor for both.

TC: Do you have time to date?

TT: I mean I've been in relationships but my relationship thoroughly now is that I have to focus on these two important jobs. It's not lack of interest. I just feel that once you get finish working 12-hour days, it's kind of hard to be a partner for someone. Everyone knows that Tom is Ann Sather.

TC: Well what do you do in your free time?

TT: I'll go to the gym. I like to bike. I have a close group of friends and we'll do dinners together or go to the movies. I have a home in Michigan and sometimes I'll just go away for 24 hours. Occasionally, I'll do three-day trips.

TC: A few years ago, there was a perceived increase of violence in Lakeview because of a few isolated incidents that sometimes involved youth of color. Race relations in the LGBT community was placed under a lens. How did you deal with those issues as an Alderman?

TT: An Alderman is truly responsible for the safety of the neighborhood. There's no question. That's important. I take crime stats and any perception of crime stats very seriously. I also know that we as a gay community should be walking as a community for gays and lesbians all over town because Lakeview is the center for the gay community especially with the Center on Halsted. Center on Halsted was not just meant for the Boystown's community center, it's for the city of Chicago. As you say, you build it they will come.

TC: What was your personal sense of the race relations in the city's LGBT community?

TT: I sense a little bit of racism in the white gay male community. I grew up in Chicago, so I see it and call it what it is sometimes. Also, there's a culture clash. We're melding some cross-cultural stuff so, there's bound to be a little bit of tension. Part of our work is to make sure that police are respectful to all LGBTQ and to make sure it's a safe environment for everyone. Also, we just have to be respectful of each other. The strike goes both ways. I would like to forge a better understanding of the diversity of the LGBT community within ourselves.

TC: And now Pride is here.

TT: Pride is everyday for me! My only advice for Pride and Pride activities are let's be safe and respectful of each other. I try to bring a bit of sobriety to this especially with the city cracking down on open containers. Lakeview is on center stage for the month of June. I want to take advantage of that and use it in a positive way.

TC: Do you think the route change for the Pride parade helped last year and will continue to be positive?

TT: I think it's a healthy change because the crowd has outgrown the route and the community has outgrown Lakeview. I think it was a good step in changing the route and extending it further North.

TC: How do you think parade goers will continue to respond to the new route?

TT: Each year people get more accustomed to the change because there's still a lot of congestion and there will always be in Lakeview. But the community is much larger in Lakeview and it will be safer. I don't want to see anyone hurt.

TC: Would you say that Lakeview now has become the neighborhood you wanted it to be back when you took over Ann Sather?

TT: Yes! Lakeview has truly evolved from when I took over Ann Sather back in 1980 and it's moving in the right direction.

However, there's still a lot of work to be done. I would like to see more renovations. The former Dominick's will be a super market. There are plans for developing a 90-unit gay and lesbian senior housing. My job is to keep the momentum going.

TC: What do you want your legacy to be?

TT: Someone who cared about Lakeview and was a part of the change.
Interviewed by Terrence Chappell