A GoPride Interview
David LaSalle
Lakeview business owner celebrates first year with fashion and hair show benefit
I realize that I have a responsibility to my client's, my staff and my neighborhood that I will never take for granted.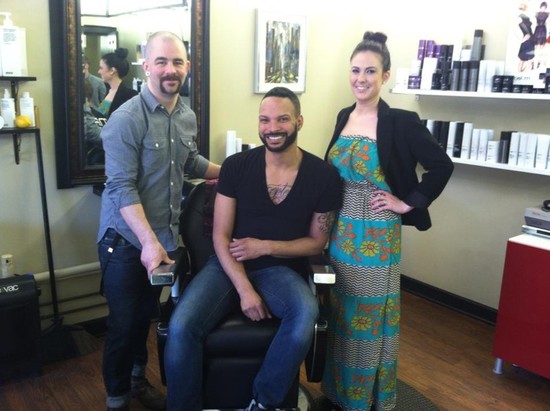 david lasalle (center) of menzroom
Mentored by the fabulous Tabatha Coffey of Bravo's Tabatha Takes Over, David LaSalle is celebrating the Menz Room's one year anniversary with a fashion and hair show on Sat., March 23, 2013 at Hydrate Nightclub to benefit OVAH! and TPAN (
event details
). Recently ChicagoPride.com's Michael J. Roberts spent the afternoon at David's amazing salon and found out exactly why the Menz Room has been such a success.
MJR:
(Michael J. Roberts) Your salon is absolutely fabulous! How did you first get involved in the industry?
DL:
(David LaSalle) Well thank you Michael. I grew up in Fort Wayne, Indiana and received a degree in social work but I wasn't making any money. I come from a family of surgeons, so my father told me I had to find something I couldn't get fired at. I walked into Ravenscoft Beauty College and that was it! I graduated nine years ago and headed to Chicago. I worked for a few salons in the area and became artistic director for Regis Salon.
MJR:
How did you meet Tabatha Coffey?
DL:
I was in Dallas for a show and Nick Arrojo and Tabatha Coffey where there. I just started talking with Tabatha who told me she just finished filming an episode of her show Tabatha's Salon Takeover, and that they needed some stylists. So I was there when they filmed the first one and was there for 2 1/2 years. When Tabatha came back the second time and saw that nothing had changed in the salon, she told me to get out of there and open my own place. She said that not only do I create technically strong haircuts but I create an environment and that is what can make money.
MJR:
What do you think is the biggest misconception about the haircutting industry?
DL:
I think it is that it just shouldn't just be a haircut. You should be going to a professional to explain everything about your hair. What we do at the Menz Room is to educate and to tell you why your hair is that way it is. From the texture to the diameter of your hair; to what you are doing daily that is effecting it. We talk about diet, how often you shampoo and things of that nature. If you are at a salon and they begin speaking "Pantene" to you, get out.
MJR:
How much of learning the art of hairstyling is natural and how much can be taught?
DL:
Wow, that is a great question. I do think a lot of it is natural to the person, much like a dancer or an actor. Sure, the technique is there to be taught but some people just have an innate talent and those are the people I have always gravitated to. I have also stood next to technically strong people but for whatever reason, or whatever demons they had, never excelled in the business aspect of it. So you have to have both to be successful in this business. Bottom line is that everything that is taught, has to be taught from the standpoint that this is a business.
MJR:
What is the biggest lesson Tabatha has taught you?
DL:
That I am my business and that I am representing it 24 hours a day, 7 days a week. So whether I am out with my friends at the bars in Boystown or just at a friend's get together, whatever I do and how I act is a reflection on my integrity that absorbs into my business. So you would never see me topless or drunk outside a bar. I want people to know that I will be around for the long term.
MJR:
What has the hardest part about opening the Menz Room?
DL:
The biggest thing, and it is also what Tabatha told me, is once you get the salon open, how do you get butts in chairs? That was the most difficult thing. I have worked in this neighborhood, but where the Menz Room is located is about 50% in Boystown and 50% outside of it. We have a lot of visibility being in this location so we took advantage of that and worked with Yelp and various social media.
MJR:
Let's talk about that special relationship and bond between a stylist and client.
DL:
You have to form that trust very quickly. You have to ask specific questions to figure out their lifestyle, which impacts how you are going to proceed with their hair. Then we can relax and talk. A lot of my closest friends are clients. But trust never happens right away. It usually takes three times before a real relationship takes hold. But after that bond is established you become very attached and can end up being a matchmaker, a counselor and friend.
MJR:
Tell us about the upcoming show at Hydrate.
DL:
It our one year anniversary show and I wanted to put something together as a charity benefit that would also educate the people on what the upcoming styles in both hair and fashion would be for 2013. I went to Cram to see if they would be interested in doing the fashion portion of the show and they agreed. We also wanted it to be a mix of straight and gay boys of different shape and sizes so everyone could be included and find their own style. So if you are going to Hollywood Beach, this is the look you should have and how to achieve that look through the cut, clothes and products.
MJR:
What are the charities that you picked for this years fashion and hair show?
DL:
At the outset of this I contacted CyonFlare and told him I wanted to pick some organizations that he was a part of. That is how we chose both OVAH! and TPAN as our recipients. OVAH! is CyonFlare's main charity which was established a few years ago to help homeless gay youth and of course TPAN has been a staple in our community for HIV education and outreach.
MJR:
How have you changed and grown in the last year since the Menz Room has been open?
DL:
I worry a lot more. I realize that I have a responsibility to my client's, my staff and my neighborhood that I will never take for granted. With this salon, I have the ability to make a difference in people's lives and I take that responsibility very seriously. When I see people just coming in to hang out and have a good time, I know that I have created an environment that is goes beyond just a salon, and that is something that I am so very proud to have been a part of creating.
The Menz Room One Year Anniversary Benefit, Sat., March 23 at 7:30 p.m., Hydrate Nightclub, 3458 N. Halsted. Menz Room is located at 3437 N. Sheffield, Chicago, IL 60657. Telephone: 773-880-7350. www.menzroomchicago.com.
Interviewed by Michael J. Roberts. Michael J. Roberts is theatre editor for the ChicagoPride.com covering Chicago's diverse arts and entertainment scene.