A GoPride Interview
Scott Jannush
Over the Borderline: Scott Jannush looks north for a new location
The neighborhood has changed and it's time to change.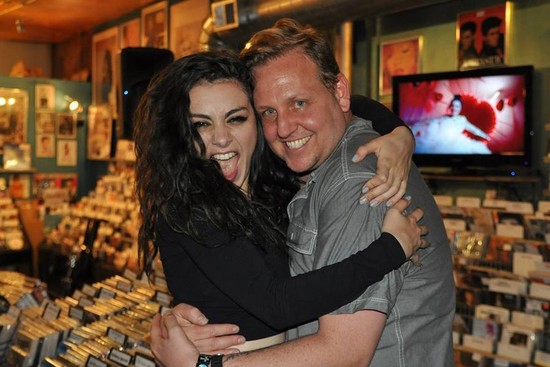 scott jannush with charli xcx, 2013
photo credit // facebook/ scott jannush
Borderline Music, one of the only dance record stores on Chicago's North Side, is closing. After 13 years in Lakeview, owner Scott Jannush, who cites changes in the neighborhood's demographics as a primary reason, will be shuttering Borderline at the beginning of September. "The neighborhood has changed drastically and it is no longer my market," Jannush told ChicagoPride.com on Tuesday. "In the past the gay community would come into the area to shop and dine, but that isn't the case anymore."
Borderline is another gay-specific business casualty of the area's transformation from a gay destination to a place where SUV strollers and Lululemon-adorned mothers are the predominant population on the sidewalks and streets, in stores and Starbucks. Jannush is scouting for a new location, preferably in Andersonville.
"I'd say a majority of my regular customers have mentioned that they live up north now and are excited about the relocation," he said. In the midst of the upheaval, Jannush took the time to answer some questions for ChicagoPride.com.
GS:
(Gregg Shapiro) Scott, when did you open Borderline at 3333 N. Broadway in Lakeview?
SJ:
(Scott Jannush) The end of August of 2000.
GS:
Had you been in the music retail business prior to opening Borderline?
SJ:
In a way. During college and after college I managed a Coconuts Records (store). Then I went to the West Coast and lived there for about nine years. I worked at (label) Hollywood Records in the creative department. I was always involved with music.
GS:
For a lot of gay men, and others, the name of the store Borderline is closely associated with Madonna. Which came first the idea of opening a store or the name of the store?
SJ:
I always wanted to own my own record store. I remember being interviewed for Coconuts, when I was in my last year of college, and they asked why I wanted to work in a record store. I said, "I want to own a record store one day." I knew I was going to somehow tie in my love for Madonna into the name. That's how I came up with Borderline.
GS:
Would you say that a majority of your clients were from the LGBT community?
SJ:
Oh, yeah! Honestly, probably 80% (are gay). It's down, because the neighborhood has become more isolated, but I would still say it's 80%. That's what I wanted; I wanted a record store in Boystown that catered to the gay community.
GS:
One of the things that earned Borderline its reputation was the in-store events that you held.
SJ:
That was always my concept from the beginning. In my business plan I wanted to do meet-and-greets and I wanted to do in-store performances.
GS:
What were some of your favorites in-stores?
SJ:
Probably Darren Hayes.
GS:
>From Savage Garden.
SJ:
Yes. He came in 2007 when he was promoting his solo CD. He performed five songs, I think. For me, because I was such a big fan, he was able to do that and there was a huge turnout. Lady Gaga was one of them (early in her career). At the time we didn't know what was going to happen (in terms of her success) in the next six months. She was really sweet. But one of the nicest people that we ever did an in-store with was Natalia Kills. We had Blake Lewis from American Idol. He came in to do a DJ set, but there were so many people, he never got around to spinning. He just ended up taking pictures and signing CDs. He was dumbfounded that that many people would show up.
GS:
Was there ever anyone you wanted to get for an in-store but couldn't?
SJ:
We've reached out so many times over the years. Ellie Goulding, we tried in the beginning. Most artists have been amazing and they welcome the opportunity; a venue for their fans and the music. Exposé is probably one I've tried a few times. I've talked with Gioia (Bruno of Exposé) over and over about having the three girls come in. I would've loved that. Gioia's come in by herself.
GS:
Do you plan to carry on the tradition of the in-store events in your new location?
SJ:
Oh, yeah! This store is only like 900 square feet. There've been so many artists who wanted to perform because we are small. Sometimes they will do an acoustic set and sometimes they bring in the band. Charli XCX, she's pretty big right now, she was here a couple of months ago and said she would do an acoustic set. But she brought the whole band from her tour. They performed! What we have to do is break down half the store. We have to put half the CDs in the basement, take all the racks down to accommodate them to perform. I would love a space where I would be able to have more of those. So many artists love doing the meet-and-greet, and they want to perform, too.
GS:
Andersonville has been mentioned as a possible location – didn't you briefly have a second location in Andersonville?
SJ:
I did, yes, in 2005. It was south of Foster. In 2005, eight years ago, it was too soon for (that stretch of) Andersonville. North of Foster was busy, but south of Foster was taboo. But now it's changed. I would still be open to going south of Foster but I would prefer to be north.
GS:
Are there other neighborhoods you are considering, say Uptown or Logan Square?
SJ:
Yes, Uptown, I am. I want to go up north. I know that. I'm going to keep the store open until September first and then take the month of September to revamp our online site, because it's about 10 years old and I want to totally redo it. During September I will be searching for a storefront. It doesn't have to be Andersonville but I would like Andersonville.
GS:
I'm glad you mentioned the website because Borderline has an online presence. Do you think it's equally important to also have a brick and mortar storefront?
SJ:
I do. Even though I would say that 60 to 70% of my sales are online, because we ship worldwide, and I have a store on eBay and Amazon and my site,
borderlinemusic.com
. With all three sites I do most of my business online. But, I want a brick-and-mortar store, because you do reach more people. There is a demand for music, especially in the gay community, people still want CDs. I also offer all these other things. Rare imports, collectible items, the in-stores. There is a demand for an actual record store. Luckily, I have the online business also. Especially when it comes to Madonna, I've been told my site is floating out there on all the Madonna blogs. I get that all the time. Someone comes in from out-of-town and they tell me they heard about the store from a Madonna blog or website and they had to come see it for themselves. They might not shop online but they've made a point to come to the store when they're in Chicago. There's still a demand. There are very few record stores left in Chicago. There are only a few of us left. People still want physical copies. As far as I know, I'm the only one carrying all new and imports. You're not going to find a rare import CD at Target or Best Buy.
GS:
It's good that you mentioned being north of Belmont because after Evil Clown closed, Borderline was the last indie record store, north of Belmont to Irving Park.
SJ:
Reckless (Records) is still going strong, but they're different from me. They're rock and alternative and mainly used. It's not a competition. They refer people to me all the time and I constantly refer people to them. I have my own genre, they have their genre. But for imports, dance, DJ mixes, pop music, especially collectibles, that's where I have my niche.
GS:
What do you think you will miss the most about the neighborhood?
SJ:
Wow, what am I going to miss the most? I'm really excited about the new change. I really want to start fresh. I'm not just going to copy the same look when I go over there. I'm getting rid of a lot of the old displays and stuff on the walls that people have asked to buy over the years. I just want to strip it and start fresh. I'm afraid people might not know I moved and come here in six months and see a different storefront and think I'm just out of business. I'm going to miss the fact that I'm known in Lakeview. It was great, I'm so glad that I started here. The neighborhood has changed and it's time to change. At first I was going to remodel the store and do something different, but I thought I don't want to do anything more into the storefront, I want to start fresh and go up north where there is more foot traffic. There's no foot traffic here anymore at all on Broadway.
GS:
What about a Halsted location?
SJ:
Halsted is still going to be Halsted. It's always good to have a busy nightlife. I was contemplating opening on Halsted but that means I would be a late-night place. You have to be open after the bars and I didn't want to do that. Looking for somewhere with a lot of foot traffic that people can on the weekends and weekdays, who are out for lunch or dinner, can stop by.
GS:
That definitely sounds like Andersonville. Has your clearance sale already begun and how long does it last?
SJ:
Until we move. 50% off of hundreds of titles and back catalog. I've been here 13 years, there is so much stuff. If people saw my basement, it's insane. I have so much product and and promotional stuff and items. Anything else in the store is 20% off if it's from 2012, such as Kelly Clarkson's Greatest Hits, the import version with all her videos and four extra tracks. The whole Madonna catalog is on sale, which is doing really well. All the collectible vinyl that we have is on sale. The only thing not on sale is new releases from 2013 that we're bringing in and can carry over to the new location.
GS:
Is there anything else you would like to add?
SJ:
Another small reason that I want to move is that there has been a lot of crime in Lakeview lately. That's another reason, but that's not the main reason. It's just another factor in my move. It affected me in the beginning. The storefront had some problems. But I haven't had problems lately. I don't see it being fixed in Lakeview. It's just getting more dangerous. The area has become very straight, very Wrigleyville, very family oriented. The gay community doesn't come here as often during the day. They're always going to come at night. I don't see a change in the neighborhood with the Chamber (of Commerce) or the alderman. If anything I see them stripping more and more away from Lakeview. They're not offering outdoor cafés. You get fined if you put flowers out or a rack. You go up to Andersonville and there's so much going on. Lakeview is very bland. You walk down the streets and there's nothing. That's my biggest complaint. It's just not a destination neighborhood and that's a shame.
Interviewed by Gregg Shapiro. Gregg Shapiro is both a literary figure and a music and literary critic. As an entertainment journalist, his work appears on ChicagoPride.com and is syndicated nationally.